The Best Fried Cheese Curds in Chicago
BY: Anne Colvin |
Jan 14, 2015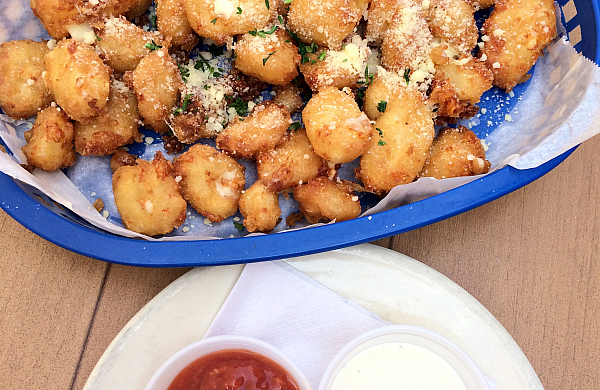 There is no food that says "Midwest is best" better than the fried cheese curd, am I right?
Growing up in New England, I had never tried (or even heard of) a fried cheese curd. Fast forward to a move to Chicago 6 years ago and suddenly these delicious little snacks are on restaurant and bar menus all over the city and beyond. I was reluctant to try a fried cheese curd at first (because seriously, what is a curd?), but once I did I was hooked. And since then, it's been a mission to find the best places for fried cheese curds in Chicago.
After taste testing all over Chicago (a tough job, I know), I have a few favorite spots for enjoying fried cheese curds. Each place does something a little different and special, but all have the same thing in common: a crispy battered exterior with stretchy chewy cheese curds on the inside.
And while it was difficult to narrow down, here are my five favorite Chicago spots for fried cheese curds:
Farmhouse Chicago
Farmhouse is a low key farm-to-table restaurant in River North and one of my 'go to' places for a post-work dinner. Their menu is made up of modern twists on classic American dishes and their specialty is using seasonal ingredients from farms and artisans in Chicagoland the surrounding states. Brunch, lunch, and dinner are all great options at Farmhouse, but I am partial to the "First Harvest" section of their menu because their appetizers are perfect for sharing with a friend while catching up over a local craft beer. The cheese curds are the stars of the First Harvest menu and in fact, this is where I first fell in love with the fried cheese curd! Their Wisconsin cheese curds are a classic preparation, beer battered with light crunchy breading. And they're served with two tasty dipping sauces: Farmhouse's tangy housemade catsup (my favorite) and a creamy spicy curd sauce.
Hoyt's
Hoyt's is a modern American tavern situated on Wacker Drive right between the Loop and River North-- a perfect place for a workday lunch or happy hour drinks. Their menu is full of more upscale versions of classic bar foods crafted with locally sourced ingredients. Their cheese curds, for instance, come from Ellsworth Cooperative Creamery located in western Wisconsin. These white cheddar cheese curds are coated in a crunchy herbed breading and served with what has to be one of my favorite cheese curd dipping sauces: a housemade smokey bacon catsup. The bacon flavor is fun addition to traditional catsup and it is such a tasty combination with those crunchy melty curds that you won't be able to stop eating them.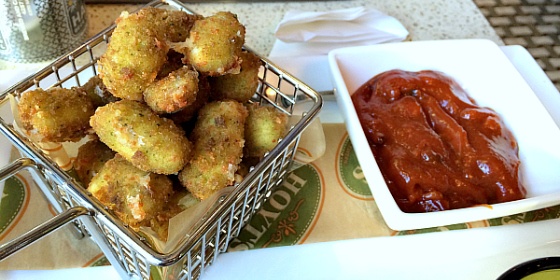 Old Town Pour House
Old Town Pour House is a huge upscale sports bar in the heart of Chicago's Old Town neighborhood. With ample seating, an amazing selection of craft beers, and an enormous wall of big screen TVs, this is the perfect place to meet up with friends to catch the big game. Their menu is quintessential bar food, elevated. They offer a pretty diverse menu, but I am partial to their bar bites like the fried pickle chips (another favorite, second only to cheese curds), pretzel bites (with a IPA cheese dipping sauce!), and of course, fried cheese curds. These midwestern favorites get the southern treatment at Old Town Pour House with a cornmeal battered exterior around a melty white cheddar interior. These crunchy bites are served with a smoked tomato coulis for dipping-- a fun twist on plain old ketchup.
Antique Taco
A taco joint seems an unlikely place to find fried cheese curds, but this isn't your average taco stand and these are definitely not your standard cheese curds. This funky fast casual Wicker Park restaurant id furnished with eclectic antiques and serves up the flavors of Mexico using the ingredients of the Midwest. Featured alongside a fun variety of tacos (like my favorite, The Crispy Fish), Antique Taco's Chili Cheese Curds are a menu standout. The toppings change seasonally, but when I had these crispy beer battered cheese curds they were topped with chorizo chili, crema, scallions, crispy tortilla strips, and pickled onions. It was like nachos met cheese curds and they results were over the top delicious!
Fizz Bar & Grill
I love bars like Fizz. Bars that are low key and unpretentious, but that offer a really fun and inspired selection of food and drinks. I discovered Fizz more recently after moving into Chicago's West Lakeview neighborhood and have loved turning it into one of our neighborhood go to spots. It's a fun spot for dinner with the family and game watching alike and they have one of the best and most spacious patios of any bar I've seen on the North Side. Their menu is extensive and offers up many classic American dishes with a little global flair. The cheese curds at Fizz are artisan-made in nearby Wisconsin and battered in Fizz's own housemade IPA beer batter. They are fried to create a crispy and delicate crust, dusted with grated parmesan, and are served with two dipping sauces: cool and creamy ranch and spicy cocktail sauce.