The Best Pasta Dishes in Chicago
BY: Kit Graham |
Dec 16, 2014
As the temperature in Chicago drops, there is nothing better than a pasta dinner at a cozy restaurant. With dozens of Chicago eateries dishing up pasta, it can be hard to pick a place to eat. After years of dining at Chicago's restaurants, I have created a round up of some of the most outstanding pasta dishes in the city.
Cacio e Pepe at Balena
This creamy cheese pasta is a classic. Cacio e Pepe translates to "Cheese and Pepper" and while a traditional formula for the recipe exists, Cacio e Pepe is a dish that not all restaurants have mastered. Balena's Cacio e Pepe, made with their house made pasta, is perfection. The cheese and pepper flavors are beautifully balanced, and the pasta dish has a satisfying creaminess.
Tagliatelle with Short Rib Ragu at Eataly
Eataly is home to several restaurants, including La Pizza & La Pasta. While Eataly can be packed with tourists making the wait time for dinner quite long, the Tagliatelle with Short Rib Ragu is worth waiting for. Delicate fresh pasta is coated with a chunky short rib ragu and topped with Parmigiano Reggiano. This is a hearty, meaty, pasta dish and one of the best things Eataly has to offer.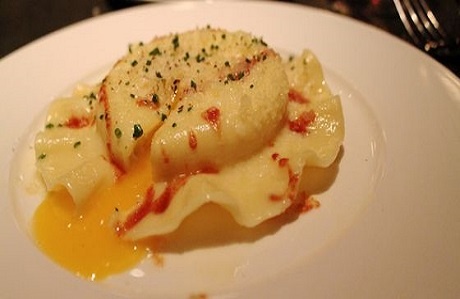 Raviolo at Cocello
Cocello is a quiet restaurant in Chicago's River North that serves classics and more modern creations. The space has leather booths and low lighting, making it a perfect place for a dinner with friends. The menu features several pasta dishes, but the raviolo is the show stopper.

A Raviolo is a giant ravioli, and the creative twist on the dish at Cocello is that when diners cut into the ravioli a runny egg yolk spills out, and acts as a sauce for the ricotta filled pasta.The combination of the egg yolk, ricotta, and brown butter has just the right amount of richness.
Meyer Lemon Tagliatelle at The Pump Room
The Pump Room in Chicago's Gold Coast has a history of being a celebrity hangout. These days it is a favorite place for Chicago locals to spend date night. The inviting restaurant is decorated with globe lights which lend the space a romantic atmosphere.


While The Pump Room isn't an Italian restaurant, it is home to one of the most fun and creative pasta dishes in the city. The fresh tagliatelle with a creamy meyer lemon parmesan sauce is simply delightful. The dish is light and uncomplicated and bursting with flavor.
Chicken Thigh Ravioli at Tesori
Tesori is a new Italian restaurant in the Loop, just a short walk from the Art Institute. Their braised chicken thigh ravioli with leeks, chanterelles, and au jus is a highlight of their menu. The pasta had a nice weight and toothiness to it, and the balance of tastes was perfect. The au jus was a lighter sauce and this dish is intended to be eaten with a soup spoon so that the au jus can be enjoyed with eat bite.
Cavatelli at Quartino
Quartino is a bustling restaurant in River North that is known for serving small plates of classic Italian dishes. While the restaurant does have exceptional thin crust pizza, I always order their pasta. The freshly made cavatelli with a rustic tomato sauce, chunks of ricotta, and torn basil is a vegetarian's dream. The menu at Quartino is large, but if you can't make up your mind, ordering two half orders of different pastas is a fun option.
Short Rib Stroganoff at Bavettes Bar and Boeuf
Bavettes is a steakhouse, but their short rib stroganoff is just as mouthwatering as the steaks. Fresh pasta is paired with big chunks of braised short rib, mushrooms, and a cream sauce. It is a decadent meal perfect for a special occasion.