The Bloody Maria at Trenchermen in Wicker Park
BY: Lisa Ladehoff |
Oct 11, 2013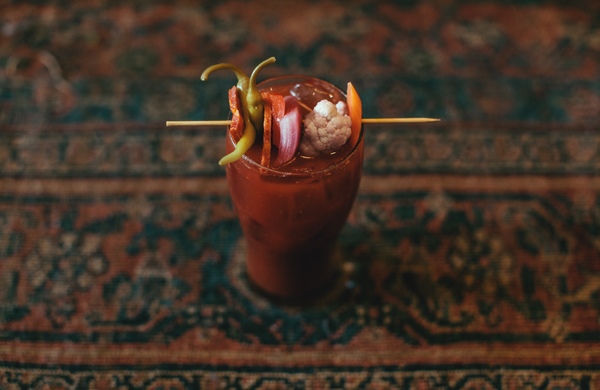 If an apothecary were to stock booze in place of herbal remedies and supplements, I imagine it would look a lot like the interior of Trenchermen (2039 W. North Ave.). In a way, maybe there's some backward hair-of-the-dog logic to this idea. Either way, Trenchermen is a really, really good place to hang out on a Saturday morning.
Chicagoans love brunch, and they love waiting around for it, too. I, however, do not love waiting. I hate it. So I am pleasantly surprised when we find the bar only moderately busy just before 11 a.m. We grab seats toward the middle of one side and order two Bloody Marias. That's tequila instead of vodka, which I order after asking our bartender, Wade, if he had a preference for an alternative to the invisibility of vodka in a bloody.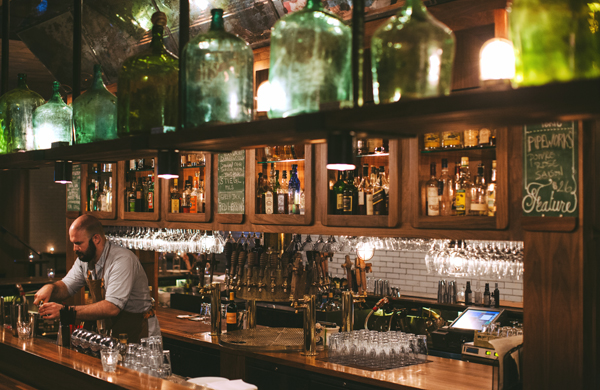 The mix is all pre-made, albeit wholly from scratch, so the drinks arrive quickly, crowned with a moderately complicated garnish: giardinera-style cauliflower, onion, and carrot, alongside two quarters of some kind of fennel-ish salami. I'm also pleasantly surprised to see one of my favorite peppers: a pippara.
It is the darkest bloody I have ever seen, deep and rich in color. And very spicy. A punch-you-in-the-face kind of spicy, which I later learn is likely from sriracha. It also contains Red Boat fish sauce, a natural Vietnamese fish sauce made from slow-aged black anchovies that gives the drink a sneaky hint of umami. And horseradish. Lots of horseradish, which I'd consider a must in any good bloody.
Trenchermen opened one year and three months ago. Back in the spring and summer of 2010, I worked in the restaurant that had previously occupied the space: Spring. Spring had been open a decade when it shut down on New Year's Day of 2011. A staple of the neighborhood, it was one of the few dining destinations in Wicker Park that managed to make it well beyond that fateful first year. It's pretty strange to be back inside the same space—though, save for the façade, it's basically unrecognizable, which is a good thing. (Sorry, Spring, but your interior was so ugly.)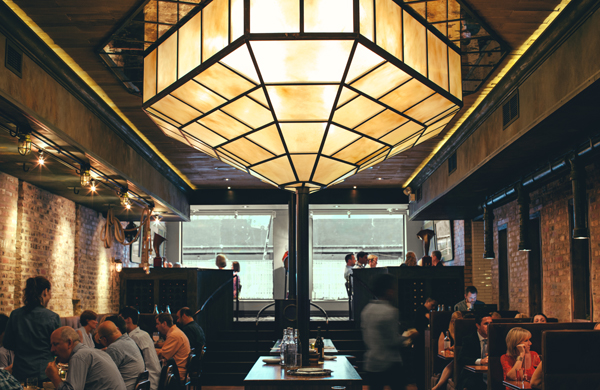 With lots of change happening in Wicker Park over the last decade—most notably a slew of restaurant openings, and subsequent closings just in the last year—Trenchermen fans can rest easy in the arms of the restaurateur supergroup that runs it. Evidenced by constantly crowded spots like Big Star (1531 N. Damen Ave.) and the Violet Hour (1520 N. Damen Ave.), it takes big names (like Rick Bayless, who is now slated to open a new place further east on North Avenue) with years in the industry to keep places in this oft-changing neighborhood not just afloat, but thriving.
I let the ice melt a little before I drink the rest, which is generally not preferable when drinking a bloody anything, since it dilutes the whole business and makes it a weird, watery booze-soup. But I'm still developing my palate's defenses against the cultish, fiery sriracha. So I drink the rest slowly through the straw, feigning toughness even though I'm pretty sure my face is on fire. Luckily, there's plenty to look at in every corner of this well-thought-out space. I welcome the distraction. It is, after all, the weekend.
Photos: Courtesy of Trenchermen
BY: Lisa Ladehoff
Guide Staff Writer
A native of the city of big shoulders, Lisa is a small-shouldered books and booze enthusiast living on Chicago's Northwest side with a large cat, a tiny bar, and a medium-sized library.