The Bruery's Golden Ale Is Like a Cursed Apple in All the Right Ways
BY: Shannon Jewitt |
Feb 28, 2014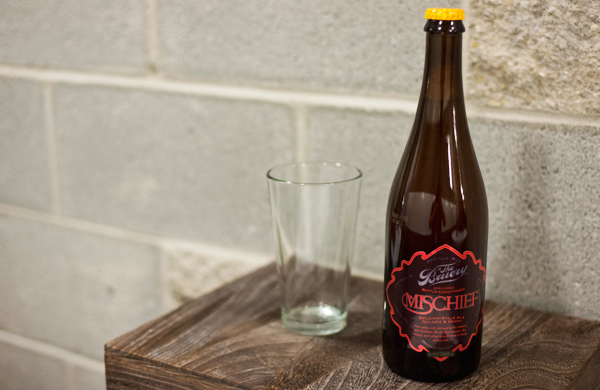 There are almost 3,000 craft breweries in the United States. In this edition of Beer Stalker, we investigate The Bruery's Mischief. The brewers compare it to Snow White's cursed apple and explain why you'll want to keep an eye out while drinking it.
The Beer:
The Bruery
's
Mischief
Style:
Belgian-style golden strong ale with the character of a West Coast IPA
Hops:
Columbus, Saaz, Sterling, Centennial, Summit
Color:
A burnished-gold hue that belies some serious punch. "It is deceivingly strong," said Benjamin Weiss, The Bruery's marketing director. "You can sip through it really quickly without realizing that 8.5% is really double the strength of your standard american lager."
What Disney character would it be?
The Bruery is located in Placentia, California, about 10 minutes away from Disneyland, so Mischief must have a fitting alter ego. Weiss said it's probably
"the Snow White evil lady with the apple."
[Ed. The evil queen offers Snow White a poisoned apple.]
That's because Mischief is "something delicious, but a little devilish inside. Plus, it'll put you to sleep if you drink too much."
 Where you should drink it: 
"It goes well with dinner, it goes well with a picnic, it goes well with a baseball game. To me, it's one of our more straightforward, anytime beers. … I'm sure it goes well with law school," Weiss said, alluding to The Bruery's inception. Founder Patrick Rue decided to get serious about his homebrewing hobby and dropped out of law school to open the brewery in 2008.
Does Mischief have a cool new sibling? 
Yes. "We are actually releasing a beer that we collaborated on with
Three Floyds
," Weiss said. Half of the beer has been aging in bourbon barrels with coffee, cherries, and vanilla beans. The other half has been aging in rum barrels with orange zest, ginger, and spices, for a spiced-rum character, he said. The imperial porter, called Rue de' Floyd, should be available some time in March.
Where you can find Mischief around Chicago: 
First Draft
(South Loop | 649 S. Clark St.)
Grand & Western Liquors
(Ukrainian Village | 515 N. Western Ave.)
Bottles and Cans
(Northcenter | 4109 N. Lincoln Ave.)
Photo credit: Timothy Burkhart, Groupon
BY: Shannon Jewitt
Resident Beer Stalker Shannon has an insatiable thirst for craft beer. Despite being a vegetarian, she always makes an exception for fries cooked in duck fat.