The Candid Concierge: Benny Rebolloso at Hyatt Regency Chicago on the Riverwalk
BY: Melanie Faetz |
Apr 15, 2013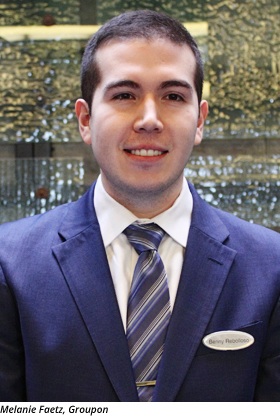 Chicago's professional restaurant recommenders—hotel concierges—reveal where they actually spend their hard-earned cash.
"Most of the people who stay here are tourists … and they just want to know where to find pizza," confessed Benny Rebolloso, who's been a concierge at
Hyatt Regency Chicago on the Riverwalk
for two years. It's a shame, too, because Benny has far more interesting recommendations up his sleeve. Alas, another example of a Chicagoan feeling weighed down by deep-dish. Benny, who is of Mexican descent, grew up in Chicago's Little Village, fondly dubbed the "Mexico of the Midwest" by many of its residents. It's no wonder the 26-year-old, who now lives in Lincoln Park, is particular about Mexican food. "I go to my mom's house," he said when asked where he goes for the best Mexican—this made me trust his subsequent recommendations all the more. For chicken tamales, which form one of his favorite food groups,
La Chiquita
reigns supreme. He recommended the Little Village location around 26th and Central Park, although the combined taqueria/supermercado has counterparts throughout the city. The menu is extensive yet free of frills, which is exactly why Benny likes it. "It's authentic Mexican cuisine, not someone's interpretation of it. It's the stuff I was raised on. Mexican dishes aren't supposed to be fancy, and they're not supposed to be high priced. They're supposed to be good, cheap, and filling." Beyond the tamales, which are available on weekends, La Chiquita meets all of Benny's criteria with flavorful, inexpensive dishes such as the gordita al pastor, a fried corn pastry stuffed with marinated pork, and the guisada de res, a traditional beef stew served with rice and beans. Closer to his work—and decidedly more mainstream—is another one of Benny's favorites,
Cantina Laredo
, and he advises starting with the guacamole. But don't expect to find Benny washing down his chips and dip with a margarita. He's a self-proclaimed "scotch and whiskey kind of guy" who prefers to trek over to
Benny's Chop House
for its house old-fashioned with burnt orange peel, and to sit in the special chairs reserved for people named Benny.
BY: Melanie Faetz
Guide Staff Writer
Friendly but generally nervous 20-something who prefers to be holding a cold beer so that she can blame her sweaty palms on the condensation.