The Candid Concierge: Ruben Caraballo at Radisson Blu Aqua Hotel in River East
BY: Melanie Faetz |
Apr 8, 2013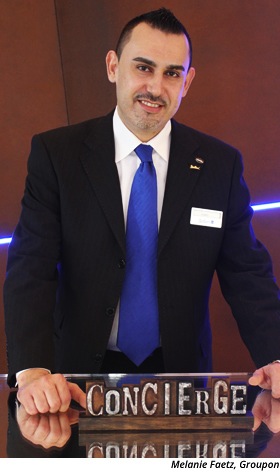 Chicago's professional restaurant recommenders—hotel concierges—reveal where they actually spend their hard-earned cash.
Ruben Caraballo, who's been a concierge for 16 years, rattles off the names of downtown restaurants with the vigor of a 5-year-old introducing you to his toys. But he hasn't always been an expert on the matter. The Puerto Rico native came to Chicago after college, at which point he began to learn the city from scratch. I stopped by Ruben's station at the
Radisson Blu Aqua Hotel
 in River East to find out his personal dining favorites—the places where the Edgewater resident actually eats when he's not giving recommendations. "I'm a meat eater," he said almost sheepishly before launching into his top picks. "
Chicago Cut Steakhouse
is one of my favorites. I go for the T-bone, and I love the garlic potatoes." Ruben was quick to name
Tavern at the Park
'
s "so juicy" chopped-steak cheeseburger—especially with a fried egg thrown on top—as the one lunch item he'd happily eat everyday for the rest of his life, although
Al's Beef
also holds a special place in his stomach's heart. "The first place I discovered when I moved to the city was
Ann Sather's
in Andersonville. They're famous for their muffins, but I also like the classics—eggs and bacon." The spot remains one of Ruben's personal favorites for brunch, along with Andersonville's
m. henry
 for more elegant morning plates with a Southern twist. Should he ever skip straight to dessert, he'd opt for the crema bruciata (crème brûlée) at
Filini
, the whimsically industrial Italian restaurant located on Radisson Blu's first level. Though Ruben seems to always gravitate toward comforting meals, when he wants a true taste of home, he heads to Humboldt Park for Puerto Rican food at
La Bruquena
. "They have great mofongo and jibaritos, traditional piña coladas made with Puerto Rican rum, and Cola Champagne, which is similar to Dr Pepper." He adds that the vibe is "similar to the restaurants in Puerto Rico, very casual, [with] typical Puerto Rican music on the jukebox."
BY: Melanie Faetz
Guide Staff Writer
Friendly but generally nervous 20-something who prefers to be holding a cold beer so that she can blame her sweaty palms on the condensation.