GROUPON GUIDE TO WASHINGTON-DC
The Definitive Ranking of Girl Scout Cookies—Even Trefoils, Which Are Terrible
BY: Liz Juranek |
Feb 27, 2014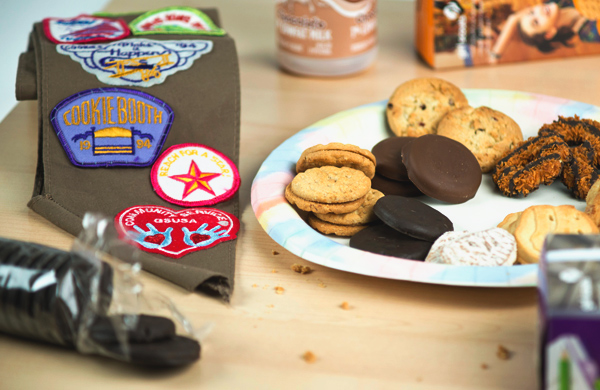 It's Girl Scout cookie season, but unless you have a kid or a kid sister selling them door-to-door, they can be hard to track down. Different names (they're sold under multiple monikers depending on your region) and new varieties add to the confusion. You should feel good about buying a box, even if you don't end up liking it, because you're helping a young girl learn about business and money. But at upwards of $4 a pop, you also don't want to settle for inferior treats if you don't have to.
To help you ferret out the best cookies from the mediocre, I, a former Girl Scout for four years, took on the arduous task of eating and then ranking all eight varieties sold by the Girl Scouts of Greater Chicago and Northwest Indiana.
I recruited some fellow The Guide writers to act as judges, to help inform my perspective and give voice to the voiceless. (Note: If your cookies have voices, you've probably eaten too much sugar. Eat two servings of broccoli and get a good night's sleep.)
Here are the results.
#1: Samoas
The Scouts teach girls to share, but since so many people dislike coconut, you won't have to with these cookies. That—and their chocolatey/caramel-y deliciousness—made them a shoo-in for first place.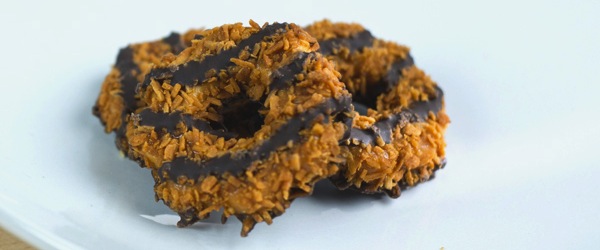 Judges' comments: "First off, I will forever call these Caramel deLites and will fight anyone who questions it. Second off, they're probably my favorite cookie. Even if you hate coconut, give these a shot. There's chocolate and caramel also, so I think you're safe." – Beth MacKay
"No. 1 cookie in the world. Not just Girl Scout cookie, but any cookie, ever. I don't even like coconut, but the combination of caramel and chocolate makes up for any coconut dislike. Also, can we talk about how much of a racket the Girl Scouts are, because this most-wonderfully awesome cookie comes in a teeny-tiny package. Seriously, only 15 cookies per package? You get like 30 Thin Mints!" – Jolene Gilbert
Dissenting opinion: "Why do people put coconut on everything? It ruins what could've been a perfectly delicious cookie. I didn't even want to finish it." – Christie Succop
#2: Savannah Smiles
A surprise front-runner, these zesty pops of lemon break out of the super-sweet cookie rut. The only downside to these is the powdered sugar could get everywhere. Solution: cram the entire cookie in your mouth. Dainty bites lead to sugar dust on your clothes.

Judges' comments: "These remind me of a hard-cookie, smaller, less lemony version of the old-school Lemon Pastry Crémes of my Girl Scout Cookie–selling days, which were always poor sellers but one of my childhood favorites." – Amy Browning
"I adore these. They remind me of Mexican wedding cookies, but with a powerful lemon zing. I can see how some people wouldn't like the zing, though." – Halley Lawrence
"Dark-horse candidate for second-best cookie of the bunch. The zip on the lemon-sugar powder caught me off guard, but I like feeling dangerous when I eat cookies. Really great crunch, too." – Dan Delagrange
Dissenting opinion: "I feel like this should taste like sunshine, but instead all I'm getting is the taste of lemon-scented cleaning products." – Christie Succop

#3: Thin Mints
They're classics for a reason—this is what people think of when they hear "Girl Scout cookie." But that means other bakeries took note, and now you can buy cookies similar to Thin Mints at any time. They're still delicious, but they aren't special anymore, which is why they won't make it any higher than third place.

Judges' comments: "Crisp, crumbly, minty, chocolate, this is the most popular cookie for good reason. Other cookies want to be them, humans can't resist them." – Halley Lawrence
"Just as satisfying as they were when I was 10." – Sarah Gorr
"This is the masterpiece of mass-production cookies. Seriously, the Thin Mint cannot be topped." – Kate Raftery
Dissenting opinions: None.
#4: Thank U Berry Munches
These taste better than you think. While the cranberries may fool you into thinking they're healthy, each cookie has more calories than an Oreo: 60. Plus, I'm a sucker for a pun, especially one that tries overly hard.

Judges' comments: "Cute name. Makes me think of the kids' book Doctor De Soto." – Charles Austin
"Too crumbly of a cookie, but I thought the cranberries were nice. Probably would have worked better in a more oatmeal-raisin-type cookie, though." – Sarah Gorr
Dissenting opinion: "There were berries in here? And white chocolate? And crispy rice? Could've fooled me. I didn't get much of a munch at all." – Christie Succop
#5: Dulce de Leches
While it may seem like you get a lot of these quarter-size cookies in each box, because they taste so good, you'll eat them by the handful. And unlike other dulce de leche–flavored treats, they aren't cloyingly sweet.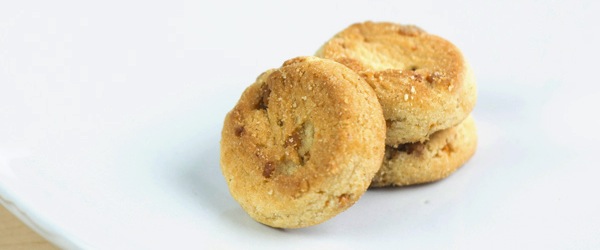 Judges' comments: "I'm super impressed by these! For such a little cookie it packs a lot of flavor. I usually don't like super-sweet things, but this one was great." – Beth MacKay
"Do I detect a note of cinnamon? Or is that just good ol' sugar? Maybe I need to go to the dentist for a taste-bud calibration." – Charles Austin
"This was surprisingly delicious! Good mix of crunch and sweetness." – Rachel Moblo
Dissenting opinions: None.
#6: Tagalongs
I think my childhood memories are colored more by the excitement of getting to eat these cookies than the actual taste of them. The chocolate and peanut butter taste like the worst bargain-bin, no-name brands ever. Maybe these are leftovers from the ones I sold in 1994.

Judges' comments: "I thought these were called 'Tagalogs,' and maybe there were a lot of Girl Scouts in the Philippines or something. These taste pretty good, but since they look exactly like a Thin Mint cookie from the outside, it's always disappointing to bite in and see this cookie for what it really is: inferior." – Charles Austin
"These used to be my favorite but I'm honestly a little disappointed by how they tasted now. These tasted like a mix of staleness and bad peanut butter." – Rachel Moblo
Dissenting opinions: "Now this is a peanut-butter cookie. Get with it, Do-Si-Dos." – Kate Raftery
"Peanut butter and chocolate, the perfect combination! These were always my dad's favorite cookie, so I was only allowed one out of the whole box. Thank goodness I make my own money these days so I can have a whole box to myself because these are seriously so good." – Jolene Gilbert
#7 Do-Si-Dos
The Girl Scout equivalent of hardtack, Do-Si-Dos are filled with peanut butter so hard and dry it seems like it's been left out on a kitchen counter for infinity. If you do mistakenly eat one, make sure you have a backup Thin Mint on hand to rid your mouth of the flavorless void the Do-Si-Do leaves.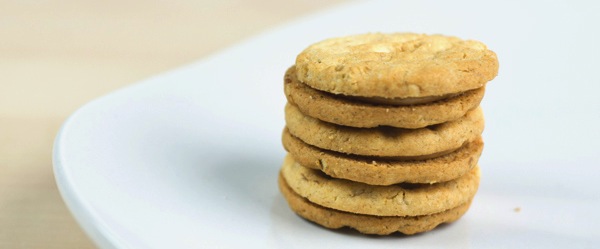 Judges' comments: "I can only detect a hint of peanut butter at the end of a bite. If you're going to make a peanut-butter sandwich, go big or go home, especially if the other flavor is boring ol' oatmeal." – Kate Raftery
"I'm usually peanut butter's biggest fan but these were far too dry for my tastes. You know those YouTube videos of dogs licking the air after being fed peanut butter, trying to clean off the roof of their mouth? That was me after eating this." – Halley Lawrence
"Meh, I wish it were dipped in chocolate." – Jolene Gilbert
Dissenting opinions: None.
#8: Trefoil
These taste like crumbling drywall. My kind neighbor bought a box of these from me when I was a Scout. She clearly did not want to buy any cookies. Buy these cookies if you hate cookies, and save the Samoas for people who will enjoy them.

Judges' comments: "I hate to criticize the cookie that is literally the Girl Scouts logo—I feel like I'm betraying the organization itself—but I would never choose to eat these." – Kate Raftery
"These are decent enough. If I were running for president this is probably the Girl Scout cookie I'd eat on camera. You won't offend any constituents with such a plain, safe cookie." – Charles Austin
"It's too boring to be a cookie." – Christie Succop
Dissenting opinions: "Despite this lacking the bells and whistles on some of the others, this is a solid, underrated cookie. Its buttery flavor almost makes you feel like you're eating cookie dough, which can't be said of other no-frills shortbreads out there." – Dan Delagrange
"I always thought I hated shortbread when I was younger because they're super boring, but these were light and delicious. I just want a couple of these with a cup of tea." – Rachel Moblo
To acquire your own Girl Scout cookies, track down local troops via the Girl Scouts' website or its cookie-finding app. (Yes, that's a thing.)
Check out the Guide's other taste tests:
| | |
| --- | --- |
| | |
| The Worst Halloween Candy | Taste-Testing Unfancy Fizzy Drinks |