GROUPON GUIDE TO NEW YORK CITY
The Discerning BYOBer: Di Fara Pizza
BY: Alison Hamm |
Apr 22, 2013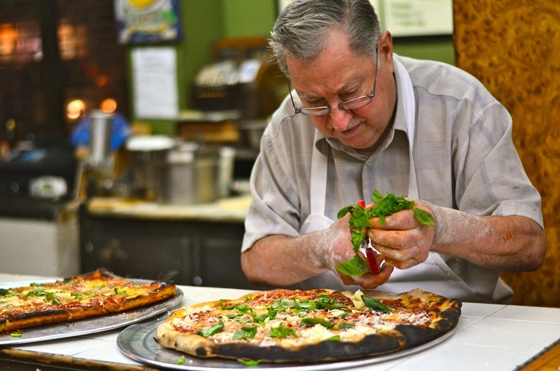 You can't rush perfection, but you can wash it down correctly. The DeMarco family explains why you won't mind waiting for a slice at Di Fara Pizza and what you should bring to drink.
Worth the Wait
Dom DeMarco isn't big on advertising. Probably because he doesn't need it. Dom—owner, founder, and sole chef at Di Fara Pizza—knows he'll have a crowd to feed no matter what. The masses waiting in line outside Di Fara's modest storefront, next door to a 99-cent shop in Brooklyn, are evidence of that. So is the fact that they're waiting for the chance to hand over $5 for a piece of pizza. Five bucks might seem a bit much for a single slice, but these devotees clearly don't mind. Even Mayor Bloomberg weighed in on the discussion. "If you've ever had a really great slice of pizza," he told the
New York Times
, "you know there are worse deals." But the food at Di Fara doesn't really need mayoral endorsements. Margaret DeMarco, Di Fara's manager and Dom's daughter, explained why the pies are their own best advertisement: "[The] pizzas are made with two cheeses and fresh, snipped basil and a drizzle of olive oil. The square is a slightly thicker crust, twice-baked, made with a richer sauce, and is a much heartier choice. The round is quite delicate in texture. We're famous for both." Margaret has worked alongside her father for more than 20 years now, and like the rest of her six siblings, she has, not surprisingly, developed cooking skills that she calls a "special art." But dad is still in charge of all the cooking, and will be "as long as he has the strength and the desire." He was born in Italy's Provincia di Caserta, and he uses all imported ingredients for his pies—from the buffalo mozzarella cheese brought from Italy to the basil from Israel.
While You Wait (and While You Eat): Take Advantage of Di Fara's BYOB Option
You won't see mention of it on Di Fara's website, but the pizzeria is also BYOB. In 2011, the
Village Voice
named Di Fara one of its 10 Best BYOB Restaurants in the city, encouraging guests to "uncork your best bottle of red and indulge in a marriage of gastronomic perfection." Margaret said that since the
Village Voice
article, they've noticed a lot of customers opting to bring along something to drink in the evenings. "Wine is usually the choice for most, but beer is also brought in," she said. Margaret's most important pairing recommendation for those settling in at one of the eatery's coveted 19 seats? Try a slice of both the round pie and the square pie for the sake of comparison. After that wait, you've probably earned it.
What Booze to Bring
Serious Eats says: Czech Krušovice beer
"Krušovice, with its sweet, almost caramel flavor, is a dark (basically black) beer, that's hardly found in the States … A cold Krušovice with a hot, olive oily, basily Di Fara's slice, is my idea of each food group at its best," said writer Erin Zimmer, who suggests picking it up at Associated Supermarket directly across the street.
Gothamist says: Italian red wines
"Bring a bottle of chianti or a barbera."
BY: Alison Hamm
Guide Staff Writer
Alison would rather interview a chef or food blogger than actually cook. She never says no to a Hamm's Beer on special.