The Faint's Todd Fink Wants to Learn About Your Brain
BY: Dan Caffrey |
May 16, 2014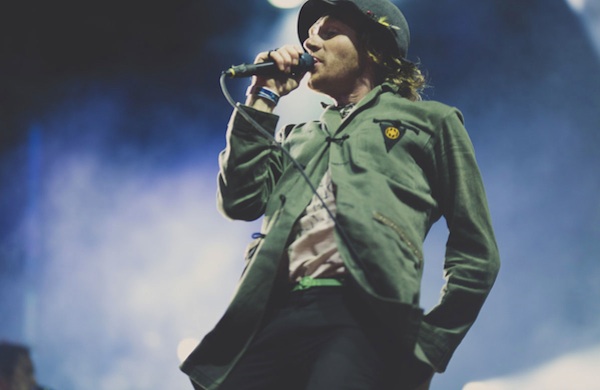 The Faint
create some of the most danceable music around, yet they've always been pegged as "dark." Maybe it has something to do with their album titles:
Danse Macabre
,
Wet From Birth
, and, most recently,
Doom Abuse
, their first full-length in six years. But frontman Todd Fink suggests that all the darkness could just be the band's version of a mind game. After all, this is a guy who's deeply interested in how the human brain works. Telekinesis and freaky lab tests were just a couple of topics that came up when we chatted with Fink ahead of his band's upcoming show at the
Metro
on May 23.
GROUPON: Doom Abuse has a pretty apocalyptic feel about it, or at least it seems to predict that's where we're headed. Would you consider yourself a pessimistic person?
TODD FINK: I think people hear the lyrics as darker and more pessimistic than they are…We do this overly dark thing sometimes…If you really listen to the lyrics or look a little closer, we're mostly poking fun at that type of thing.
G: Do you worry about any kind of "big picture" issues in real life?
TF: Yeah. Everybody's got concerns. But I don't feel especially paranoid or fearful, personally.
G: The record also delves pretty heavily into the function and potential of the human brain. Is that something you're pretty obsessed with?
TF: Yeah. I'm seeing more and more connections between thoughts and the reality that comes about after the thought. I like to watch documentaries about what they've been able to figure out through brain scans and EEG tests. As a species, I think we're making progress toward understanding what we are, who we are, what motivates us, and how we rationalize things. We're detecting patterns. I'm curious about what those patterns are.
G: Have you seen that study at Harvard where a guy controls a mouse's tail with his brain?
TF: No, I haven't seen that exact one. But I've seen people move a computer mouse on the screen with their brain. I think they're able to implant something like a joystick in the brain, based on what you're thinking, for paralyzed people.
G: What do you think the human brain will be capable of in 20 years?
TF: That's really interesting to speculate about. I'm not close enough to the source of information to be able to project well, but I think we're going to see things that we can't even really imagine. I think, as we get 20 or 40 years into the future from here, this technological curve…it's elliptical. It's getting steeper and faster and everything is changing. It's hard to imagine what it could be. I don't know if it will be directly related to the brain or not, or if [technology will develop] to the point where we can change physical objects with our minds into whatever other objects we want them to be. That's going to be a big one someday.
G: You seem like a pretty cerebral guy, but someone who also loves to cut loose and dance onstage. Would you consider yourself a clubgoer, someone who's embedded in that culture?
TF: That's an interesting question. I think of myself as really into electronic dance music, and really into the idea of dancing and freeing [ourselves] from whatever it is we worry about—giving our physical bodies up to this propulsion of sound and division of time. If I lived in Berlin, I would be out all the time. But I don't find myself dancing as much as I'd like to.
G: You also used to skateboard. Do you do it anymore?
TF: I try not to. My body's kind of fragile these days. I've had rheumatoid arthritis since 1985. It's been good, but I still have it. It's been in remission for a long time. I ended up stopping skateboarding for that reason. I had done well in the national competitions and was thinking about going pro, then I had a knee surgery that put me out for good. That was what made me turn toward music. Music was actually my second choice. At first I thought I'd shoot pool, which I had some skills at.
G: Do you miss skateboarding?
TF: Yeah, I do. I love watching it. I skate every year when it gets nice out, but I try to only do it for a few minutes, because my confidence will build back up real quick, and I just can't really fall anymore. My wrists don't bend, and my knees don't bend enough…Those would be pretty ugly falls. I've already busted all my front teeth out and had them replaced, expensively. It's better to not break those anymore.
The Faint hope to not break anything when they play the Metro (3730 N. Clark St.) on Friday, May 23, at 9 p.m. Tickets are $24 and can be purchased here.
Search Groupon for other deals on concerts in Chicago.