GROUPON GUIDE TO WASHINGTON-DC
The Five Most Heart-Stopping Major-League Ballpark Hot Dogs, Deconstructed
BY: Aimee Algas Alker |
Apr 18, 2014
We're into baseball season, America. And part of the pleasure of going to the ballpark is sinking your teeth into a delicious hot dog. To make them even more memorable, many stadium concessions go beyond mustard and onions to create a singular hot dog experience.
We scoured the nation's stadiums for the most inventive regional dogs, then took them apart to see what made them tick. If you're cheering your team on from far away, with our help—and these photos—you can recreate them at home to feel like you're really there.
Smokehouse/Polish Hill Dog at PNC Park (Pittsburgh Pirates)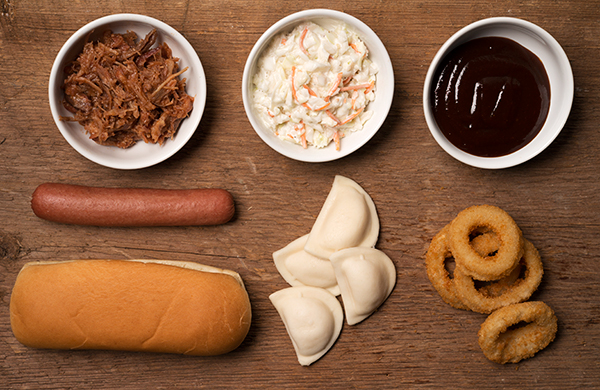 Toppings: Pulled pork, cole slaw, Kansas City barbecue sauce, onion rings, mini pierogies (see the reconstructed dog at the top of the page).
Our tip: The most indulgent hot dog toppings are a meal in themselves. This dog's toppings make a meal (a pulled-pork sandwich) and a couple of snacks (mini pierogies and onion rings).
Boomstick at Globe Life Park (Texas Rangers)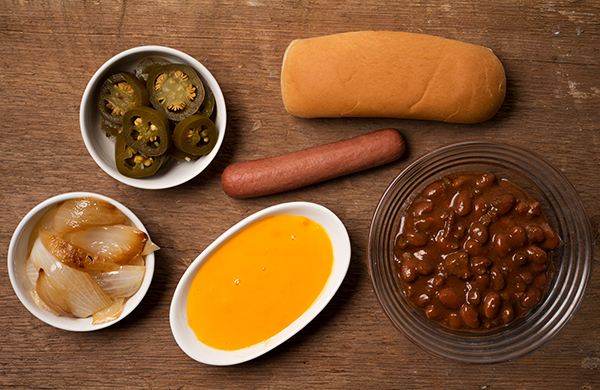 Toppings: Caramelized onions, jalapeños, nacho cheese sauce, chili
Our tip: If you ordered this behemoth at the park, your trip back to your seats would be precarious indeed—this dog is 2 feet long. If you want a true at-home replica of the Boomstick, grab four regular dogs and line them up on a french loaf or just attach them to each other with your dad's solution to everything: duct tape.
Arizona Dog at Chase Field (Arizona Diamondbacks)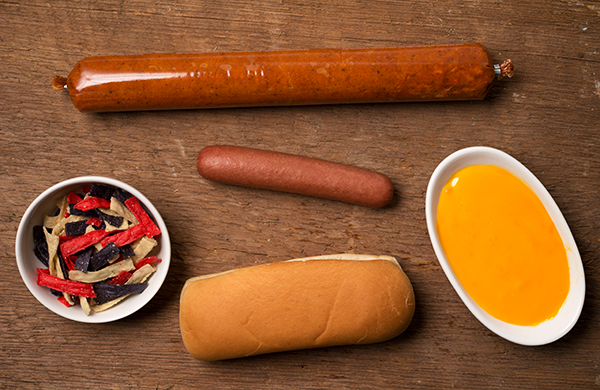 Toppings: Multicolored tortilla strips, chorizo, nacho cheese
Our tip: A cheese dog is not unique, but the addition of the zest of chorizo and the crunch of tortilla strips elevates this into an elegantly gooey multicultural meal.
Halo Dog at Angel Stadium (Los Angeles Angels)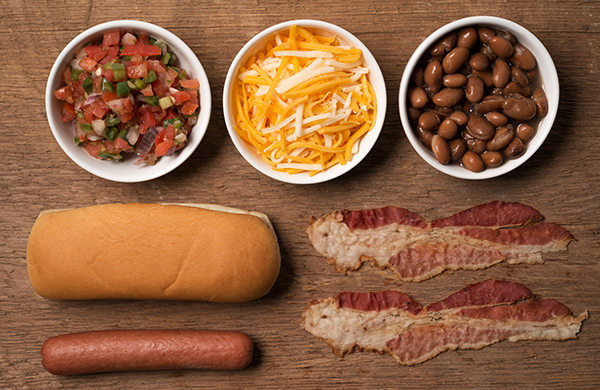 Toppings: Pico de gallo, shredded monterey jack cheese, charro beans, bacon (wrapped around the dog)
Our tip: Wrapping a hot dog with bacon is no easy task. Try this technique: cook it partway so it's still flexible, then secure it to the hot dog with toothpicks and pop the dog into the oven till the bacon is crisp.
1950s TV Dinner Dog at Wrigley Field (Chicago Cubs)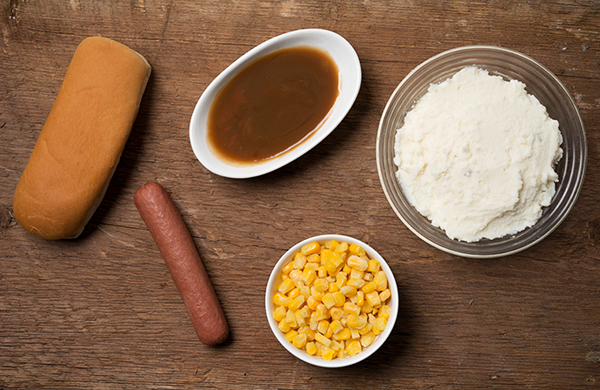 Toppings: Gravy, mashed potatoes, and corn
Our tip: This year commemorates 100 years of Wrigley Field, and to celebrate, they're topping dogs with decades-inspired toppings. No word if the menu includes goat.
Photos by Andrew Nawrocki, Groupon