The Jesus Lizard's Latest Work is One Part Noise Rock, One Part Coffee-Table Book
BY: COURTNEY RYAN | 3.13.2014 |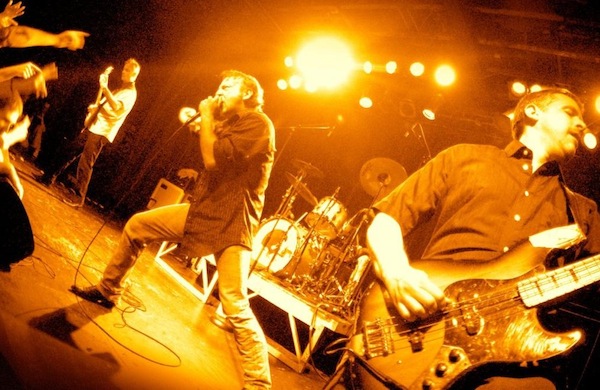 Members of alt-rock band The Jesus Lizard join Drag City Records' Rian Murphey at a release party for the group's new art (and cook?) book. 
The marriage of music and imagery is a long one that's begotten countless offspring, from Johannes Vermeer to Beyoncé. Somewhere above that fray sits The Jesus Lizard, whose onstage antics—mostly fueled by singer David Yow's shirtless ravings and aggressive interactions with the audience—created a mythical live show known for drawing barbaric crowds.
To commemorate the '90s noise band's physical presence, Akashic Books is releasing what it describes as "an idiosyncratic, impassioned document of [the Jesus Lizard's] rock and roll conquests" in the form of a coffee table–ready art book. The Brooklyn-based publisher and Chicago's own Curbside Splendor will hold a release party on Thursday, March 27, to debut the collection of Polaroids, essays, and even favorite recipes by the band. Members David Sims and Mac McNeilly will join Yow at the Bottle for a panel discussion on their personal contributions to the book, as well as their history as a group. Fans will also hear local authors Joe Meno and Megan Stielstra read pieces they've written specifically for the book.
The Jesus Lizard's book release party is on Thursday, March 27, at the Empty Bottle (1035 N. Western Ave.). The show is free with an RSVP or $8 at the door. 
Photo courtesy of The Jesus Lizard Facebook community
BY: Courtney Ryan
Guide Staff Writer
Courtney Ryan is a Chicago-based writer and Derrick Rose fan. She spends almost 100% of her time making or eating popcorn.