The Logan Square Farmers' Market: A Quick Breakdown of a Local Sunday Favorite
BY: Lisa Ladehoff |
May 16, 2013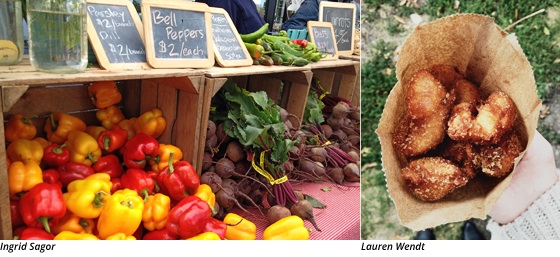 Meet the woman behind this award-winning market, and figure out when it is, where it is, and who among the 60 vendors has the best snacks and the most adorable accents.
Where Am I Going? And When?
The Market! Every Sunday, 10 a.m. to 2 p.m.
This year, the
Logan Square farmers' market
celebrates its ninth season, and it's more diverse than ever. The good news is, it's starting two weeks earlier than it has in the past, and the inaugural 2013 outdoor market is this Sunday, May 19. The even better news is, you can not only get amazing local produce, but flavorful, locally crafted grub along Logan Boulevard's scenic parkway. Get there early (before stuff sells out) to sate your Sunday morning hunger, whether you're hanging out with your kids, or staggering along the parkway with a crippling hangover.
Who's In Charge Here?
Megan Larmer, Market Manager Megan (who I like to refer to as the Queen of the Farmers' Market) took the reins as manager two years ago. The role conveniently married her interest in alternative food systems with her experience in customer service and the restaurant industry; she's also a founding member of the innovative urban-agricultural
Chicago Rarities Orchard Project
. In addition to her dizzying number of duties, Larmer pens a weekly newsletter, which market-goers can subscribe to in order to get a first look at that week's rotating list of vendors, live music, and what's in season. She also helps process your credit- and debit-card payments. That's right, you can use your credit card at the farmers' market, as well as LINK and Snap benefits. Last year, Chicagoans voted Logan Square farmers' market as their
favorite market
in all the land. Good job, Megan.
What For?
To Eat, of Course. Maybe Do Some Shopping, Too.
Where to go if you're with your kids:
Co-op Sauce
has achieved Chicago-style fame for its sensational hot sauces. At the market, not only do these ambassadors of condiments sling a number of bottled products, but they serve up heaping piles of pulled-pork nachos. If your kids drop some of this messy treat, you needn't worry. It's the ground. A nearby dog will likely rejoice in the youthful misfortune. Cherub's elotes are the real deal. Skewered on a stroll-as-you-eat-friendly stick, the Mexican corn-on-the-cob snack is brushed with mayo and butter before it gets a healthy shake of cheese and chili powder. Eat it shamelessly. Wash it down with a glass of fresh-made horchata.
Zullo's
(epic) apple-cider donut holes. Airy, freshly fried little doughy wonders, tossed in cinnamon sugar and served in a brown paper bag. Just eat them. You won't regret it.
Cook Au Vin
has been a staple at the market for a few years now, and more recently, its owners opened a charming storefront,
La Boulangerie
, at the corner of Logan and Milwaukee. Hang out by their stand to get your fill of authentic French-ness, pick up an asiago baguette or a chocolate croissant, or order one of their jam crepes, made on the spot.
Where to go if you're accompanied by a sorrowful hangover: 
Spencer's Jolly Posh Foods
grills up awesome sausages, onsite. If you're not drawn to the tent by the irresistible aroma of the grill, then perhaps you will be by the sound of the staff's charming British accents. Their homemade bangers are served up on a crusty baguette; dry-cured back bacon and whole-grain mustard are optional.
Crumb
will sate your morning-after sugar cravings with its fresh-baked sweets, which include danishes and sticky buns. Or you could always gnaw on one of the seasonal foccacias.
Scrumptious Pantry's
bloody-mary kit (pickled peppers, heirloom-tomato passata, and cranberry catsup) takes almost all of the effort out of making a great bloody. If you're too hungover to drop some ice and vodka in a glass, you should probably just go home and get back in bed.
Koval Distillery
has you covered if you're out of booze and ready to break into that bloody-mary kit, immediately. Stop by to stock up on small-batch, locally crafted vodka, distilled from rye. Larmer says if you can't wait, you could always, "y'know, shake it up in a mason jar down at the end of the parkway, put it in a brown paper bag," and just don't tell her about it.
Pictured above, fresh produce from one of the farm stands, taken by Ingrid Sagor, and the aforementioned apple-cider donuts, taken by Lauren Wendt, both discovered under the hashtag #logansquarefarmersmarket on Instagram. Tag your photos of this week's market with #lovelocal for a chance to win Groupon's Localgram contest, part of a national campaign to celebrate well-loved local businesses.
BY: Lisa Ladehoff
Guide Staff Writer
A native of the city of big shoulders, Lisa is a small-shouldered books and booze enthusiast living on Chicago's Northwest side with a large cat, a tiny bar, and a medium-sized library.