The Melvins' Buzz Osborne Is Not James Taylor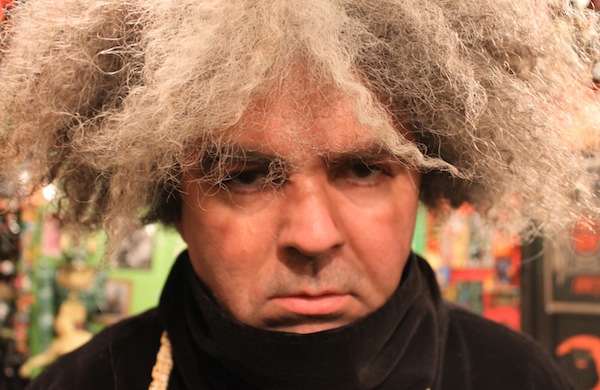 Wrapping up his first acoustic tour, legendary Melvins founder Buzz Osborne talks accidentalism, T Bone Burnett, and not being boring.
What started as a trio of kids making their own weird noise grew into the Melvins, a sludge-rock outfit that helped usher in the grunge era and influenced countless bands to come, including Mudhoney and Nirvana. For more than three decades, Buzz Osborne and bassist-drummer Dale Crover have been the only consistent members, experimenting with their music as well as their bandmates along the way: two drummers here, a standup bassist there, the return of a founding member who's been gone for 29 years. Now Osborne, or King Buzzo, is trying out another lineup: him, by himself. Before the new Melvins album drops in the fall, he's taking his solo show on the road, stripping down the band's sound to its essence and pairing the tunes with new, haunting originals. We checked in with Osborne about what fans can expect from the tour, what it was like to give away a truck's worth of ice cream, and why he hasn't heard his songs on
True Detective
.
GROUPON: What made you want to do an acoustic tour?
BUZZ OSBORNE: I like doing things that are a little different. We've made all kinds of weird records, and it just seemed like it would be fun to do, you know? I have a
limited-edition 10-inch
that's out right now, and most of that will be on a new [solo] album that comes out June 3.
G: Has the audience response been good?
BO: I think people are surprised because, generally speaking, most people who do this are sitting on a stool or doing something that's relatively boring. I'm trying to be a little more psychotic about it, you know?
G: So what can people expect? What's an acoustic set from King Buzzo sound like?
BO: [If] they use their imagination just slightly—even a tiny bit—they'll see that basically what's going on here is what's going on with the Melvins as well. Neil Young can play any of his songs on acoustic guitar, and it doesn't sound weird. Because it's about where it's coming from. I've talked to a lot of people after the shows who are like, "Wow, I didn't expect it to be like that." I think they think it's going to be like James Taylor or something. [But] I'm also not trying to do something that sounds big and heavy metal. It certainly has those elements in there, but it's a different kind of thing.
G: I listened to the track that Rolling Stone released, "Dark Brown Teeth," and it felt like a Melvins tune but also something completely different at the same time. Sort of haunting and ethereal, yet it still had that vigor and strength behind it.
BO: Yes. That is it. That's exactly it. You said it much more efficiently than I did.
G: Well, thanks! So I have a friend who's a giant fan, and he made me promise to ask what it was like filming the ice-cream truck video in Chicago's Humboldt Park.
BO: That was a dream come true. It was one of those things where the planets aligned, and all those kids just happened to be there. It's not the kind of thing you can set up. We [did] the song, [Butthole Surfers' "Graveyard"], in front of an ice-cream truck, and we didn't imagine there'd be anybody watching. Those kids just showed up there. I think they were from a summer camp or something, and that was the first run-through we did. After that, I said to the director-guy, "I don't think we're going to get a better take than that." And he said, "Yeah, that's a wrap." We're accidentalists anyway, when it comes to that sort of thing. It's something you have to do—make sure you stay out of your own way and let those kinds of things happen as opposed to ruining it, you know? Realize that accidents happen, and sometimes they're better than what you'd originally thought. [As] a songwriter, that's always the goal: that you're going to have an idea and it's going to get better.
G: There were two Melvins songs in the fourth episode of True Detective. Do you watch the show?
BO: No, I don't watch TV. I don't even have cable. I think T Bone Burnett did the music for that show, and I met him. He's been a fan of ours for a long time—he really loved our
Eggnog
record. So I'm glad this kind of thing finally worked out. I always thought our songs were tailor-made for soundtracks. Unfortunately the movie industry doesn't agree.
King Buzzo plays at Beat Kitchen (2100 W. Belmont Ave.) on Saturday, March 22, at 8:30 p.m. Tickets are $13.50–$15 and can be purchased here.
Watch Osborne play an acoustic version of "Revolve" (and talk about how it's done):