The Mowgli's Share Their Favorite Sing-Along Songs
BY: Emily Wachowiak |
Apr 4, 2014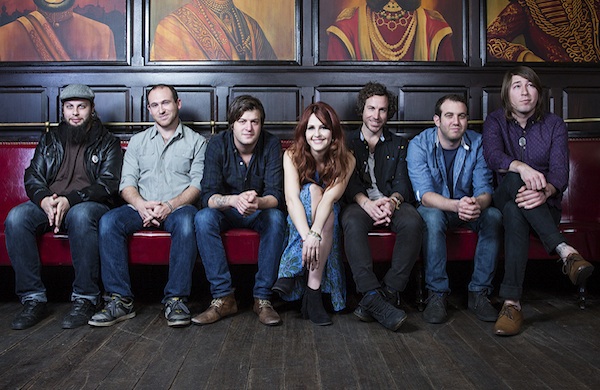 The upbeat music collective is known for playing pop-folk tunes that encourage audiences to sing along. Here are their favorite songs to belt out offstage.
The Mowgli's
are as much a philosophy as they are a band. The group of seven musicians is dedicated to effecting positive change in the world through upbeat folk tunes and inspiring lyrics. But the band doesn't just talk the talk. They regularly lend their support to worthy causes such as last summer's
Be a Mowgli
campaign, which encouraged fans to volunteer in their community and become honorary band members. Although the stages they play on are plenty crowded, The Mowgli's are more than happy to welcome new members into their rollicking collective. They often heed song requests shouted from the audience, and their 2013 album,
Waiting for the Dawn
, is filled with moments of call and response. From the uptempo chorus of "
San Francisco
" to the bridge of "
Say It, Just Say It
," fans find no shortage of chances to sing along. But The Mowgli's, it turns out, also like to sing along—and not always to their own songs. They're passing the time between stops on their coast-to-coast tour by blasting their favorite tunes to sing (or scream) their heads off to. We asked bassist-vocalist Matthew Di Panni which songs are the surest bets to get the band singing at the top of their lungs.
Grouplove – "Tongue Tied"
"From the moment this song joyfully yells in your face, you are infected with happiness. This is one of the few songs I will sing loud and proud. Plus, I genuinely love these guys and gal."
Katy Perry – "Teenage Dream"
"Katy Perry is an actual idol in my eyes. Her live show ranks in my top five favorite of all time, mostly because she made an entire arena smell like cotton candy. Also, how do you not sing this song when it comes on the radio?"
Britney Spears – "Toxic"
"This brings most of us back to high school. You couldn't get away from this song for a few years, and now every time it comes on the radio, the entire band insists on singing it. It's mostly [vocalist-percussionist] Katie [Earl] who will belt the lyrics."
Lady Antebellum – "Downtown"
"As this band grows older, somehow we have learned to appreciate country/pop music a whole lot more. This track is proof that even a burly dude with a beard who generally listens to metal can listen to Lady Antebellum."
Capital Cities – "Safe and Sound"
"The Mowgli's [were] lucky enough to share the stage with these guys last year while playing multiple festivals. You cannot escape this song anymore, and I absolutely don't want to be without it. How could you not dance to this band?"
Haim – "The Wire"
"Andy [Warren] (the drummer) sings all of the Haim sisters' parts, and he takes on their personalities every time he sings it. He can accurately recreate their entire
Saturday Night Live performance
, which is mind-blowing."
Listen to the whole playlist on Spotify.
The Mowgli's will perform at Bottom Lounge (1375 W. Lake St.) on Wednesday, April 23, at 8 p.m. Tickets are $15; click here to purchase.
Photo courtesy of the artist
BY: Emily Wachowiak
Guide Staff Writer
Emily Wachowiak is a Chicago-based writer and editor.