The Pastrami Sandwich at Dillman's in River North
BY: Nathalie Lagerfeld |
Oct 5, 2015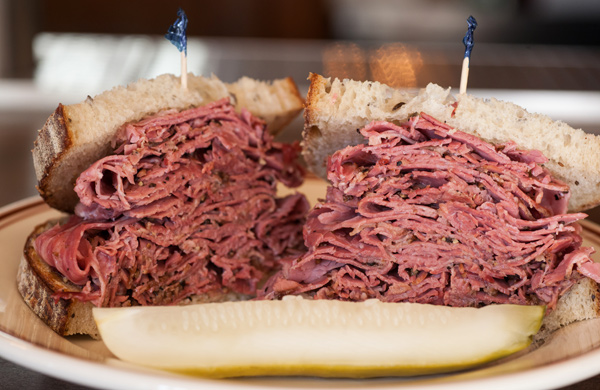 I knew, growing up, that pastrami should be thick-cut. This, even though I lived far from anywhere you'd want to eat a pastrami sandwich. Northern Virginia doesn't have many delis, at least not the type that would carefully brine, boil, and smoke their own meats.
I can count the pastrami sandwiches I've eaten in my lifetime on one hand. My father, a native New Yorker, described the Real Deli Pastrami the way other dads would tell you a bedtime story. It would have richly spiced, tender beef with a little fat at the edges, hand-cut into thick, juicy slabs. It should be stacked several inches thick on rye bread, and served with a side of kosher pickles. Anything less was unsatisfactory.
"The first time I had [thin-sliced pastrami], I tried to send it back," Dad told me recently. "I thought they'd given me corned beef."
So I was a little surprised by my pastrami sandwich at Dillman's in Chicago. At a restaurant that's inspired by traditional Jewish delis, you expect the food to be…well, traditional. But here, the pastrami meat was thin-sliced and lean, with no visible fat. The bread, too, was unusual. The chefs use a rye so light and fluffy that I was sure that when I picked it up, it would fall apart under the weight of the meat. I snapped a quick cell-phone shot for my dad to critique, imagining how his face would look as he scoffed.
Then I took a bite.
The meat was warm and melt-in-your-mouth tender, complementing the delicateness of the bread—which held up just fine. There was no mustard on the sandwich, which was just as well. The meat, with its mild smoky taste, had enough flavor on its own. The only accompaniment was a single pickle. I scarfed the sandwich down—well, most of it—much faster than I remembered being able to finish the more substantial pastramis I'd tried before.
I don't want to defy tradition, or to betray my dad's childhood teachings. But I also can't say that I wish Dillman's pastrami was thicker. Those few well-placed slices turn a huge hunk of meat into something light and delicate that's an easier fit for my diet.
I may not have found a Chicago substitute for my dad's favorite Carnegie Deli sandwich, but I do know where, next time he's in Chicago, I want to take him for lunch.
Top photo © Kari Skaflen
BY: Nathalie Lagerfeld
Guide Staff Writer
Nathalie is a writer and editor on the Guide's food team. Originally from Virginia, she now lives in Chicago, where she regularly indulges her love of tortas, bibimbap, and Cheez-Its. Follow her on Twitter @maviswillsaveus.