The Scrapple at Ina's in the West Loop
BY: AIMEE ALGAS ALKER | 11.5.2013 |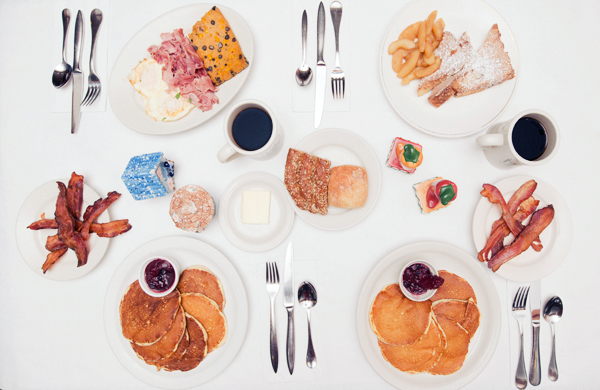 Ina's (1235 W. Randolph St.) had been on my radar for a while. How could it not be, when the proprietor's nickname is "Breakfast Queen"? Before we pulled into the parking lot, I already knew what I was going to order. As is my habit, I'd already perused the menu the night before, making selections for both my husband and me.
This gave me more time to gaze around the space once we'd arrived. The spot is cute and cozy—exposed brick walls and, on every table, kitschy salt and pepper shakers—very much like what a restaurant might look like if my husband's English aunt had decorated it. Ina's is an anomaly among the other sleeker, newer eateries just east on Randolph Street's Restaurant Row.
When we walked in, our table was all set up with actual place settings for the highchairs and paper spread out beneath them, instead of just having the highchair wedged into a four-top like we usually see when dining out.
Ina was there, too, perched on a chair in the corner, her hair done in a not-too-sweet bun, lips painted a demure shade of red. She had the air about her that I've come to love about Chicago customer service—not too smiley, not unkind, matter-of-fact yet accommodating. And she exuded the confidence of someone who's been at it for a long time. The Breakfast Queen indeed.
Our friends arrived and we got to ordering: the Heavenly Hots for my husband and the scrapple—another of Ina's Signatures—for me. The scrapple's description was vague: two eggs and choice of meat, cornmeal, corn kernels, black beans, and cheddar. But it was the only savory signature dish, and corn is my favorite vegetable (I sometimes eat it as dessert). So I was sold, even if I wasn't sure just what I was getting.
Of course, once the food arrived, I tasted everyone's everything. The Heavenly Hots were not quite as thin as crepes, yet they were airy and light. The accompanying compote was sweet but not cloying, and I'd eat it alone with a spoon. My friend's french toast had a crunchy brown-sugar crust, and paired with the sautéed apples, it was like eating apple pie for breakfast.
And then I had the scrapple.
It looked like veggie meatloaf—the slice was speckled with black beans and whole kernels of corn. Needless to say, I was less than thrilled at the sight. But then I took a forkful.
Instead of dry and bland, it was savory, almost rich, and dense and moist and delicious. When I broke open my egg yolk, the yellow disappeared into the scrapple. I broke off another piece with my fork and then it was over. I stopped taking bites from everyone else's plates. My only regret was getting ham instead of bacon.
I'm always left with a sense of longing when a favorite eatery closes. My go-to spot for New York–style pizza is long gone; I discovered my favorite Mexican restaurant had closed when I tried to go on my birthday. And now I almost regret going to Ina's because I'm losing something I hadn't had before, the scrapple, and I'll never get it back.
Photo: © Andrew Nawrocki, Groupon
BY: Aimee Algas Alker
Guide Staff Writer
Though Aimee stays up to date on the latest food trends for the Guide, most of her meals are served cold and cut into tiny, toddler-sized bites.