The Stinky Kid in Class
BY: Katie Cortese |
Mar 25, 2013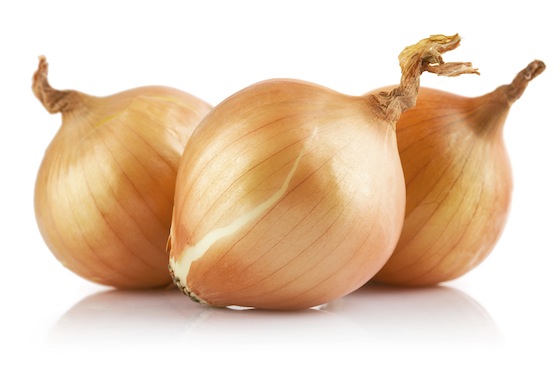 The onion is the stinky kid in class. Its odor permeates the nostrils and hangs around long after its departure. "I think a lot of people have bad experiences with raw red onions," said Ben Munro, general manager of The Grafton Irish Pub in Lincoln Square. "And they find it difficult to come back to Onion Land. I get that some people hate them, but when cooked thoroughly, most of the characteristics that people would hate tend to be eliminated."
He suggests any reintroduction begin with cooked white onions, specifically vidalia. The Grafton uses those bulbs in its housemade onion rings. Each week, the chefs make a few dozen orders of the golden rings of crispy goodness, and each onion ring is dipped into a top-secret beer batter. Below, Munro shares the recipe he created, which has been slightly altered from the original Grafton recipe, so as to protect the lives of innocent onions.
Beer-Battered Onion Rings
What You Need
2 large vidalia onions
1 ½ cups of flour
1 ¼ cups of beer; opt for a golden ale, dortmunder, or pilsner
Vegetable oil to taste
Garlic powder to taste
Salt to taste
Sugar to taste
What You Do
1. To make the batter, pour flour into a bowl. Add beer. Because The Grafton's batter is a secret, this is where you can experiment a bit. Toss in some garlic powder, a little sugar, and a teaspoon of salt. Munro also suggests a little butter or a touch of worcestershire sauce to enhance the flavor.
2. Whisk the batter until the flour chunks disappear and the batter is creamy. Stick the batter in the fridge while the bubbles disappear.
3. Peel two onions. Cut into cross sections so that you can push the middle out and have rings left to use.
4. When batter is ready, pour enough vegetable oil into a pan or pot so it will cover the widest onion (generally 1.5 to 2 inches of oil). Turn stove on and heat oil.
5. Lightly dust each onion ring with flour, then toss them into the batter and let them soak.
6. Gently put them into the heated oil. Do not put your face above the pan at this time, as the hot oil will be dancing around in the pot.
7. When cooked to a golden brown, pull out onion rings and set them down on paper towels to absorb any excess oil.
8. Gently flex between thumb and index finger before tossing each ring into a partner's mouth.
9. This recipe feeds two people, or one person who never learned how to share.
Compare your onion rings to their half-sibling recipe at The Grafton Irish Pub in Lincoln Square. The chefs also make their own beef-and-Guinness stew, fish 'n' chips, and burgers served on a fresh pretzel roll, all of which are crafted from super-secret recipes, which remain secret unless you sap secret information from them, such as the password they share with cops to turn city sidewalks into moving walkways.