The Top 10 Major-League Ballparks, Ranked by Everything But Baseball
BY: COLLIN BRENNAN | 7.1.2014 |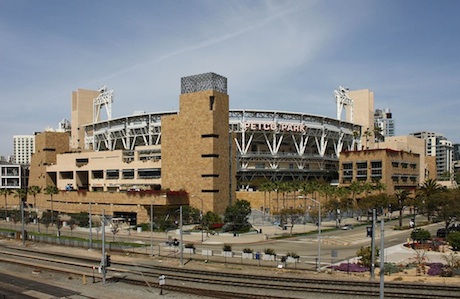 When it comes to designing a great major-league ballpark, tradition only goes so far. Pristine grass, clear sightlines, and the crunch of peanut shells underfoot—modern fans desire all of these, yes, but they also desire swimming pools and giant Coke bottles to slide down. With that in mind, we've ranked the top 10 major-league ballparks based on everything but the game itself.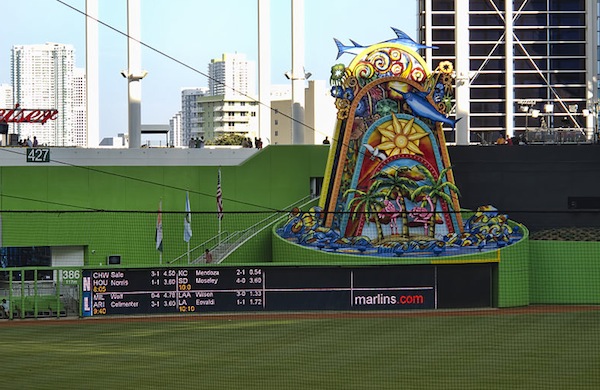 10. Marlins Park – Miami, FL
Okay, so the taxpayers didn't exactly fall in love with that home-run structure, which celebrates long bombs with a display of dancing flamingos. But dual bulletproof aquariums behind the home-plate backstop? And a swimming pool in the outfield? The only thing that could make this park more fun would be a jumbotron that ditches player stats for Miami Vice reruns.
9. Target Field – Minneapolis, MN
Baseball is meant to be played outdoors, even if "outdoors" means the frigid tundra of the upper Midwest. The Twins finally realized this and moved to Target Field in 2010, ending a 28-season run in the uninspiring (and structurally dubious) Metrodome. One of the smallest in major league baseball, the relatively new park  feels cozy even on the coldest spring days, thanks in part to the open bonfire on the Budweiser Roof Deck.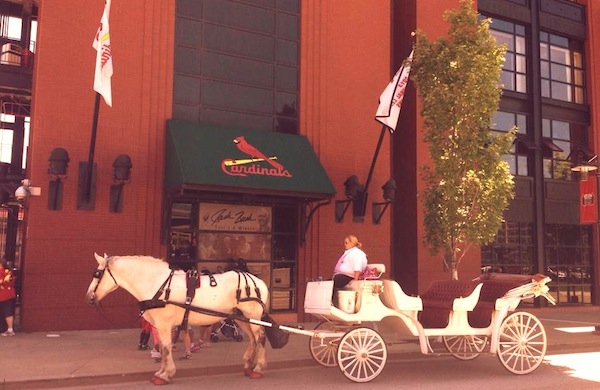 8. Busch Stadium – St. Louis, MO
Busch Stadium's Ballpark Village answers the burning question of what might happen if two Budweiser commercials got together and had a baby. Clydesdale-drawn carriages drop Cardinals fans off at the Budweiser Brew House, where they can head to the top deck for an—ahem—bird's-eye view of the field. If you actually make it inside the stadium, make a beeline for Section 135, where Double Play Tap and Grill stuffs burgers with mac and cheese.
7. Petco Park – San Diego, CA
The on-field product typically leaves something to be desired, but it's hard to care about baseball when you've got an ocean breeze, average summer temperatures in the low 70s, and a view of San Diego Bay from the grandstands. Local history is literally built into this place; at the last minute, the 100-year-old Western Metal Supply Co. building was saved from demolition and incorporated into the park's design.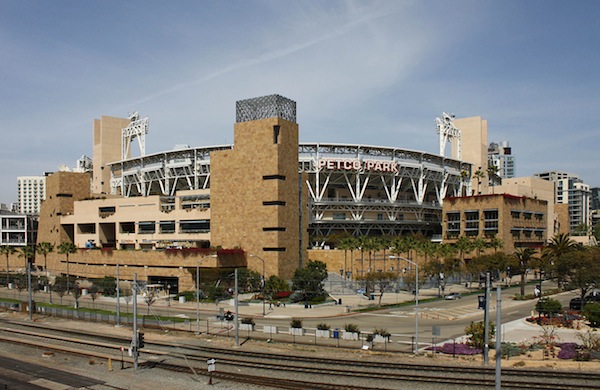 6. PNC Park – Pittsburgh, PA
For reasons that should be self-evident, PNC Park's pierogi dog ranked high on our list of The Five Most Heart-Stopping Major-League Hot Dogs. Combine that with a breathtaking view of the downtown skyline and riverfront, and a Pirates game starts to seem like something of a health risk.
5. Tropicana Field – St. Petersburg, FL
Lots of people would rank The Trop as the worst ballpark in the majors, but not us. Not when it's the world's only professional sports facility that features live cownose rays. More than 30 of these aquatic death merchants call the 10,000-gallon tank in right-center field home. Fans can pet them throughout the game and feed them the opposing team's manager after the game.
4. Safeco Field – Seattle, WA
We're not crazy about retractable roofs, but Safeco Field scores points for its innovative food options. This is unquestionably the only place in the majors where pad thai, sushi, and French crepes are all on the menu. But the coolest part of the culinary equation comes courtesy of Nintendo, which owns part of the team. If you have a Nintendo DS, you can log onto the Nintendo Fan Network and order beer and food to be hand-delivered to your seats.
3. Miller Park – Milwaukee, WI
Both the park and the team are named after beer—the first indication that there's a lot to love here. But beer isn't the only thing that has us living the High Life at the Brewers' home. There's also a field-level picnic area in the right-field corner, a retractable roof that gets a pass for its innovative fan-shaped design, and some of the best tailgating in the majors.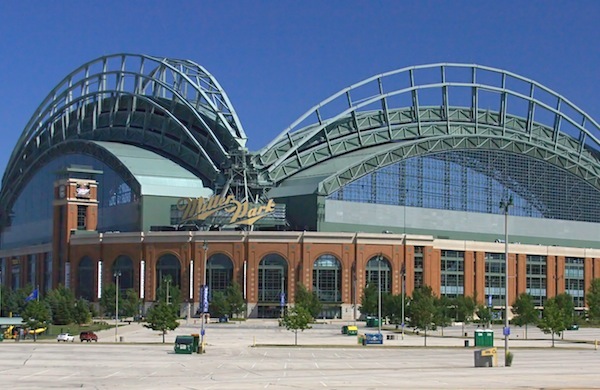 2. Oriole Park at Camden Yards – Baltimore, MD
When it was built back in 1992, Oriole Park was something of an anomaly in the majors. Nestled in the heart of downtown Baltimore, the park reignited a long-lost trend of incorporating ballparks into the existing architecture of the city. The B&O Warehouse sits just behind the right-field wall on historic Eutaw Street, where you can sneak away from the game to grab a crab cake.
1. AT&T Park – San Francisco, CA
AT&T Park is the standard by which all other parks are judged, and not just because it's the home of the two-time World Series champion San Francisco Giants. Sure, championship rings are pretty cool, but are they really as cool as a giant Coca-Cola bottle that doubles as a slide? This is San Francisco, so innovative tech components are also a must. Check out the @Café, a social-media hub where large screens display fans' Facebook posts, Instagrams, and embarrassing decade-old LiveJournal entries.
Take yourself out to the ballgame with these baseball deals in your city.
Image credits: Dan Lundberg (Marlins Park); Kelly MacDowell (Busch Stadium); Bernard Gagnon (Petco Park); Greg Hume (Miller Park)
BY: Collin Brennan
Guide Staff Writer
Collin is a senior editor and a staff writer for Consequence of Sound. He self-publishes zines and moderates writing workshops for The Chicago Publishers Resource Center (CHI PRC).