The Top Chicago Brewery and Tap Rooms
BY: Mark McDermott, Chicago's Beeronaut |
Dec 18, 2014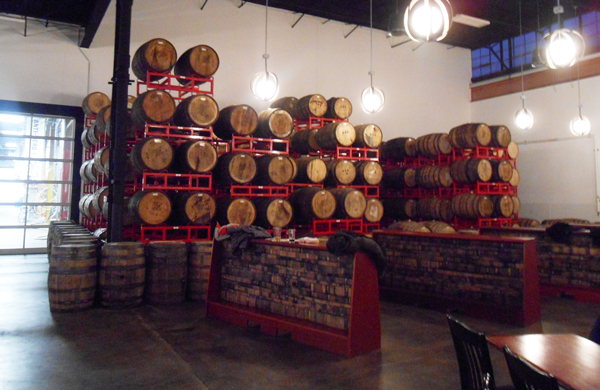 The City That Works has been ground zero for an explosion of new craft brewers, with over 30 of them opening within the last five years. Many of these are production breweries, making beer to be packages in kegs for other bars and restaurants, or in cans and bottles for store shelves. Some of these will have tap rooms where guests can sample the latest brews right from the maker. These are different from brewpubs, which will have a kitchen and menu, small batch beers and maybe extra rooms for events. Tap rooms, instead, allow you to BYO food from nearby restaurants, or they play host to various food trucks to offer go-withs for your fresh beer.
Lagunitas Chicago TapRoom and Beer Sanctuary
Hidden within a former West Side steel distribution center, on the grounds of Chicago's largest movie studio, is Chicago's largest brewery. This is the midwest outpost of Lagunitas Brewing Company, a 20-year-old maker of eccentric, hoppy West Coast beers. Though based in Petaluma, California, Lagunitas' founder Tony Magee was born in Chicago. When faced with the need to either build a second brewery to meet nationwide demand or keep paying freight to ship his beer cross country, Magee looked to his home town. What he found was a 30,000 square foot building, originally part of the Ryerson Steel Works, which was recently repurposed as the Cinespace film studios. This building was next to several rail lines, so it was too noisy for soundstages, thus it was leased to Lagunitas. The brewery has the capacity for 15.5 million gallons of beer per year, and it only takes up half the building. A future buildout will basically duplicate the current brewery.
The tap room entrance is easy enough to find, with plenty of parking in front. Once through the door, though, you walk through a long corridor like a haunted house attraction, decorated with Lagunitas signage and arrows pointing you to elevators and stairs that will take you two flights up. This tap room has been built above the production floor the brew works, affording a panoramic view of the massive Lagunitas brew works. The tap room seats 300 patrons at the bar or at several picnic tables. There's live music, usually blues or bluegrass, every day afternoon at 4:20, and free peanuts. The food menu features a rotating selection of "upscale pub grub," with the twist of being locally or sustainably sourced, or made with beer of spent brewing grains.
This tap room has been built above the production floor the brew works, affording a panoramic view of the massive Lagunitas brew works. The tap room seats 300 patrons at the bar or at several picnic tables. There's live music, usually blues or bluegrass, every day afternoon at 4:20, and free peanuts. The food menu features a rotating selection of "upscale pub grub," with the twist of being locally or sustainably sourced, or made with beer of spent brewing grains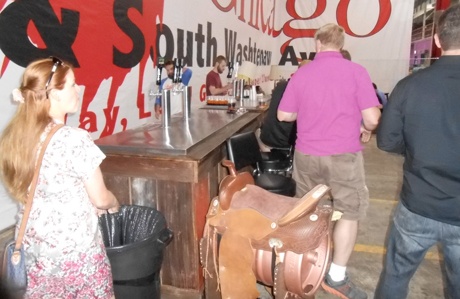 Then there's the beer. I listed this as a tap room instead of a brewpub because the beers made here are mostly meant to be shipped out to bars and stores. There are no small batches of barrel-aged or fruit-Randalled beers, at least not yet. But besides whatever production beers have being made at the brewery in the past few weeks, you might also find some keg-only surprises, like the Fusion series of beers adapted from homebrewers' recipes.
You could also just skip the tap room and come for the free brewery tours. Tours are held every day, even when the tap room is closed, and start at a first floor gathering place with second-hand furniture, hobby horses, and a banner about 100 yards wide that you'll learn they had hoped to hang outside for their grand opening, but which the wind threatened to tear off, taking parts of the wall along with it. The tour guide starts by offering samples of more Lagunitas beers. Then it's upstairs to a catwalk from which you can look over the entire brewery, and hear more anecdotes from the history of Lagunitas. The entire tour takes place on the catwalk, so there's no danger of anyone getting their fingerprints all over the Fizzy Lifting Drinks machine. Of course there's also a retail store to pick up clothing, beer accessories, and beer in 22 oz. "bomber" bottles.
Half Acre Beer Company Tap Room
Half Acre Beer Co. got its start in 2006, contract brewing its first beers in Wisconsin while planning a brewing facility of its own. The Lincoln Ave. brewhouse began production in 2009, as Chicago's first new production brewery since Goose Island's Fulton St. brewery. The tap room opened one door down from the brewery in 2012, and in its Feb. 2013 issue, Chicago Magazine already placed it on its list of "Top 10 Bars" in Chicago. As with most tap rooms, Half Acre has to be all about the beer. Their tap room license only allows them to sell their own beer, with no kitchen, and in this case, not even a TV (founder Gabriel Magliaro has announced to build a second brewery on nearby Balmoral Avenue, possibly with full food service).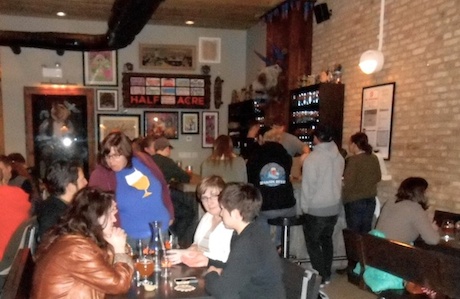 The relatively small room has tables and benches for individuals or parties. The interior space has been done with an emphasis on reclaimed wood and metal. And in the far corner is the bar with 10 taps of Half Acre's latest beers. While Half Acre's strong beers and hoppy pale ales are most popular, you do have a choice of a light, Pilsener style lager called Pony. You'll usually find tap version of their popular canned beers, Daisy Cutter Pale Ale and Gossamer Golden Ale. But the crowd will be in for their more extreme beers, especially in December when their Big Hugs Imperial Stout comes on. Half Acre also has "Firkin Fridays;" beer dispensed from a 10-gallon, gravity-fed cask with infusions of fruit, coffee, or spices, every Friday starting at noon. Friday is also when most of their new beers go on sale, either in cans, on tap only, or both. Beer prices vary according to the selection, and can be had in 8 or 12 oz. glasses, pints, and 64 oz. growler or 32 oz. "howler" fills.
While some bars are "Bring Your Own Bottle," Half Acre lets you bring your own food. There's a good choice of restaurants with carry-out along this block of Lincoln. I brought a group of visiting scholars to Half Acre in April, and a fellow Chicagoan brought mini-cupcakes from the Jewel/Osco across the street, to initiate the out-of-towners into one of our town's delicious secrets: Jewel's butter cream frosting. The brewery itself has a store where beer can be sold on draft, in cans, or growlers, with an assortment of T-shirts, glassware, and other logoed gear. It's open Tuesday- Friday: 12pm - 8pm, and Saturday & Sunday: 11am - 7pm
Vice District Brewing Co. Taproom
Chicago's South Loop neighborhood has been quietly awakening to a new status as a developing neighborhood for working, living, shopping and dining. New construction and repurposed buildings fill this area surrounded by the Loop, Soldier Field and the Museum Campus, and the redeveloping Bronzeville and Motor Row areas.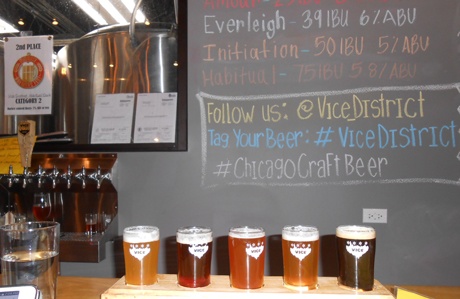 Vice District Brewing has been one of the new destinations to set up in the South Loop. This small craft brewery opened in August 2014, and makes beers that are sold largely through its taproom on premises, with more kegs going to nearby restaurants and bars.
Owners Curtis Tarver II and Quintin Cole followed the usual path to their own company: enthusiastic homebrewers who found themselves hosting parties to help deplete all the beer they were making, and who decided to open their own business partly because their wives were tired of all the brewing equipment in their apartments. Since they would have to be spending more time running a business than brewing, they hired a full-time brewmaster: Charlie Davis, who came over from North High Brewing in Columbus, Ohio, but was previously at Finch's Beer Co., where he provided the 'Stache that inspired their Secret Stache Stout.
From outside, Vice District looks like any other bar in the middle of a city block. Inside is where you'll see the bar neatly wrapped around a compact brewing works, with some stainless fermenters sitting just inside the door, adding a slight post-industrial touch. There are also tables, of course. As Vice District is licensed as a tap room only, the only food available is from a popcorn machine, but the bar servers keep a binder of restaurants that will deliver food there, or you can bring in your own. The main feature is, of course, the beers. When I had dropped in, the beer list was focused mostly on English styles, some with names familiar to students of Chicago's history of vice, like Everleigh Extra Special Bitter. All the beers I sampled seemed a bit more bitter than the International Bittering Units (IBU) counts on the beer list would indicate, likely an effect of Chicago water on brewing. And although they have nothing to offer the patron wants something like a Bud Light, all the beers I sampled were between 5% and 6% abv, not "sessionable," but within range of most commercial beers. Co-owner Curtis Tarver II pointed to their Habitual as a staff favorite; it's a dark ale hopped to India Pale Ale strength, in a style called variously Black IPA and Cascadian Dark Ale. He also told me they did have a strong Double IPA being brewed that day, and a few stronger beers on the brew schedule, but they are busy enough keeping up with current demand that there's no capacity to make a strong Imperial Stout or Barley Wine that might bring in the crowds like a Dark Lord or a Bourbon County would. besides, he said, they want to be good neighbors.
The general crowd looked mostly like neighborhood types; yuppies, folks who would deny they were hipsters. Tarver said they have big crowds before and after Bears games, though their biggest crowd was around a rugby match being held at Soldier Field. There are some well-hidden big screen TVs that come out for home team games, otherwise the ambience comes from curated playlists: Motown and 60s-70s soul when I visited. Beer is available on tap, in pints or appropriate glassware. You can also get a sampler tray of everything on tap. Vice District will also fill growler bottles. All around, this is a wonderful discovery for the near South Side, an area with more brewery taprooms to come.
Revolution Kedzie Ave. Brewery Tap Room
Revolution Brewing has been just one of the many Chicago-area brewers that "blew up" in the past few years. Opening as a brewpub on Milwaukee Ave, in 2010, they quickly expanded into production brewing, with bottles, cans and kegs rolling out of the Kedzie brewery starting in the spring of 2012. The 60 barrel brewhouse is in a repurposed industrial building, with a taproom in the front commanding a view of the brew works, and ringed with 20-ft. high racks of beer aging in bourbon barrels. Conduits extend floor-to-ceiling from a fenced-off spot in the middle of the floor. Yet, there are plenty of table, a long bar in front of 16 tap handles and a cooler for packaged beer. Some of Revolution's brewing competition ribbons hang from the handle of a water pipe by the backbar chalkboard.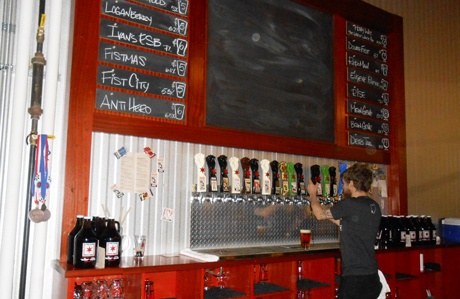 With a more "post-industrial" setting, and it's location in a manufacturing district, the taproom draws more "beer geeks" and—let's just call them "hipsters" and be done with it—while families and parties might be found more at the Milwaukee Brewpub. That just gives it more of an atmosphere of serious beer badinage. Case in point, a young bearded fellow next to me who knew little about craft beer, but was enthusiastically asking the right questions. The beer runs a range from those found on store shelves like Eugene Porter and Fistmas Holiday Ale, to limited edition tap-only beers. There are lighter choices as well, like a summer wheat beer with loganberries that was still on tap. Sample tasting glasses are $2 and up, while full beers range from $5 for session pints to $9 for a smaller glass of stronger beers like Deth's Tar, their version of a barrel-aged Imperial Stout, and variants on Eugene, like Mean Gene (barrel aged) and Bean Gene (steeped in Dark Matter coffee).
Food is again limited to a popcorn machine, with your option to bring in food or order delivery from a stack of menus from nearby restaurants, like the new hot spot, Honey Butter Fried Chicken. Entertainment is sports on TVs, and a shuffleboard table, but there is plenty of room for events and parties. Indie movie watchers may have seen the taproom featured in director Joe Swanberg's movie Drinking Buddies (2013). The taproom is open to all ages, except for the brewery tours, which are for those 21 and over.
BY: Mark McDermott, Chicago's Beeronaut
Craft beer lover, beer blogger and homebrewer. I have tracked Chicago's beer scene since 2009 and I'm bringing the best of it to you.