The Triumph of Tradition at Club Lago in River North
BY: Mel Kassel |
May 13, 2013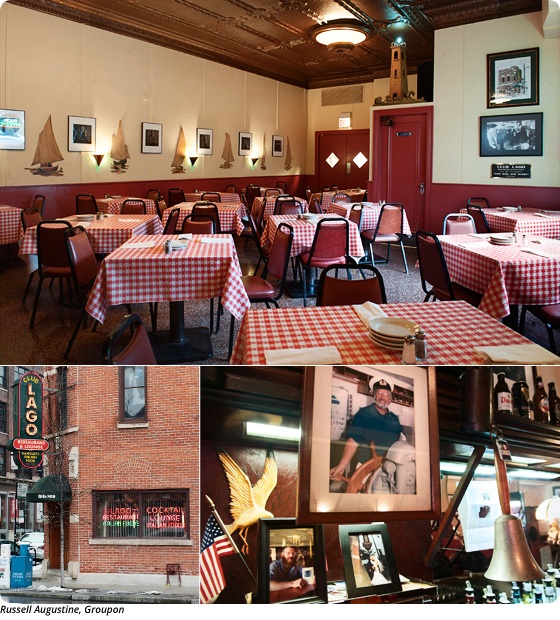 Lago
means
lake
in Italian, but
Club Lago
co-owner GianCarlo Nardini doesn't put too much stock in names. "No one in my family has ever owned a boat," he says, scrutinizing the sailboat paintings on the walls. "The maritime paraphernalia was here when my grandpa bought the place." Along with the red vinyl booths, terrazzo flooring, and checkered tablecloths, the pictures are old-school holdovers from the 1950s. They might not reflect the presiding family's maritime hobbies, but they're authentically old-school nonetheless. "We were retro before it was chic, because this is what the place has always looked like," GianCarlo explains. He and his brother Guido have preserved Club Lago's vintage style with charming ease. To them, they're simply following in their ancestors' footsteps.
From Lucca with Love
The trail begins with grandfather Gus Lazzerini, who purchased the property in 1952. He and his wife, Ida, set to work preparing a menu of Northern Italian cuisine, inspired by the Tuscan dishes they had tasted in their hometown of Lucca, Italy. They were succeeded in 1980 by their son-in-law, Francesco Nardini, who would in turn pass the reins to his two sons—GianCarlo and Guido—in 1997. Just as they held onto those painted sailboats, the brothers stuck with their grandparents' recipes. GianCarlo characterizes the use of parsley, rosemary, and chunky sauces as typical of Northern Italian cooking, but the family has added new ideas to the pot, too. "My mom always told me that in Tuscany, they liked cooking with a combination of oil and butter. Is that really Tuscan? I don't know, but my mom always said it, and she's always right." In 2009, however, all of Club Lago's traditions came under threat.
Mess from Above
"It broke through our roof, messed up our second floor, and totaled our kitchen," says GianCarlo. He's talking about the restaurant's nemesis, a neighboring chimney. It fell onto the restaurant as the result of a next-door boiler explosion. The disaster forced Club Lago to close for 6.5 months, which might have meant the end for any other restaurant. Yet, while their windows were shuttered, the brothers continued to pay their staff, and kept up constant communication with regulars. When they reopened, GianCarlo says they were "stronger than ever." He credits this loyalty to Club Lago's honest vibe, what he calls the "real Chicago."
"Grandma and Grandpa Get Their Just Due"
"It's where people can go dressed in their finest before the opera, and mingle with guys who just got off their shift watching the baseball game. It's a very egalitarian kind of Chicago, the 'youse guys' Chicago as well as the hoity-toity. Everybody feels comfortable here, and not just [that], but everybody feels comfortable elbow-to-elbow," GianCarlo explains. By "everybody," he means celebrities as well as civilians. When asked for the names of notable patrons, GianCarlo rattles off an impressive list: Dennis Farina, Tom Waits ("We fed the whole band!"), Keanu Reeves, and a host of local newsmen and politicians, including the mayor. Club Lago is also immortalized in the Robert DeNiro and Bill Murray movie,
Mad Dog and Glory
, during which DeNiro sings a Louis Prima song in the restaurant. "In that scene, you can see the photograph of my grandparents behind him. And it feels really cool, like Grandma and Grandpa get their just due," GianCarlo says. After more than 60 years in business, they deserve it, whether or not they knew how to sail.