The White Buffalo's Jake Smith Has Never Seen a (Real) White Buffalo
BY: Dan Caffrey |
Apr 10, 2014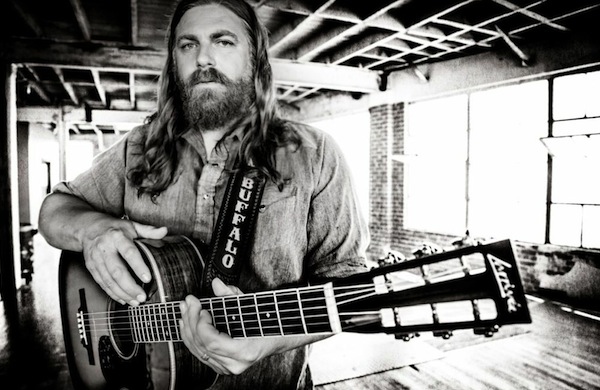 The White Buffalo's music will strike a chord with fans of cowboy movies. But Jake Smith's real life is a different kind of Western—one filled with surf films and inbred livestock.
The White Buffalo
(aka Jake Smith) deals in Western archetypes, from his band name all the way to his latest record,
Shadows, Greys & Evil Ways
. A concept album that follows a couple through courtship, wartime, and death,
Shadows
is nearly biblical in its approach to good and evil—like an especially dark John Ford film or an especially optimistic Cormac McCarthy novel. The record fits squarely within the Western tradition, but Smith insists that he's only a casual fan of the genre. Its connections to his music, though glaring at times, are often coincidental. Or so he claims. On his latest tour, The White Buffalo is riding across the country with a gang of outlaws that includes
Hot Water Music
statesman
Chuck Ragan
and
Social Distortion
guitarist
Jonny Two Bags
, who will be backed by two other members of Social D. In anticipation of his Wednesday, April 16, show at
The Metro
, we spoke with Smith about how much his life
really
imitates a Sergio Leone film. We also touched on his underwhelming experience seeing a real-life (sort of) white buffalo.
GROUPON: Your last album, Once Upon a Time in the West, was named after an iconic Western film. Are you a fan of the genre?
JAKE SMITH: I actually didn't realize that [it] was a title of a Western movie until after.
G: Have you since watched it?
JS: I saw clips of it on cable. It looks pretty sweet. My idea for [the album] was kind of a play on words. A lot of the album, for me, was nostalgic and about me growing up in the West. It was my vision of the West—a kind of new West—and not necessarily the old Western themes. But there are some songs on the album that are kind of period pieces.
G: Your latest album, Shadows, Greys & Evil Ways, seems to deal more directly with Western archetypes. "30 Days Back" describes a soldier making his way home through the desert, while "The Whistler" sounds like a cowboy theme right out of an Ennio Morricone score. Do these songs reflect your lifestyle?
JS: Those are all fabrications. It's a concept album. It's a narrative, so it's all about this one thing. But it's also inevitable for any artist or songwriter … for parts of their lives to seep into their songs, regardless of if it's about a murderer or some demented or disturbed person.
G: So you've never murdered anyone?
JS: No. Not that anybody knows about [laughs].
G: Given the dark subject matter of some of your songs, it makes sense that they've been used in films and shows like Sons of Anarchy. How did that come about?
JS: It's kind of weird, but I got my start by [having] some of my songs in surf films. [Some filmmakers] were trying to switch gears with more artistic surf films coming out in the early 2000s. That was just super-random. Initially, I was in San Francisco and not doing shit. I was just partying and waiting tables. I was writing songs, but I would [just] send cassette tapes to my friends for a birthday or for Christmas. One of my friends was a rep in the surf/action-sports industry, and it just started circulating in the surf community.
G: It's funny because there's a lyric from the song "Joey White" that contains a quote from what's probably the best surfing film of all time, Point Break: "You're young, dumb, and full of come."
JS: [Laughs] I thought it was in
Full Metal Jacket
.
G: Maybe! It could be in that, too.
JS: Shit just comes out of me sometimes, and I don't know where it comes from. I'm sure I embellish it [laughs]. But that's funny—I don't remember it from
Point Break
, and I've seen
Point Break
a shitload of times.
G: Finally, I have to ask—have you ever seen a real white buffalo?
JS: I have. But it was tainted.
G: How so?
JS: This Mormon in Idaho, just outside the Tetons—this guy breeded them. He bred one with a white cow. It felt dirty to me. It was like [one-third] buffalo, but it still had the white sheen in it. It was weird.
G: I guess that's not the same as seeing it in the wild.
JS: No, and they're super-rare. It's once every 10 or 20 years that they're born. Most of the time, they're babies, apparently. And when they get older, they change colors.
G: When you saw the tainted white buffalo, was that before or after you had come up with the band name?
JS: Oh, way after.
G: Did the guy say, "You're named The White Buffalo. Come check this out," or was it more happenstance?
JS: No, we had a day off. We went golfing with this old guy. We were doing a charity for horses or something, so we were out in this beautiful place. And then the guy—this local old guy—said, "This other guy over here has white buffaloes. There's two of 'em. You should go check 'em out." There was one huge one in the fields, and then there was a baby that was kind of … challenged? I don't know how you'd say it. He had gotten his head kicked when he was younger, so he wasn't aggressive. You could go out and pet him and take pictures with him. We just rolled up at this guy's farm and knocked on his door so we could get a look at them. It definitely looked like there was some inbreeding going on. It was definitely not the white buffalo in its purest state.
G: It wasn't your spirit animal.
JS: No, not in the least.
The White Buffalo coheadlines The Metro (3730 N. Clark St.) with Chuck Ragan & The Camaraderie on Wednesday, April 16, at 9 p.m. Jonny Two Bags opens. Tickets are $15 and can be purchased here. Or check out a list of other upcoming concerts in Chicago.
Photo by Myriam Santos
BY: Dan Caffrey
Guide Staff Writer
Outside of Work, Dan is a playwright, Senior Staff Writer for Consequence of Sound, and contributor to The A.V. Club.