The World in a Neighborhood: Five International Restaurants in Albany Park
BY: Patrick Winegar |
May 17, 2013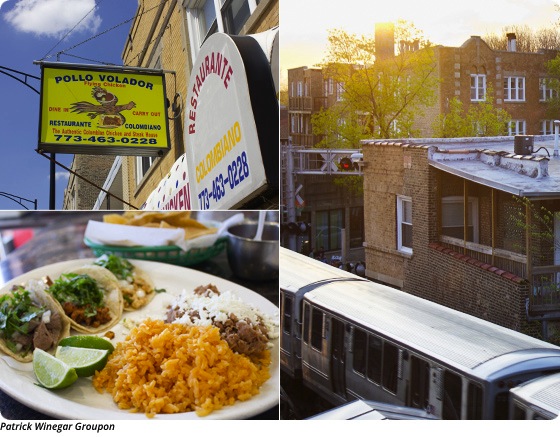 On a clear day in late spring, Albany Park comes to life from its winter hibernation. Paleteros jangle bells as they clatter their ice-cream carts down the sidewalk, and off Lawrence Avenue fruit vendors hawk mangos and watermelon from the back of a battered pickup. At cookouts in Ronan Park, smoke rises with fragments of conversation in Serbian, Spanish, English, Korean, and Arabic. Old men play dominoes on stoops and kids romp in front yards as trains rumble through alleyways. It's no wonder recent immigrants have sought this urban haven: straddling the border between the busy city near the Loop and the bungalow belt of the far Northwest Side, it's almost a small town within Chicago. I live in Albany Park, and when I take a quick trip to the store for a gallon of milk, I sometimes hear my neighbors speaking in five different languages. And when I get the chance to go out for dinner, I'm lucky enough to sample some of the best comfort food from all over the world. Here are my top five:
V.I.P. Restaurant – Chinese/Korean | 3254 W. Montrose Ave.
V.I.P. Restaurant is one of the few places in the city serving Shandong cuisine: a synthesis of cooking styles originally developed by immigrants to Korea from China's eastern Shandong Province. Guests will find familiar dishes of ma po tofu and kung pao chicken on the menu, but the real star here is the cha chang mein: a Korean meal of springy, housemade wheat noodles doused with an earthy black-bean sauce. I like to alternate mouthfuls of mein with nibbles of the banchan—small side dishes served with every Korean entree. Neon-yellow pickled daikon slivers deliver a sour-sweet kick, while peppery cabbage kimchi cleanses the palate. If you're unsure of what to order, a sure bet is the Half and Half: a two-compartment bowl of cha chang mein next to a spicy shrimp and noodle cham pong soup.
My picks
: Half and Half, cha chang mein
Pollo Volador – Colombian | 3402 W. Montrose Ave.
Pollo Volador's bright yellow sign is emblazoned with a goofy cartoon rooster, its outspread wings bearing twin payloads of flank steak and the house specialty—Colombian spit-roasted chicken. Inside, a huge rotisserie oven twirls skewers full of poultry over a mesquite fire, filling the cozy restaurant with the scent of a backyard barbecue. The decor isn't much to speak of, with a few knickknacks from Colombia and paintings of mountains dotting the canary-yellow walls. That's fine, because the food here speaks for itself. My quarter-chicken plate was a full thigh and drumstick of rich dark meat, its crisp, slightly charred skin locking in all the bird's juices and flavor. Most plates come with sides of caramelized plantains or fat pinto beans, plus a cilantro green sauce that was so deliciously tangy I was tempted to spoon it straight out of the ramekin like a tiny bowl of soup. Before stuffing yourself with steak and chicken dinners, be sure not to overlook the empanadas: crispy, golden-brown corn shells that give way to a savory core of potato, onions, and ground chicken.
My picks
: chicken empanadas, quarter-chicken plate with dark meat
Noon O Kabab – Persian | 4661 N. Kedzie Ave.
Persian food—with its liberal use of ingredients such as saffron, dill, and pomegranate—differs a quite a bit from the Arab and Mediterranean fare found elsewhere on Kedzie. My girlfriend, who knows a lot more about food than I do, quickly zeroes in on the shirin polo with joujeh barg, a wide kebab of grilled chicken accompanied by a mound of toasty basmati rice that's topped with orange peel, golden raisins, and colorful shreds of carrot. Flying blind, I order the aash-e-reshteh, a bowl of slow-cooked spinach stew that's full of the complementing flavors and textures of oats, noodles, chickpeas, and a dollop of cool yogurt. The kebabs are worth ordering almost for the garnishes alone, with sprinklings of raw onion that cut through the richness of the roast meat and whole grilled tomatoes that seem to defy the laws of agriculture by staying plump and summery throughout the year. Though some of the entrees are a little more expensive than I'm used to, Noon O Kabab is perfect for a special occasion or a treat. Even if I don't have time for a sit-down meal in the luxurious Persian carpet–covered main dining area, the restaurant maintains a remarkably efficient separate kitchen specifically for pickup orders and deliveries.
My picks
: Shirin polo with joujeh barg, aash-e-reshteh
Lindo Michoacan – Mexican | 3148 W. Lawrence Ave. 
Lindo Michoacan's restaurant lies just north of the intersection of Kedzie and Lawrence Avenues and around the corner from its popular, perpetually busy supermarket. The business takes its name from a state in southwestern Mexico famous for its hearty cuisine, and the meals here are appropriately rib-sticking. My order of lengua ranchera was full of pulverized tomatoes and sautéed mushrooms and onions, not far from the flavor of a thick, meaty pot roast. Plates of tilapia and snapper arrive lightly breaded and fried whole, inviting you to dig into the fish head for slivers of tender cheek meat—if you're into that sort of thing (which I am). As with most restaurants in the neighborhood, dinner at Lindo Michoacan is an informal, family-friendly affair. During our visit, a young dad was busy juggling the tasks of shushing his babbling baby son, eating a steak, and watching the Liga MX soccer game on the big screen overhead. Since the eatery's BYOB, you can also tote along some tallboys or wine to make dinner a slightly more adult affair.
My picks
: lengua ranchera, mojarra frita
Semiramis – Lebanese | 4639-41 N. Kedzie Ave.
Most meals at Semiramis begin with a small bowl of crunchy turnips, pickled to a tangy technicolor magenta, and some green olives, brined in-house—not plucked from a jar. Chef and owner Joseph Abraham and his staff place a premium on details and presentation, even fancying up the french fries with a dusting of sumac and a sidecar of housemade garlic mousse. One of my new favorites is the chicken shawarma sandwich, with shavings of slightly smoky meat slathered with tahini, but my old standby will always be the falafel. The savory globes of fried chickpeas walk the line perfectly between crunchy and fluffy, with a hit of spice that's aromatic and zesty without being overpowering.
My picks
: falafel pita sandwich, chicken-shawarma pita sandwich
BY: Patrick Winegar
Patrick is an Alabama transplant to Chicago who writes about food and leisure for the Guide. He spends his free time writing sketch comedy and hunting for good barbecue.