This New Year's Eve, Bend the Fabric of Spacetime at The Hideout
BY: Collin Brennan |
Nov 15, 2013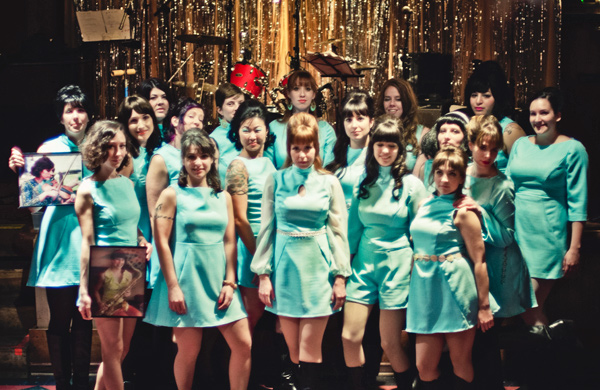 When the clock strikes midnight on New Year's Eve,
The Hideout
won't be flipping its calendar to 2014—at least not yet. Partygoers at the Noble Square venue will instead travel back to the 1960s, thanks to
Girl Group Chicago's
all-women roster of vocalists and instrumentalists. For readers who didn't catch our
pre-Block Party interview
with founder and bandleader Shana East, GGC is an ensemble of 20 women who recreate the magic of '60s girl groups with pitch-perfect harmonies and matching aquamarine frocks. They'll be headlining The Hideout's
New Year's Eve Party
alongside local power-trio
The Yolks
, whose simple, sweaty garage songs are cut from the same '60s cloth.
Tickets
are likely to sell out this month, so get yours today. (
The Hideout, 1354 W. Wabansia Ave. Tuesday, December 31, 9 p.m., doors at 8 p.m. Tickets: $20.
)
BY: Collin Brennan
Guide Staff Writer
Collin is a senior editor and a staff writer for Consequence of Sound. He self-publishes zines and moderates writing workshops for The Chicago Publishers Resource Center (CHI PRC).