Three of the Coolest Chicken Coops in Chicago
BY: AIMEE ALGAS ALKER | 10.3.2013 |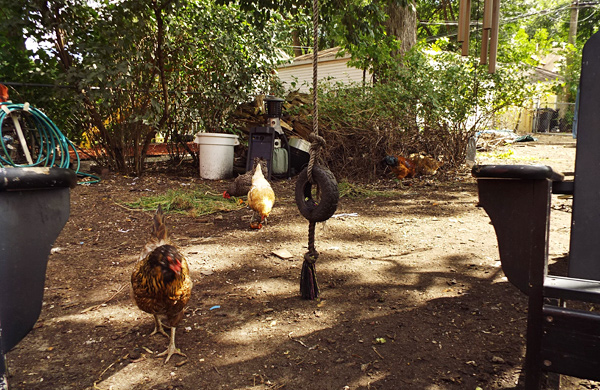 In my quest to show my husband the perks of becoming chicken keepers, on Saturday morning, September 21, I took him and our baby on a tour around the city to check out some of the most interesting coops on this year's Windy City Coop Tour. These coops were made from recycled wood, memories of a rural childhood, and an upcycled Chevy Suburban. We were given our first farm-fresh eggs (and those chicken keepers I spoke to were right: there's nothing else like that creamy, rich flavor). We also learned lots from these enthusiastic keepers.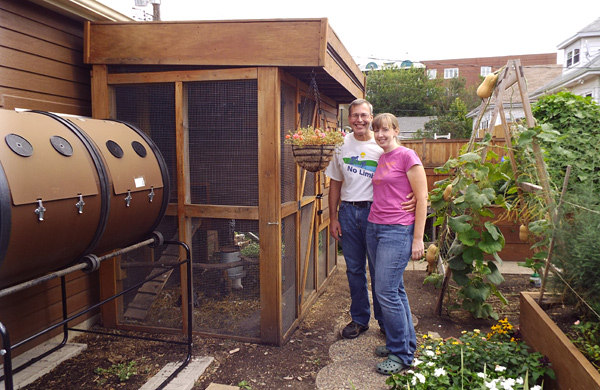 Alice O'Laughlin (Jefferson Park)
The O'Laughlins' backyard is a gardener's paradise. Garden boxes are rife with veggies, including butternut squash bigger than my head. Her husband constructed this coop out of all-recycled materials and crowned it with yet another planter box. They also showed me the box their five chickens arrived in via the US Postal Service. "We had to make sure we were home," she says, "but yes, chickens do come by mail order."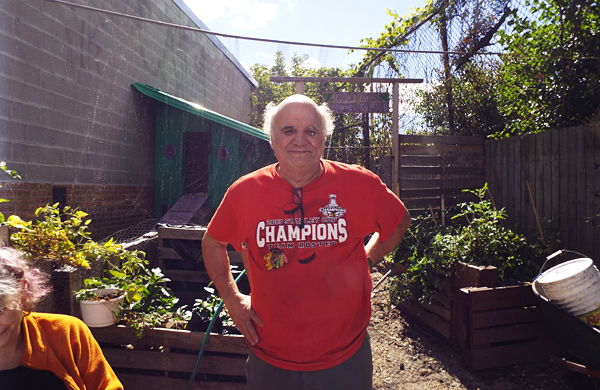 Kostas Panayotou (Irving Park/Mayfair)
Tucked away behind the warehouse of Chicago Costume Shop, Kostas tends the chickens that remind him of his childhood in rural Greece. His coop also is home to a couple of turkeys and some ducks—as well as some sparrows, which were partaking in the chicken feed as we talked. He proudly showed off the garden boxes he engineered from repurposed pallets, and his wife, Mary, gave me some just-laid eggs that were still warm. Fresh chicken eggs, Mary told me, have a natural outer layer called the bloom that keeps out bacteria and other microbes, so they would be perfectly safe sitting unrefrigerated in our car all morning. We didn't eat them until that night for dinner—and she was right.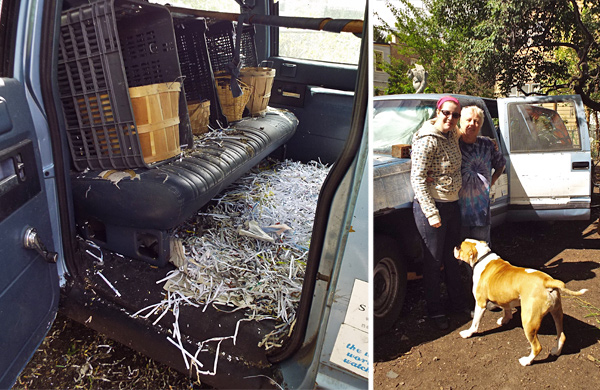 Mo Cahill of Moah's Ark (Rogers Park)
"My mom lived in that thing," Mo's daughter told me about her 1993 Chevy Suburban. "It's what she used to drive us everywhere." When it became clear that the car was no longer serviceable, Mo had a hard time getting rid of it, so they've converted it into a chicken coop. A sled serves as a ramp so the birds can get safely in and out of the back, and the floor is piled with curlicues of litter, sending the poop where it can be easily scooped and put into the bin, where Mo says it makes the most beautiful compost.
If you're interested in learning more about chicken keeping, check out the classes available at Angelic Organics Learning Center or pick the brains of real-life keepers at Chicago Chicken Enthusiasts, whose members host the Windy City Coop Tour each year.
Photo: © Aimee Algas Alker, Groupon
BY: Aimee Algas Alker
Guide Staff Writer
Though Aimee stays up to date on the latest food trends for the Guide, most of her meals are served cold and cut into tiny, toddler-sized bites.