Tiki Drinks' Secret Ingredient, Divulged by The Barrelhouse Flat
BY: Melanie Zanoza Bartelme |
Oct 10, 2013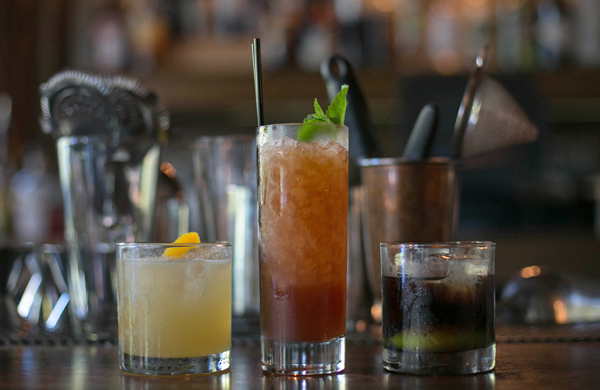 If you've ever had a zombie, you've had falernum. Aromatic and complex, this rum-based syrup draws on spices and citrus to balance the inherent sweetness in most tiki drinks. And as it turns out, falernum's history—and its construction—are subject to debate. In 1892, Charles Dickens wrote that it was "a curious liqueur composed from rum and lime-juice," though some sources date its first mention back to 18th-century Barbados. "It's hard to tell who invented it … or if there's one standard set of ingredients," said bartender Mark Brinker of
The Barrelhouse Flat
(2624 N. Lincoln Ave.). "People were probably just making it and telling each other recipes and then nobody actually wrote it down until it was already in use." For this reason, falernum's definition remains loose, but most agree that the syrup rose to popularity in the 1930s as a component in the tiki drinks being served in California. At
Don the Beachcomber
, which opened in Hollywood in 1934, Ernest Gantt charmed tipplers with his slogan: "If you can't get to paradise, I'll bring it to you." Gantt and his contemporary, Victor "
Trader Vic
" Bergeron, invented many of the now-iconic drinks that use falernum, including the mai tai, zombie, and three dots and a dash. "Tiki drinks got pigeonholed in the '60s and '70s as these really gross sweet, supersugary bright blue cocktails," Mark explained. "You're supposed to taste the different layers of rum, juice, and spices. It's supposed to be a complex drink, not just something that's supersweet with a lot of sugars to mask the booze." That's where falernum's flavor base comes into play—adding spice and herbaceousness to balance the sweetness of these drinks' rums and juices. Though the ingredient list can vary widely, most recipes include rum, lime juice, cloves, and ginger. Other additions run the gamut from almonds and allspice to peppercorn and lemongrass. Whatever the components, the key to a good falernum is how much depth it adds to cocktails. "Falernum is almost one of those almost cheater tricks," Mark admitted. "I just know whatever I put it in, it's going to add so much extra flavor to it." With this principle in mind, I asked Mark to show me three drinks that showcase falernum's spicy charm. Here's what he made: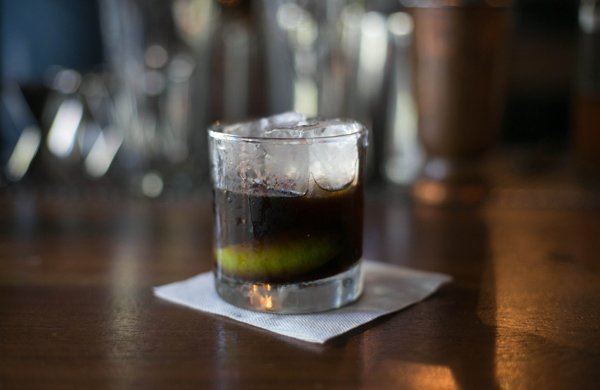 Corn and Oil (creator unknown)
What You Need:
2 oz. Cruzan Black Strap rum 1/2 oz. falernum 2 lime wedges, squeezed and dropped in Dash angostura bitters
What You Do:
Pour cubed ice into a short glass. Add each ingredient in order and stir quickly until cold.
Mark's Notes:
"They think falernum originated in Barbados, so it makes sense with Caribbean rum. [It] tastes fairly boozy at first on the rocks—I like to leave it fairly hot and let it water down so it will eventually reach the right point as you drink it, and not be perfect on the first sip and then watery for every sip after."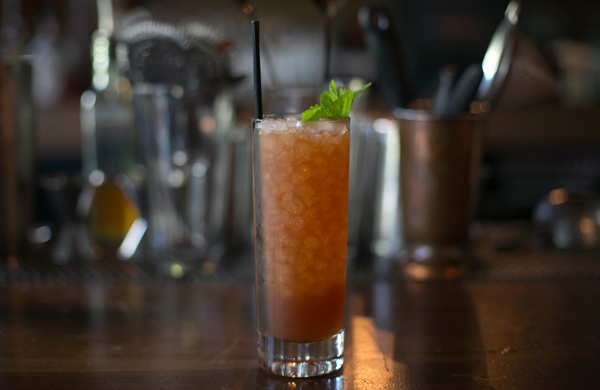 Jet Pilot (unknown bartender from the Luau Restaurant, Beverly Hills, 1960)
What You Need:
2 oz. Coruba dark rum 3/4 oz. lime juice 3/4 oz. grapefruit juice 1/2 oz. falernum 1/4 oz. cinnamon syrup Dash angostura bitters Dash absinthe
What You Do:
Add ingredients in order. Shake or swizzle on crushed ice in a tall glass. Garnish with a mint sprig.
Mark's Notes:
"[The Jet Pilot] supports the falernum with cinnamon syrup, which is a richer, denser syrup, and then you also do a dash of absinthe and angostura, which is a common tiki combination."
Cumulonimbus (Mark Brinker, The Barrelhouse Flat)
What You Need:
1.5 oz. Flor de Caña four-year rum 3/4 oz. lime juice 1/2 oz. falernum 1/8 oz. ginger syrup 1/8 oz. St. Elizabeth Allspice Dram
What You Do:
Shake quickly and roll unstrained into a rocks glass. Top with champagne and garnish with a grapefruit peel.
Mark's Notes:
"It's a riff on a dark and stormy, which is where the name comes from. A dark and stormy would be rum, lime juice, and ginger beer. This uses champagne for the bubbles and gets ginger flavor elsewhere—ginger syrup, falernum, and allspice liqueur (dram). In this one we use a lighter rum to contrast the darker flavors of the falernum, like a Cuban-style light rum."
Mark recommends John D. Taylor's Velvet Falernum in these recipes, but he also supplied a recipe for a homemade version that uses dark rum and adds even more spices. We've also provided loose guidelines for making cinnamon and ginger syrups.
Photos: © Stephanie Bassos, Groupon