Five Reasons to Visit the Brat Stop
BY: Aimee Algas Alker |
Jun 27, 2013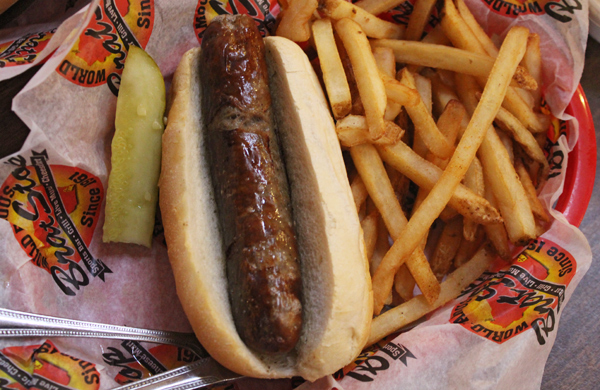 Chicagoans will stand in line for hours if it means scoring some fries rendered in duck fat (
Hot Doug's
). They'll rise before the sun for bacon-topped donuts (
Doughnut Vault
), and they'll cram into crowded bars for messy hamburgers with heavy metal–inspired names (
Kuma's Corner
). It makes sense that we'd also be willing to cross the Wisconsin border for molten cheese curds and charred brats. Recently, that's exactly what I did with my husband and 4-month-old baby, although we claimed our trip was for "outlet shopping" and "time with my father-in-law." Excuses.
The Brat Stop
was our real reason for the journey. Here are the five reasons why it's worth the trip:

Time stands still at the Brat Stop 
In the cavernous 46,000-square-foot space, burgundy vinyl booths, dark wood paneling, and saloon-style bathroom-stall doors evoke the 1970s so effectively that more modern additions—such as flat-screen televisions hanging above booths—seem almost tacked on. And there is a kitschy surprise in every corner. Just past the entrance, a life-size bear statue wearing a Mike Singletary jersey hangs from the ceiling by a noose. A suit of armor lingers in the bar; next to the stage, tots climb aboard coin-operated metal stallions, the likes of which bobbed in front of grocery stores in 1972. Unfortunately, this most recent visit revealed that one of my favorite Brat Stop attractions—the lobster-tank claw machine—is no more. Back in the day, if you snagged a lobster, the kitchen would cook it up. "We haven't put it out here for a couple of years," said weekend manager Nick Klein. "We got too many protests from animal-rights groups."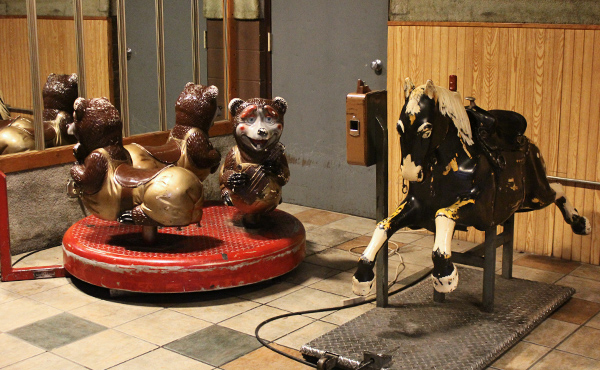 The staff is like family—like, your actual loving yet slightly perturbed family
Just because you can no longer catch your meal doesn't mean that the dining experience isn't entertaining.
At one point as we sat, a siren blended with horns arose from the bar area. "Something happened on the TV, or someone dropped a glass, or anything," said our server, Edna, who my husband determined should really be called
Aunt
Edna. She shook her head, affectionately annoyed with the chaos, the way a mother of five kids is when she hears a crash in the living room. This happened right as Edna was delivering our basket of fried cheese curds—which we had ordered almost a full 15 minutes ago. No one here is in any kind of rush. The service is decidedly midwestern: friendly but not smarmy, matter-of-fact but not disenchanted.
Brats for breakfast, lunch, and dinner
For our main course, it was hard to look past the first page, where no fewer than seven types of brats are listed. Cheddarwursts, simultaneously stuffed and smothered with cheddar cheese, promise the ultimate taste of Wisconsin. Even breakfast plates feature the flavorful sausage, alongside eggs or in an omelet. All brats are charred on the outside, giving the casing a satisfying snap; on the inside, the meat is savory and spiced perfectly. We Chicagoans may have our hot dogs, our pizza, and our Rick Bayless, but Wisconsin has its brats. The scales are fairly well balanced.
Motorcycle mamas in leather chaps sharing tables with uniformed cops
Even if the food were mediocre, the Brat Stop might still be worth visiting for people watching
alone. Because it sits just off the tollway, it's popular with a mix of travelers hungry for something other than drive-through food. When I stopped in the ladies' room, I had the pleasure of washing my hands beside a motorcycle mama in leather chaps
.
We chatted amicably about the weather. Back in the dining room, two high schoolers talked sports with their parents while trading bites of their sandwiches, and Medinah Motor Corps members in their crisp whites gathered around tables in the bar, sharing cheese curds and a roaring debate about baseball.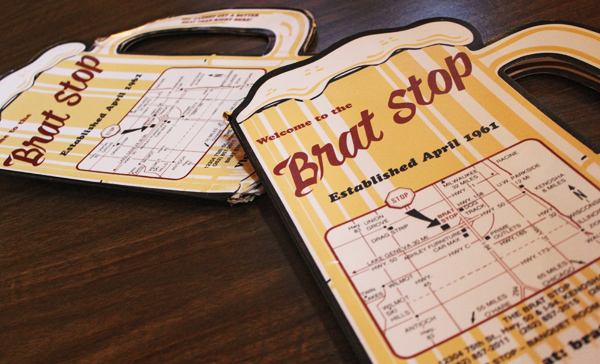 Edible souvenirs
Spelled out in red letters and clearly visible from the highway, CHEESE is what first attracts people to the otherwise unassuming rest stop. Adjacent to the Brat Stop's restaurant is a sprawling retail shop, filled with take-home cheese in all its glorious forms. Numerous types of brats also tempt shoppers from beneath a glass counter, and bottles of local brew
New Glarus
beckon from the shelves. In addition to the cheese curds requested by my brother and best friend, my husband and I picked up a four-pack of garlic bratwurst and a bag of cheddar-cheese curds as a birthday present for my father-in-law. When he opened it, he looked at me, smiled, and said, "This is why I like you so much."
BY: Aimee Algas Alker
Guide Staff Writer
Though Aimee stays up to date on the latest food trends for the Guide, most of her meals are served cold and cut into tiny, toddler-sized bites.