'Tis the Season for Outdoor Fitness Classes
BY: Michelle Algeo |
May 14, 2013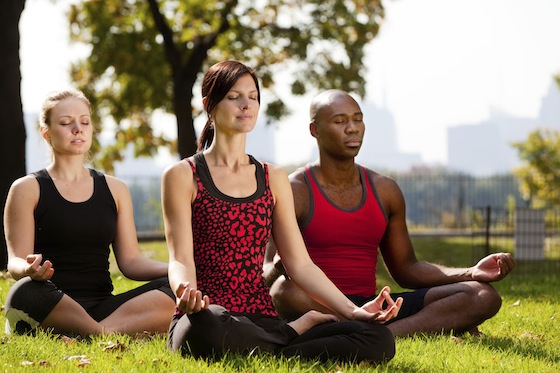 Like much of Chicago, Millennium Park suddenly bursts with life once the summer arrives. From June to August, locals and tourists alike flock to Cloud Gate (aka the Bean), Crown Fountain, and free concerts at Jay Pritzker Pavilion. Though a little more under the radar, outdoor fitness classes are also held right on Millennium Park's Great Lawn—as well as throughout the city. From Michigan Avenue to Deer Grove Forest Preserve, on the waters of Lake Michigan or the roof of Hotel Palomar, here are eight diverse options from around the area. Some are even free.
Outdoor Workouts at Millennium Park | 201 E. Randolph St.
The sprawling green expanse of Millennium Park's Great Lawn becomes a veritable outdoor gym on Saturday mornings. Fitness classes for all levels begin at 7 a.m. with tai chi, followed by yoga at 8 a.m., Pilates at 9 a.m., and Zumba at 10 a.m.
Free
Saturdays from June 8–September 7
7 a.m.–11 a.m.
Yoga on the Lake from FFC Halsted Street | Belmont Harbor
Every summer,
FFC Halsted Street
offers Yoga on the Lake, a free class for both members and nonmembers. The one-hour classes welcome practitioners of all levels to flow through sun salutations beneath the sun along the lakeshore.
Free
June 1–August
7 p.m.–8 p.m. on Tuesdays
11 a.m.–12 p.m. on Sundays
Chicago SummerDance | 601 S. Michigan Ave.
Held amid the splendor of Grant Park's Spirit of Music Garden, SummerDance begins with an hour of instruction from professional teachers, then breaks into two hours of live music and freestyle dancing. Classes convene atop a 4,900-square-foot outdoor dance floor and cover myriad styles of international dance.
Free
June 27–September 15
6 p.m.–9:30 p.m. on Thursdays–Saturdays
4 p.m.–7 p.m. on Sundays 
Chicago SUP's Fitness Classes | 1603 N. Lake Shore Dr.
Standup paddleboarding is a tough workout already. The instructors at
Chicago SUP
add an extra level of challenge by holding yoga, Pilates, and CrossFit classes atop paddleboards out on Lake Michigan. Dubbed SUPyo, SUPilates, and SUPfit, the classes target all major muscle groups and provide unrivaled views of the skyline.
$25 per class
Multiple dates and times, starting Saturday, June 1 (weather permitting)
Barre Bee Fit at Hotel Palomar | 505 N. State St.
Head to the Palomar's 17th-floor poolside terrace for an hour of exercise with Barre Bee Fit instructors, who blend yoga and Pilates with quick bursts of cardio.
Free for guests; fee for nonguests
Wednesdays from May 22–August
Full schedule not yet available; call 312-755-9703 to confirm class times 
REI Nature's Gym | Deer Grove Forest Preserve in Palatine, Illinois
Part of REI's Nature's Gym series, Trail Cross classes take exercisers onto the open trail for combination running and cross-training workouts. The one-hour classes work to tone the entire body and use elements in the natural world as equipment.
$18 for REI members; $38 for nonmembers
Multiple dates and times
TSNY Chicago's Flying-Trapeze Classes | Belmont Harbor, 3158 Lakefront Trail
With the sparkling waters of Lake Michigan as a backdrop, would-be trapeze artists soar from 23-foot platforms into the open air. They learn how to swing, hang, and sometimes catch flying classmates.
$65 per class
May–August
Multiple dates and times
Fit Beach from Kb Fitness Solutions | Ohio Street Beach
Five four-week "rounds" of boot camp draw participants to the beach, where they spend up to four hours a week working on cardio endurance, strength, flexibility, balance, and core muscles. Add nutrition coaching for a complete lifestyle haul.
$345 for one four-week round of classes; $425 with nutrition-coaching option
April 29–September 27
6 a.m. on Tuesdays–Fridays
6 p.m. on Mondays–Thursdays
BY: Michelle Algeo
Guide Staff Writer
Michelle studied English at Penn State. She has run two half-marathons (very slowly) and plans to someday run/walk/crawl the Chicago Marathon.