Top Five Bloody Mary's in Chicago
BY: Sara Crandall |
Jan 31, 2015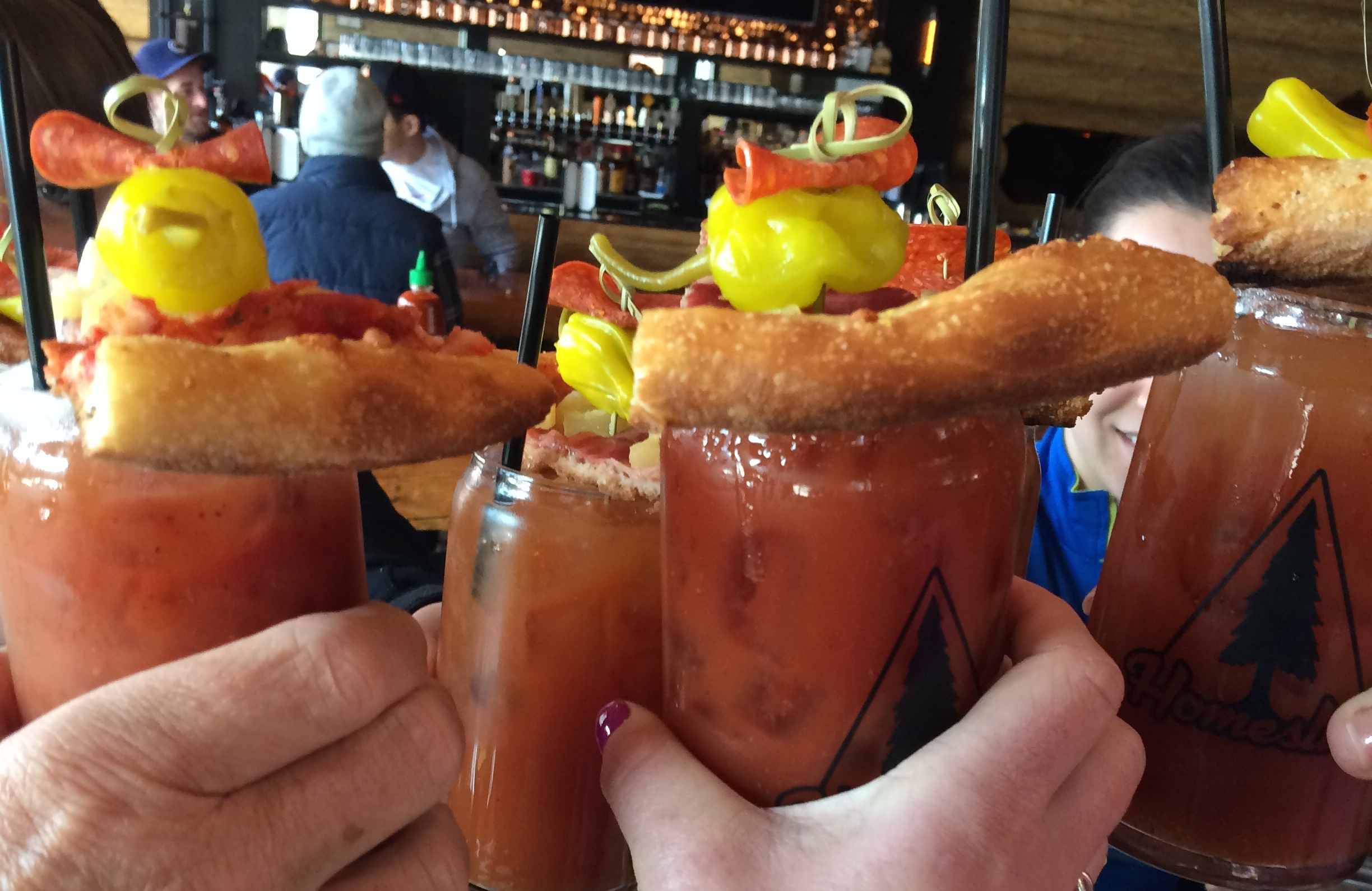 Brunch. It is not just a five-letter word in Chicago. Brunch is an event. A must do. A time of day on the weekend that is taken very seriously when planning. Chicago knows how to do brunch. Which makes it difficult because there are so many great options when choosing. What makes a good brunch great is the beverage accompaniment – The Bloody Mary. The five restaurants/bars below not only know how to serve a great brunch, but they know how to concoct an amazing Bloody Mary. Some are breakfast in itself.
Homeslice [Lincoln Park – 938 West Webster Avenue] – Meal in a Drink

If you judge a Bloody Mary more on the goodies than the actual drink – this one is for you! Homeslice's Bloody Mary is not only garnished with your normal accompaniments, but also a cold slice of pizza and a Miller High Life pony back. Who doesn't love day old cold pizza?
$9
Stretch [Wrigleyville – 3485 N Clark St] – Best Bang for your Buck

Had a rough Friday or Saturday night? Need hair of the dog? Stretch makes a nice big Bloody Mary (32 oz.) for only $5. And take it one step further they pour it into a large mason jar topped with cheese, olive, pepperoni, pickle, and celery! I love a drink even more when it is in a mason jar.
Standard Market Grill [Lincoln Park – 444 W Fullerton Pkwy] – Spiciest

If you like your Bloody Mary to have a kick, Standard Market's is one you can't gulp down. Spicy! In a good way. They use McClure's Bloody Mary mix, which has a kick to it because it is made from their pickle brine. The mix is definitely what is making this Bloody Mary top notch.
$9
Stanley's Kitchen & Tap [Old Town – 1970 North Lincoln Avenue] – BYOBM

Build Your Own Bloody Mary– need I say more? Stanley's offers a wide array of mix- ins to make your ultimate Bloody Mary. Pepperoni, pickles, olives, horseradish, Old Bay, celery, hot sauce, and the list goes on and on. You make it to your liking!
$10 for a 32 oz cup & Tito's Vodka
Crosby's Kitchen [Southport – 837 West Fulton Market] – Bacon, Beer, Bloody Mary

If you can't choose between a beer or a Bloody Mary at brunch – it is a tough decision. Crosby's Kitchen gives you best of both worlds. A Bloody Mary with lots of fixings and a Miller High Life pony back beer. To top the entire drink off a stick of bacon is included. No need for a straw when you have a stick of bacon to mix the drink!
$8 with Pony Back Beer
BY: Sara Crandall
Hi! I'm Sara and I like to run...a lot. Follow me on Lake ShoreRunner to see my journey of juggling marathon training, work, going back to school for my Masters in Sports Administration, trying new workouts, healthy eats, and plenty of fun in a great city (Chicago)!!