GROUPON GUIDE TO WASHINGTON-DC
Trapped in a Tim Burton Movie? Kambriel Says Wear This.
BY: Stephanie McDaniel |
May 14, 2014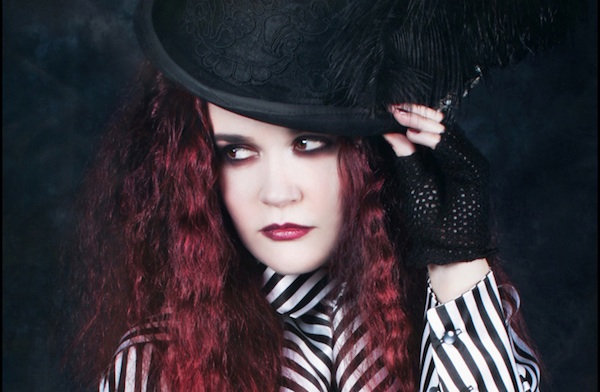 Neil Gaiman once created characters with buttons for eyes, so it's safe to say that his style skews eerie. When
Coraline
—a movie adaptation of his spooky novella—was nominated for Best Animated Film at the 2010 Academy Awards, he didn't want to wear a standard tux on the red carpet. So he commissioned designer Kambriel to make him a coat. Kambriel describes herself as a designer who "pushes creative boundaries" and "[combines] past silhouettes with modern details." Her aesthetic turned out to be the perfect fit for Gaiman. He loved his
black wool and herringbone Posh Frock
so much, he commissioned several more pieces and even wore Kambriel at his wedding to musician Amanda Palmer. (Palmer is also a Kambriel fan—she's commissioned
a coat made from two sets of antique curtains
, as well as
vegan, feather-free boas
.)

Why Kambriel? Well, she certainly shares Gaiman and Palmer's fondness for a dark bohemian look. But more importantly, she believes in the importance of self-expression and models her clothing to make personal statements. After all, "what one wears can speak volumes before a word is said or a song is sung," she says. That philosophy has led to a long list of
celebrity clients
with unique styles. Looking at Kambriel's ethereal designs, it's hard not to imagine them being worn in another world entirely. We wondered if she would agree—and we asked what pieces she would choose for a trip to six fantastical landscapes.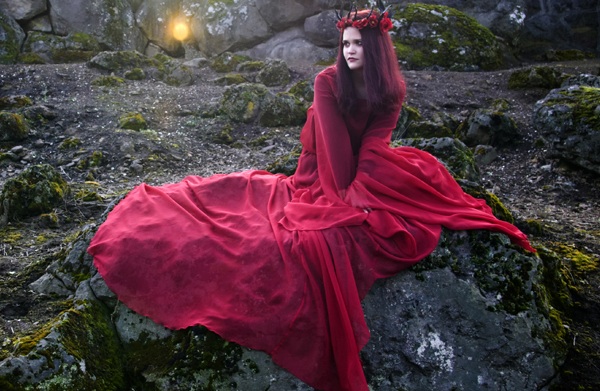 Neil Gaiman's Stardust: Draculean Bride Gown
Sheer chiffon drips down from "dramatically flared sleeves" and a voluminous skirt (the train is 3 feet long!) on the Draculean Bride Gown. It's available in ivory, black, and red. All three versions have the same air of epic fantasy as Gaiman's book, but the ivory version in particular seems suited for a fallen star.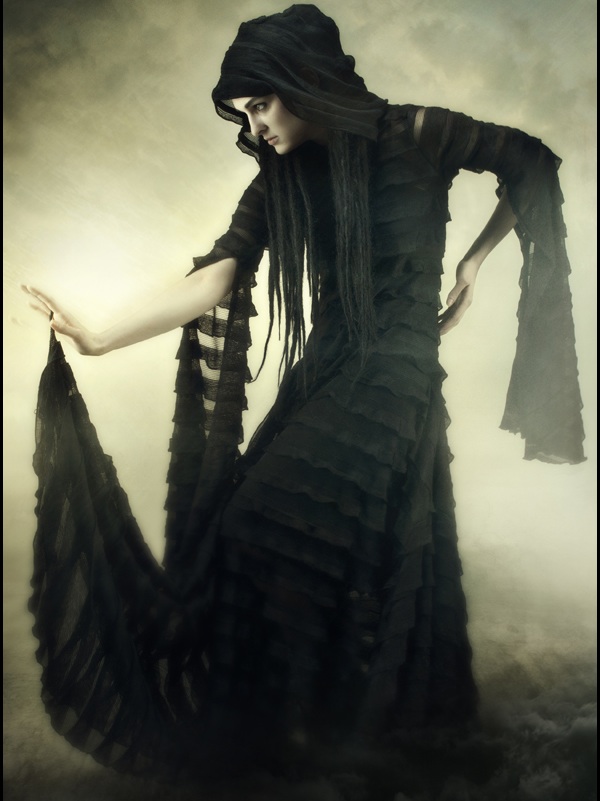 Sleeping Beauty: Suspiria Gown
No one could make these "seemingly endless cascades of black ruffles" look good like Maleficent. The gown has a hood for added mystery and finger-loops on both side hems for ease of movement through thorny woodlands. We just hope she wouldn't tear it to shreds when she transforms into a dragon.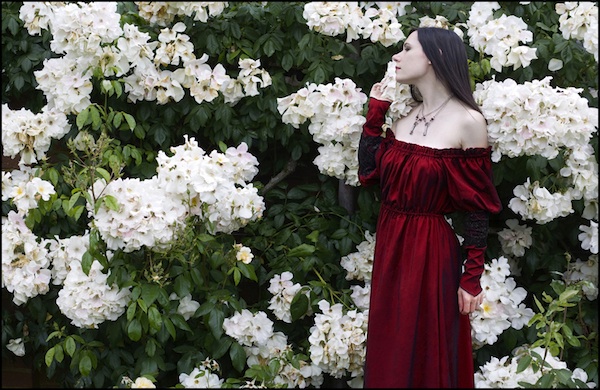 Snow White: Garnet Morgane Gown
This romantic gown includes a chemise-style bodice and puff sleeves, drawing inspiration from princess dresses of the past. The "blood red satin charmeuse" is a perfect match for Snow White's rose-red lips and any poisoned apples that happen to be lying around.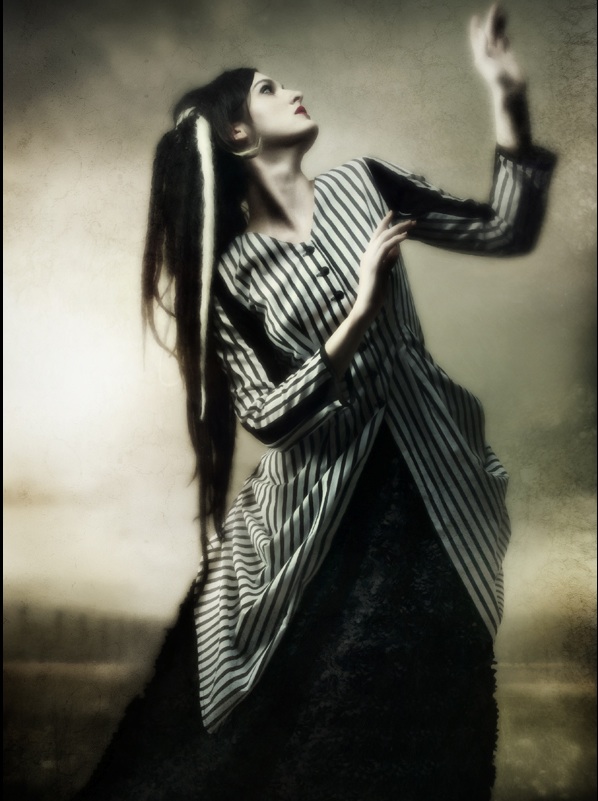 Anything by Tim Burton: Cabaret Bustle Jacket
Kambriel likes how this black and white jacket combines "a sense of playful whimsy [with] a sombre silhouette." Its neo-Victorian design would complement almost any of Tim Burton's stories, but its striped pattern is especially reminiscent of Beetlejuice's signature suit.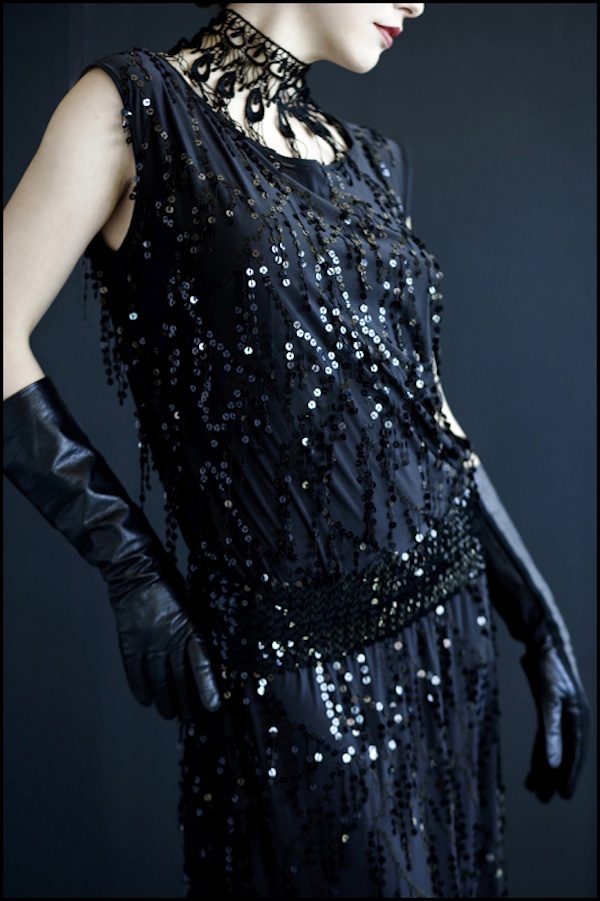 F. Scott Fitzgerald's The Great Gatsby: Speakeasy Dress
Black sequin strands dangle from the Speakeasy dress, flashing in time with Jazz Age dance steps. Kambriel says that the straight, drop-waist dress gives off a "sense of playful elegance" that was so prominent in the Roaring '20s. Doubtless, any one of Jay Gatsby's party guests would have worn it to turn heads.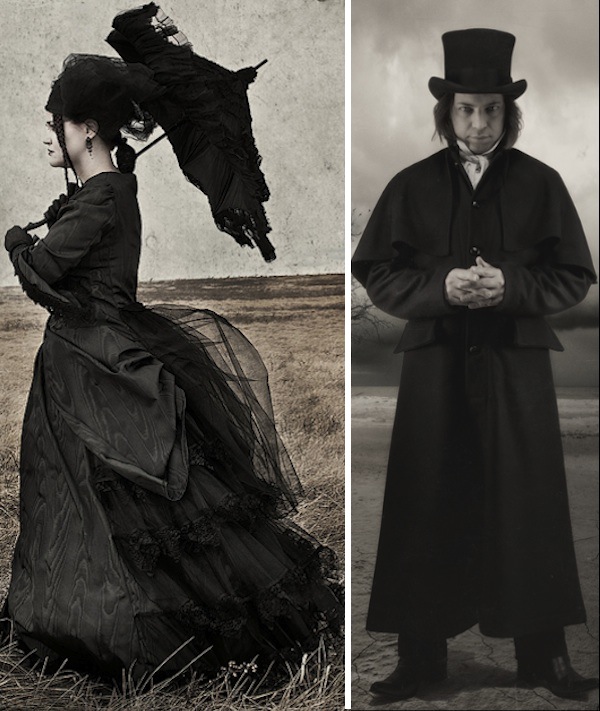 Anything by Edgar Allan Poe: Moiré Midnight Bustle and Caligari Greatcoat
Like Poe, this Greatcoat and neo-Victorian bustle duo "weave tales of the elegant macabre." The wool greatcoat shelters wearers against whatever lurks in the dark, while the jacket and bustle skirt are equal parts solemn and beauteous, with black moiré bengaline fabric, antiqued silver filigree buttons, and lace trim. Either would be perfect for a lifetime walled up in a wine cellar.
Photos courtesy of Kambriel (photographers: Porcelain Poet, Visioluxus, DividingMe, and Tina Dolin)