Trending and Tasting at Chicago Gourmet in Millennium Park
BY: Hillary Proctor |
Sep 30, 2013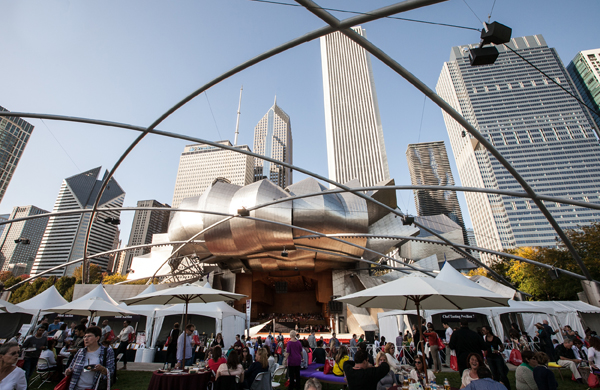 The weekend-long Chicago Gourmet festival, presented by Bon Appetit magazine, has often been called "Lollapalooza for foodies." More than 175 chefs and hundreds more beverage purveyors set up tents in Millennium Park for tastings, demonstrations, seminars, and all-around indulgence. As a Chicago foodie, I tried to fit in as much into one Saturday as my mind (and stomach) could handle, and came away with more than a few delicious insights on the trends I saw, the people I met, and the 29 dishes I tasted.
THE TRENDS
Using the last of summer's corn: Fitting for this year's sunny, summer-like weather, corn was seemingly in everything. Most notably, it came in the form of a sweet corn succotash tartlet from the Palmer House Hilton Hotel; and in two soups, one from Shawn McClain of Green Zebra with oyster mushroom and a surprising citrusy kick, and another garnished with popcorn that Joseph Rose of Lockwood told me: "No spoons; just drink it down!"
Elaborate seafood preparations: Toward the end of the day at the Supreme Lobster & Seafood Co. tasting pavilion, I tasted a meaty oyster po' boy slider from Ryan Pitts of RL, which I gratefully accepted while still waiting in line; a lobster and sweetbread terrine from Chris Gawronski of Henri and Peter Coenen of The Gage; a sturgeon rillette on pumpernickel toast from Chris Pandel of The Bristol and Balena; and a seared ahi tuna with tamarind glaze from Rosalia Barron of The Signature Room at the 95th.
Rise of the fried-chicken joint: Fried chicken is having a moment in Chicago, especially with the opening of Honey Butter Fried Chicken. I enjoyed a fried-chicken croquette with gingery pickles from Kristine Subido of Pecking Order, who later took on HBFC's Christine Cikowski and Josh Kulp in a fried-chicken Smackdown, one of several themed head-to-head competitions throughout the weekend. At another pavilion, Jared Van Camp of Nellcôte, Old Town Social, and RM Champagne Salon was instead previewing his new fried-chicken joint, Leghorn. I asked him when it's opening. "Very soon!" he said. "You'll see an announcement for where in the next week!" I think he's onto something with his Nashville hot chicken and pickle on a pillowy biscuit.
[Read our Plate-by-Plate feature on Honey Butter Fried Chicken.]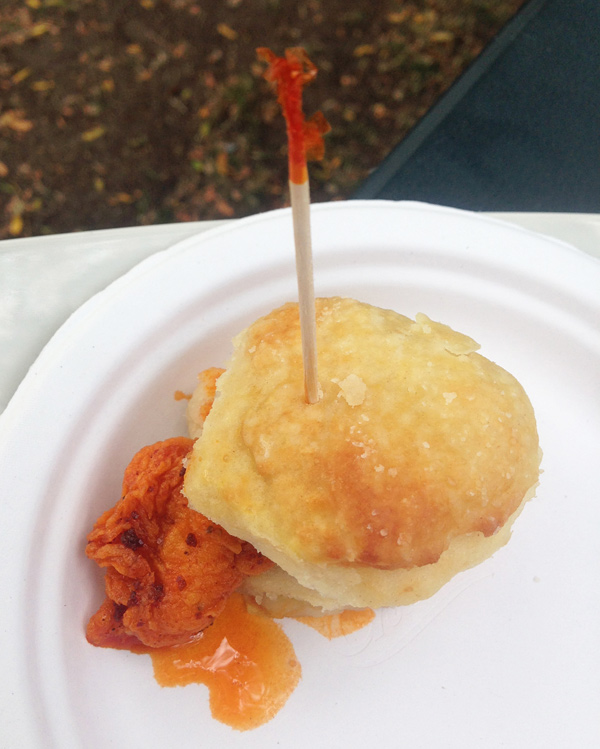 Upscale wine for casual fare: As chefs continue to elevate diner menus and other traditionally low-brow dishes (see: fried-chicken trend), sommeliers are required to put together more creative pairings for their beverage programs. Taking a cue from the experts, I paired duck tacos from Northern Indiana–based Maple Leaf Farms with a pinot noir from Oyster Bay in New Zealand. This was also the first time I used my plate with built-in wineglass holder. It made it clear why they're part of the entry gift bag—being able to hold food and wine in one hand made a substantial difference.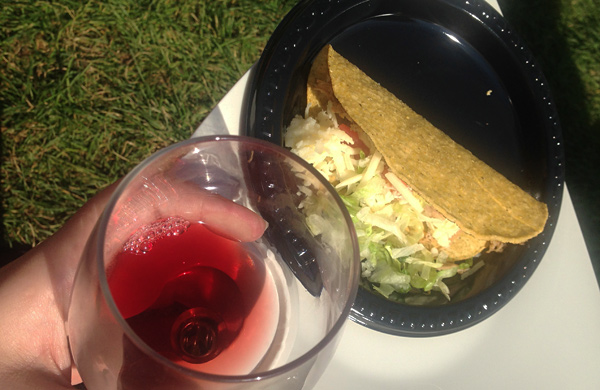 THE SCENE
Rahm goes gourmet: Mayor Emanuel strolled right by me just before 2 p.m., with two hulking bodyguards trailing behind.
A gregarious trio: By far the most entertaining cooking demonstration was the "Original Culinary Gangsters of Chicago," the last main-stage demo of the day. Jimmy Bannos Sr. of Heaven on Seven and The Purple Pig; Tony Mantuano of Spiaggia, Terzo Piano, and Bar Toma; and John Hogan of Keefer's Restaurant collaborated on the beginning, middle, and end of the same dish. They made plenty of jokes around being Greek, Italian, and Irish, respectively, but also snuck in some tips. When it comes to pasta water, said Mantuano, always add salt, but never oil, and also never rinse off the pasta.
Expert predictions: As Bon Appetit restaurant editor Andrew Knowlton starts to scout out more than 300 candidates for next year's 50 Best Restaurants list, he has his eye on Pittsburgh, Houston, and Nashville as the next great food cities.
OTHER HIGHLIGHTS OVER 29 TASTINGS
Most exciting Smackdown: Mystery Seafood Ingredient, a competition between Thai Dang of Embeya and Tim Graham of Travelle. I missed the beginning, but quickly deduced that the ingredient was lobster. Heather Sperling of Tasting Table was darting back and forth as moderator, narrating Iron Chef–style: "Now he's shaving truffles on top, to gild the lily." Thai Dang was pronounced the winner, and a small cheering section of staff in Embeya T-shirts went wild at the announcement.
Dishes most atypical of their restaurants: A lobster roll from Joe Farina and Steve Coppolillo of Rosebud, typically known for more classic Italian fare, and a gluten-free snickerdoodle from the Berghoff in the La Femme du Chef pavilion.
Fanciest bite: At the Grand Cru tent, an exquisite bite of housemade tofu, salmon, roe, bonito flakes, and soy from Takashi Yagihashi of Takashi and Slurping Turtle, who I also watched in the Ancient Art of Japanese Cooking demonstration earlier in the day. Because this was the high-end, super-premium, do-I-really-belong-here? tent at the festival, I got to pair it with a sip of 2004 Moët & Chandon Grand Vintage brut champagne under a little chandelier.
Unsung hero: The volunteer standing outside Chef Tasting Pavilion 10, the only one I saw who was really selling her pavilion. She shouted descriptions of the food and also threw in advice, such as "We encourage the balance between solid and liquid intake, so that you remember the day in a positive way!" And I was glad she drew me over: the piping-hot ham beignet from Paul Virant of Perennial Virant and Vie was easily the best bite so far that day, with a silky pear mustard. The pumpkin ravioli with a brown-sugar sauce from Jose Zetina of Pazzo's Cucina Italiana was a little sweet, but got me excited for fall flavors. I was excited to try the bratwurst from Scott Walton of Howells & Hood, since I knew he'd won the Hamburger Hop opening cook-off the night before, but can't quite get past all the caraway in the bun.
Opening/closing remarks: At the opening of the festival, Bon Appetit editor-in-chief Adam Rapoport called Chicago Gourmet "easily the most gorgeous location of any food festival in the country...the fact that it's in September and not January definitely helps." The unseasonably warm weather came up in at least 26 of my conversations, but I wasn't complaining.
Top photo: © Huge Galdones Photography; all other photos: © Hillary Proctor, Groupon