Two Ways to Wear Braids
BY: Sara Tremblay |
Nov 1, 2013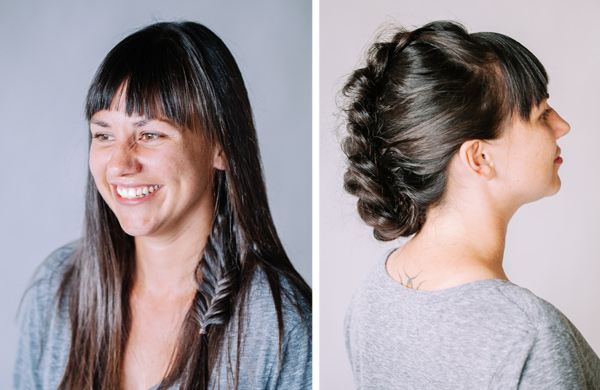 Braids don't have to be complicated. At the Fall 2013 shows, Valentino's models wore long side-braids that were sleek and simple. Meanwhile, Badgley Mischka's upside-down french braids were just as neatly woven, if more avant-garde. The symmetrical loops and twists of these braids might seem intricate, but they aren't too hard to replicate. Hairstylist
Lauren Sweenor
demonstrates how to lace up two braided looks of her own—one natural and one dramatic—that play off the Fall 2013 trend.
FOR A NATURAL LOOK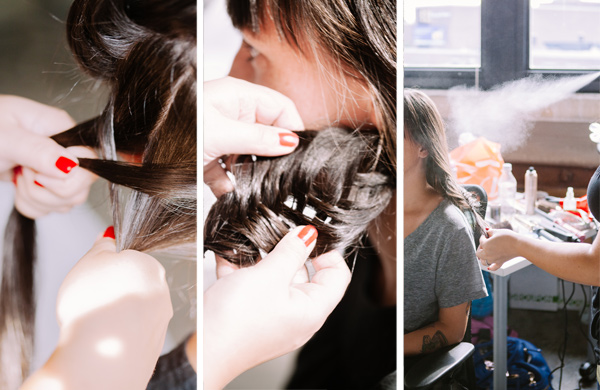 "One of the biggest mistakes people make when they do an accent braid is not starting with enough hair…[because] when you braid that hair, it becomes a lot smaller," Lauren says. To ensure that our model Jess's accent braid has impact, Lauren begins by separating a 5- to 6-inch piece of hair from behind her left ear. She braids the hair using a fishtail technique—splitting the hair into two sections, and passing a small strand from one side over its section, then under the opposite section. Lauren repeats this process until she has about an inch of unbraided hair left. She recommends gently pulling on the loops of the braid when it's complete, which lends it a purposely unfinished appearance. Wait to do so until after you've put in a hair tie, though! "Otherwise you will pull all the hair out." A mist of hairspray holds the look in place.
FOR A DRAMATIC LOOK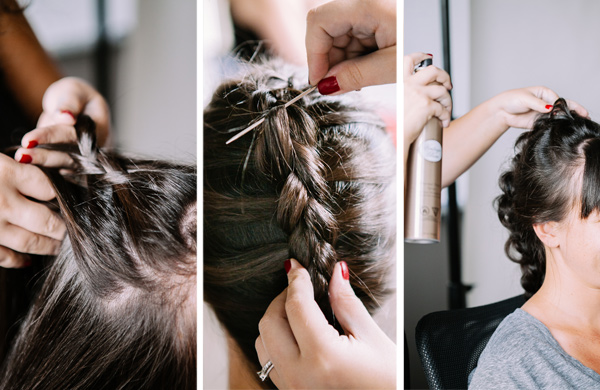 Lauren delights in styling fauxhawk braids because they're eye-catching and edgy, yet easy to do. This particular fauxhawk results from a dutch braiding technique, which is the reverse of a french braid—the strands are braided outward rather than inward. Once the hair is braided, Lauren creates the bottom of the fauxhawk by rolling the end of the braid inward and up. She secures it with bobby pins at the nape of the neck. To give the look a modern, severe appearance, Lauren loosens the braid's loops with a tail comb, and tightens the non-braided hair on the sides of the head with bobby pins. Her secret weapon throughout this entire session: firm-hold hairspray.
To complement this trend with another, see a past tutorial on emerald eye shadows.
Photo: © Stephanie Bassos, Groupon