Unconventional Valentine's Day Eats
BY: Nathalie Lagerfeld |
Feb 3, 2014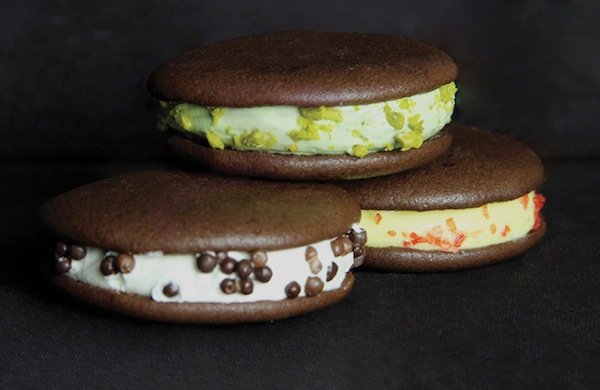 Tired of same-old French-bistro dinners with your boo? Head to these three off-the-wall events this February 14 and 15.
Hearts Dinner
at
Frontier
(Wicker Park | 1072 N. Milwaukee Ave.) Leave it to weird-meat-loving Chef Brian Jupiter to take Valentine's Day symbology literally. Three out of four courses on his $60 set menu include actual hearts from a wide range of animal species, including veal, duck, and bison. Luckily, the dessert course—a "bleeding heart" filled with chocolate-raspberry ganache—seems to be meat-free.
February 14 and 15; $60 per person; buy tickets here.
Making Whoopie
at
Deca Restaurant and Bar
(Streeterville | 160 E. Pearson St.) No one can accuse Deca Restaurant and Bar of not taking Valentine's Day seriously. Not content to serve a
six-course tasting menu
, the 2014 Michelin Bib Gourmand winner will also host two sessions of a romantically themed cooking class on Valentine's weekend. Of course, the "whoopie" in "Making Whoopie" isn't the type that usually goes on in the rooms of the Ritz-Carlton upstairs. Instead, pastry chefs will guide couples through the steps of creating a whoopie pie—a classic, cream-filled New England dessert. Participants will also nibble hors d'oeuvres and sip glasses of champagne.
February 14 and 15 at 6 p.m.; $40 per couple; buy tickets here.
Eat Your Heart Out
at
Chop Shop
(Wicker Park | 2033 W. North Ave.) Wicker Park's newest performance-venue-slash-butcher-shop serves up locally sourced meat with a side of rock-and-roll. During the roughly five-hour event, local bands such as
Soft Speaker
and
White Mystery
soundtrack samplings of hors d'oeuvres such as Amish lamb sausage and grass-fed meatballs. Between sets, guests get to watch pro butchers from Chop Shop and
Red Meat Market
break down a whole goat and whole lamb onstage. Admission includes two complimentary drinks.
February 15 at 6 p.m.; $50 per person; buy tickets here.
Photo of whoopie pies by Huge Galdones, courtesy of Deca Restaurant and Bar.
BY: Nathalie Lagerfeld
Guide Staff Writer
Nathalie is a writer and editor on the Guide's food team. Originally from Virginia, she now lives in Chicago, where she regularly indulges her love of tortas, bibimbap, and Cheez-Its. Follow her on Twitter @maviswillsaveus.