See It or Skip It: Wall Drug in South Dakota
BY: Krista Burton |
Sep 8, 2015
What is Wall Drug?
Wall Drug is a giant shopping, dining, and kitschy entertainment center in Wall, South Dakota, 55 miles east of Rapid City and on the edge of Badlands National Park. It started in 1931, when the owner of the town drug store, in an effort to attract more customers, decided to put up signs on the highway offering free ice water. Sure enough, cars stopped—and the rest is history. Today, Wall Drug is several times larger than the original store, more than a million people visit each year, and you can still get free ice water.
Why am I here?
I'm on a cross-country road trip, and Wall Drug is the only thing breaking up the hundreds of miles of relative emptiness between the Midwest and the West Coast. Billboards for Wall Drug start popping up a full 200 miles outside of town. By the time I reach it, I can tell: this is the roadside attraction to end all roadside attractions.
What's Wall Drug like?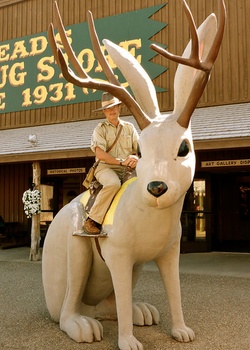 Wall Drug is not just one giant store—it's multiple wooden buildings built up like a little Western-style town. It's huge...and incredibly kitschy. Most visitors go straight for the Western Art Gallery Restaurant, a dining hall with the largest private collection of original Western art in the country.

Other sights include a life-size animatronic T. rex, an area to pan for gold, and a staggering array of souvenir shops. Want a cowboy hat? You're in luck. Need an acrylic belt buckle with a real scorpion in the middle of it? This is your place. The real souvenirs at Wall Drug, however, are the famous jackalope busts: taxidermied rabbits with deer antlers attached to their heads. You can buy one at a souvenir shop, or just get your picture taken while riding the giant plaster one outside.
The Verdict
See it. Do not miss the chance to partake in roadside Americana at its best. A visit to Wall Drug is a rite of passage, and one of the only ways to break the monotony of a long trek across the Great Plains.
Photos: The Famous Wall Drug by John Lloyd and Jackalope Jockey by davidd, both under CC BY 2.0

BY: Krista Burton
Guide Staff Writer
Krista has lived in Europe and Taiwan, and she loves road trips to kitschy US sites. She prefers to travel by train, but she always falls asleep and misses her stop.