We Did Not Wake Up Like This
BY: Mae Rice |
Apr 11, 2014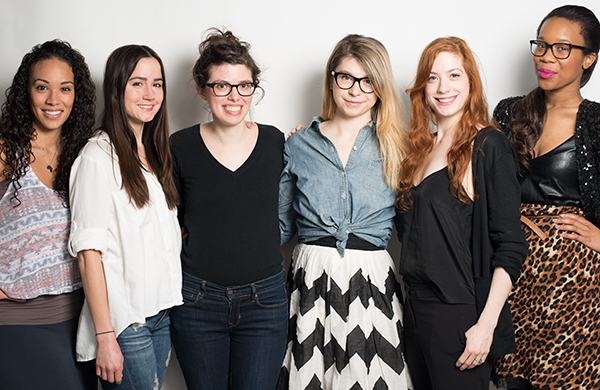 Six Grouponers open up about their makeup routines, their changing attitudes toward cosmetics, and their all-time most embarrassing beauty mistakes.
Writing for the The Guide to Style & Beauty, I've noticed that when I ask people about their approaches to beauty—even simple questions like "What mascara do you use?" and "Have you ever tried another mascara?"—the conversation rarely sticks to makeup brands. Instead, people's responses usually touch on their families, their self-confidence, and their time in middle school. Middle school has marked us all! I love the personal narratives I've stumbled across, and I'm intrigued by how much they vary from person to person. Cognitively, I know that everyone is unique, but interviewing people about beauty has helped me to understand that at a gut level. So, to explore our differences even further, I gathered some beauty-savvy people at Groupon and hosted a discussion. From left to right in the picture above, the final roster was: * Favin Gebremariam, Groupon's national beauty expert who blogs
here
* Amanda Nyren, who sweats primarily from her head and also oversees the The Guide to Style & Beauty * Mae Rice (me), a editor and Tim Riggins enthusiast * Amelia Buzzell, who blogs about home design and sings in a punk cover band * Michelle Schuman, a fashion designer and ex-ballerina * Britt Julious, team lead for Deal Qualification stage, freelance culture writer, and sequins lover Below is a condensed and edited version of our talk.

Mae:
I used to do nothing. I'd just wear moisturizer and Carmex. [But then] I felt like I was getting to the age where it was a statement not to wear makeup, and I didn't want to make a statement. I just wanted to be lazy. A couple of weeks ago, I bought some foundation, and now I'm trying to do foundation, concealer … and Carmex.
Michelle:
I do the same thing almost every day. Tinted moisturizer, concealer, Benetint or Posietint on my cheeks and lips, mascara, and something to make my eyebrows match my fake red hair. I'm a blonde.
Britt:
I'm not a big makeup person, I'm more of a skincare person. I had really bad acne growing up, and once I'd taken Accutane, I developed this routine. I do a face wash and a toner and a moisturizer, and I'll usually just use Smashbox CC cream, just to even things out. I still have a lot of scars from when I had acne, and CC cream doesn't clog my pores as much as regular foundation. Then I put on a little blush because I feel naked without blush. That's it.
Amanda:
I'm the same. I had really bad acne, and I'm heavy on skincare. I use Retin-A at night, which I think is also good for anti-aging, so I'm excited for my future. Makeup-wise, I'm obsessed with this eyebrow pencil I got recently,
Anastasia Brow Wiz
. I just like, draw a line around my eyebrows, and it hides that I haven't gotten them threaded in a while.
Favin:
My beauty stuff changes all the time. Every time I see something new, I'm like, "I need to start doing that." I started brushing my teeth with charcoal [to whiten them], washing my face with oil, eating clay.
Mae:
Wait, is it the same as barbecue charcoal?
Favin:
It's not. Because that's not activated. But they make activated charcoal pills for stomach issues. You can buy it by the pound on Amazon, and you just brush your teeth with it. Afterward, you look like a demonic monster. So every other night, I do that. In the morning, I don't leave the house without mascara on and eyeliner. I'm obsessed with the way my eyes look with just a little bit of liner—I got it tattooed because I never wanted it to come off (but sometimes I'll still put more liner on top of it).

Britt:
My hair naturally has a kinky, curly texture—I went natural about four years ago—and it's very sensitive. Less than a year ago, I found out that I'm allergic to all tree nuts and most pollen-based foods, like honey, banana, avocados. I had to throw out all my old products, and now my routine has to be very, very simple. Usually it's argan oil, and actually, things with a lot of chemicals in them tend to be better for me than all-natural stuff. I avoid heat styling.
Amanda:
I don't do much with my hair. I refuse to blow-dry it.
Mae:
I just wash my hair at night and put it in a braid, and when I wake up it's messy, but in a sort of organized way. Good enough for me!
Favin:
I almost never wash my hair. I used to wash it like everybody else, every other day, and it was disgusting. Brittle, frizzy, dry. I went to this stylist in LA who specializes in curly hair, and he was like, "You have to stop washing your hair. All you're doing is stripping your oils out, and if you keep it up, your hair will never recover." Now I shampoo about once a month, but I wet it and use conditioner from the ears down three times a week.

Amelia:
[When] friends were doing a lot of makeup, I got into it, too. As I've gotten older, though, I've gotten less desirous of that airbrushed look. Growing up, you're feeling vulnerable, like, "Do boys like me? Maybe I should have some liquid foundation … ." Now I'm trying to figure out the difference between makeup I wear for the rest of the world and the makeup I wear for myself for fun.
Michelle:
I have a weird relationship with makeup because I grew up doing competition dance and ballet. I started learning how to apply heavy eyeliner and fake eyelashes and all that when I was 6, and I've always had a knack for it. At the same time, when I wasn't dancing, I was a little bit of a tomboy. Then, when I graduated high school, I got really rebellious, and my makeup routine was self-expression splashed all over my face. I had a bright magenta asymmetrical bob with anime bangs, and I was looking at cosmetics ads and thinking, "This is how you're supposed to look." In MAC ads, the eye shadow is out to your hairline. My best friend was a makeup artist, so I really did that. Eventually, though, I just stopped caring. That's where I am now. I don't have to tell you my favorite band with my face.
Favin:
I was always trying to fit in. I was usually the only black girl, and I oftentimes wasn't "black enough," but I also wasn't white. On top of that, I was chubby, I never had a boyfriend, had glasses, wore braces. It was important to me not to stand out in the "Why would you bring her along?" kind of way. It's part of growing up, figuring out who you are removed from your friends and your job and the expectation of what you're supposed to look like.
Mae:
Yeah, it was definitely important for me ... not to fit in, exactly, but just to convince people I wasn't clueless about beauty. Especially in high school and middle school, which is funny because everyone was clueless in middle school. But I had the new Bonne Bell Lip Smackers flavor first, and for years, I read every single fashion magazine that hit a newsstand. Even if I was opting out of most things, I wanted to feel informed. But now I do not read fashion magazines because they're boring and they always say the same thing, which is "You look wrong!"
Michelle:
Yeah, you could see from the evolving exterior of me that there was definitely a need to conform at a certain point and be like the people I was hanging out with, [whom] I didn't even really like. I started wearing high heels to fit in with them, and I have really messed up feet now. I also messed up my skin and my hair—I mean, you can't go from red to magenta to platinum to red without some damage. From the ears down, it's just dead, which is why it stays in a bun all the time. I definitely destroyed little parts of my body. Looking back, I wonder why I did that.
Favin:
I bet you were bangin', though! That's just part of the evolution. And even now, I still feel like there's a little insecurity in everybody about getting dressed and going out and being seen. But I'm glad I've gotten to a place where I can ignore it with people I'm close to. I have a girlfriend who always says to me, "I can't believe your boyfriend has seen you with no makeup on." I'm like, "My boyfriend has seen me throw up!"

Favin:
It's funny because makeup is not something I expect from other people. When I sit in meetings, and someone has no makeup on and sneakers on, it doesn't matter. But for me internally—and this probably has to do with being in a grad program where we had to dress business casual—I think that makeup is just part of being in the workplace.
Mae:
I've noticed that, too—that when I'm dealing with other people, I never really think about their makeup or like, "Oh, their skin is blotchy." But when I'm thinking about myself, I'm a lot more critical and I feel like I need to take certain steps to deserve to be heard.
Amanda:
Yeah, I don't think about other people's looks that much. What I do respond to, though, is when someone has a really individual style. They have their thing going on, and it's them, not just what they're supposed to do. I really admire that.
Favin:
I will admit that sometimes, and this is a fault of my own, I see people in what I think of as club makeup at the office and I think … really? Especially if I see them in the bathroom reapplying. If even at work, all day long, you're constantly feeling it's not enough … . I try not to judge, but when I see that I feel a little heartsick.
Mae:
I sometimes feel like that too, and I think it's because for me, it's never been a joyful experience to go in the office bathroom to reapply my eyeliner. That's never been a day where I felt good about myself. That doesn't mean the person I'm seeing isn't having a great time, but it can be hard not to misuse the Golden Rule and assume everyone is like you. Everyone is different!

Amelia:
When I wanted to buy lipstick circa the eighth grade, my mom took me to Walgreens, and we couldn't find the color I wanted. So we picked out two: this pinky-brown lipstick [and] this pineapple gold shimmery one. In our minds, together they would make the perfect color. But you can't blend lipsticks after they're on your mouth!
Britt:
This is not really of my youth, unless you count my youth as two months ago, but I recently decided that even with my allergies, I could do this DIY honey mask I saw online. I put it on my skin, and within 10 seconds, it was the most searing pain I've ever experienced. I washed it off, and I was in my apartment just screaming and crying.
Amanda:
I'm a head sweater, and one time when I was a kid in gym class, I decided to put deodorant on my forehead. Afterward, people were like, "Your forehead's all white and peely. What's going on with you?"
Photo: Andrew Nawrocki, Groupon
BY: Mae Rice
Guide Staff Writer
Mae Rice is a staff writer who writes about eyelash extensions, French food, what "business casual" even means, and other style and food topics.
Face & Skin Care Deals in Chicago