GROUPON GUIDE TO WASHINGTON-DC
Wedding Invitation Etiquette: Tips to Choose the Right Wording, Fonts, Paper, and Enclosures
BY: Editors |
Aug 29, 2017
Once newly engaged couples start looking at invitations, they quickly realize they don't know anything about wedding invitation etiquette. As they flip through options, styles start blending together and it's hard to tell what phrasing is correct, what they need to include, until finally they wonder: does it even matter what the invitations look like?
The answer from our roundtable of experts is an emphatic yes.
"The invitation will be the first impression guests have of the wedding and should give them an idea of what to expect," said Caron Perry, the owner of Chatham & Caron Letterpress Studio. "The invitation design can embody the essence of what you're trying to achieve."
If you're ready to order, and don't want to spend a fortune, go ahead and shop our deals on cheap wedding invitations by clicking the link below. Otherwise, check out the advice from Perry and her fellow designers, as they lay down some ground rules. As you weigh wedding-invitation ideas, be sure to consider these five things, which can help set the tone for your wedding.
1. Wedding Invitation Wording
Unlike other aspects of a wedding, formality is king. Invitation designers counsel couples to use formal wording, at least on the invitation card, even if they're having a less traditional wedding. But what does that mean, and what wedding invitation etiquette do you need to follow here?
The basic breakdown of what you absolutely need to include goes as follows:
Couple's full names
Make it clear that the event isa wedding
Ceremony venue name
City and state
Ceremony venue address
Ceremony start time, written out
Indication of "In the morning", "in the afternoon", or "in the evening"
If necessary, reception start time
RSVP deadline, including month and date
Wording for a very traditional wedding would assume the event is hosted by the bride's parents, so the invitation would also begin with them: "Mr. and Mrs. [bride's father] request the honor of your presence at the marriage of their daughter." As more couples pay for their own celebrations, though, the opening will commonly read "Together with their families, [the couple] cordially request your presence." Or it may omit the rest of the family altogether. (No offense, Mom.)
Following the formal style also means spelling out dates—Saturday the Sixth of June, for example—and avoiding abbreviations.
"It's the one opportunity in your life that you get to have a formal affair," said Julie Chaet of Champagne Press. "With the dates, the year, and things like that, I think it's nice to keep it traditional."
If you're definitely opposed to stuffy wording, have some fun. Try out phrases like "[couple] invite you to party with us" or "eat, drink, and be married with [couple]."
2. Choosing Your Fonts and Printing Method
"Most people can generally look at the invitation and determine how formal [the wedding's] going to be," said Julie Hanan, who owns Julie Hanan Designs. The font choice is one of the most immediate indicators of the level of formality, which most guests use to figure out what to wear.
Calligraphy and serif fon exude a more traditional, classic style, while sans-serif fonts are more contemporary and sleek. If your wedding has a rustic or vintage tone, Chaet said, aged-looking typefaces can convey that in print form.
---
"Most people can generally look at the intvitation and determine how formal [the wedding's] going to be."

– Julie Hanan, Julie Hanan Designs
---
Formal invitations are usually printed using letterpress, thermography, or engraving—more labor-intensive methods that require the customer to pay per color. Digital printing offers a wider range of colors at a lower price, but among the traditional-minded it might indicate a more casual wedding. (A swanky country-club wedding, for instance, will probably have invitations engraved with a serif font in black.)
3. Selecting Your Paper
Some guests may be able to figure out the tone of your wedding by the weight of the invitation. Printing methods like letterpress and engraving require a thicker, cotton-based paper; digital printing uses thinner card stock.
You might even want to consider the paper's hue: "An ecru paper is a classic color, especially paired with black or gold ink," Perry said. "A bright white paper is more contemporary." (Colorful card stock is likewise more modern.)
Chaet considers the paper properties as yet another way to convey the tone to guests. "If we're talking about an outdoor, rustic-type wedding or a minimalistic bohemian kind of invite, I'll try to guide them toward something that's a little bit more organic and has more fibers in the paper. If they're having a modern wedding, I usually will direct them toward something that's a little smoother, has a more plastic feel."
4. Including Enclosures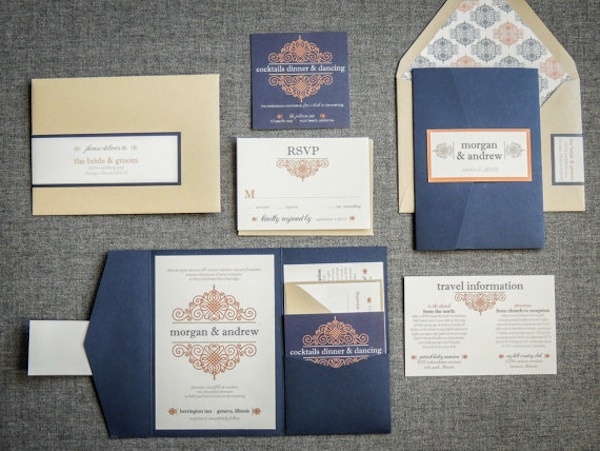 Courtesy of Julie Hanan Designs.
In a highly traditional invitation, the initial card asks guests to attend the marriage ceremony, usually at a place of worship. An enclosed reception card then directs them to the celebration that follows.
"I'd say we see it sort of half and half, where people are including [the reception card] or they prefer to include it on the main invitation just to save a bit of money," Hanan said.
---
Unsurprisingly, invitations with multiple cards, such as directions, accommodations, and weekend activities, will be considered more formal by guests.
---
So a lot couples are forgoing at least one enclosure. But there's something like seven others you can include—what about those? Unsurprisingly, invitations with multiple cards, such as directions, accommodations, and weekend activities, will be considered more formal by guests. Couples who are trying to save money or simply don't want the bother of multiple enclosure cards might opt for a small insert directing guests to a wedding website for more information.
Formal invitations will also include an RSVP card complete with an addressed and stamped envelope (the US Postal Service and Zazzle actually offer wedding-specific stamps). According to Hanan, more casual invitations could change up the wording ("can't wait to celebrate" vs. "accepts"), add some fun (like music requests or an ad-lib-style reply), use a postcard, or ask people to RSVP online.
5. Going for Graphics
If your wedding is on a beach or a ranch, it's probably obvious that it isn't a black-tie affair. So there's no harm in including a themed graphic that hints at the playful tone of your nuptials.
But if you don't want to go all out and decorate your invite with seashells, there are other ways to get your message across. And Chaet suggests that you definitely do get your message through—guests will want to know if they're attending a wedding with an unusual theme or an outdoor location. Printing "seaside celebration" or using a nautical color scheme should tell your friends not to wear their stilettos; a carefully chosen vintage-style font could indicate a carnival or Roaring Twenties theme.
And don't forget the rest of the packet: "If you'd like to keep the invitation card itself more traditional, you could add a patterned starfish envelope liner to a color envelope," Perry said. "That way your guests can get a hint of your theme and color without it being overwhelming."
Top photo illustration by Mark Mills, staff designer. Other images courtesy of Zazzle. Enclosures image courtesy of Julie Hanan Designs.
This article was originally posted by staff writer Kate Raftery, and has since been modified by our editors.
BY: Editors
The Guide: we cover the coolest food, beauty, and entertainment trends happening nationwide.