Weekend Agenda: December 26–29
BY: Tyler Clark |
Dec 23, 2013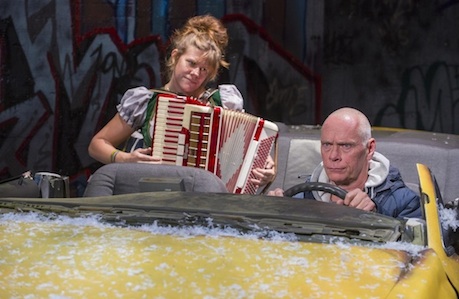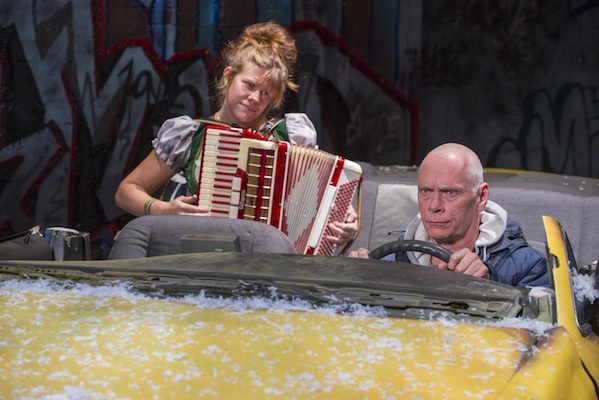 "Hellcab"
Revival of massively popular Chicago play reunites actor Paul Dillon with the role he originated
A nine-year initial run. A Fringe First Award at the Edinburgh Festival Fringe. A feature film adaptation.
Hellcab
was one of Chicago theater's greatest successes of the 1990s, earning a place of honor among the city's most influential plays. It's also earned this revival on
Profiles Theatre's Main Stage (4139 N. Broadway)
, the second of its kind in as many years. Actor Paul Dillon once again inhabits the role he originated, giving life to the driver of the titular cab. Stuck grubbing for fares on a miserable Christmas Eve, Dillon's nameless driver finds himself also searching for humanity in the offbeat passengers he meets. As with any cab, stories come and go, with characters ranging from drug addicts to born-again Christians peeling away the holiday's cheery varnish with each stop.
(Thursday–Sunday. Tickets: $35+; find showtimes and buy tickets here.)
The Hush Sound
Popular suburban pop band continues their reunion tour with a stop at Lincoln Hall
For many twentysomethings, a trip home for the holidays means reconnecting with old friends from high school. If you went to the same suburban Chicago school as Bob Morris and Greta Morgan, you probably already know what they've been up to since graduation. The longtime collaborators and founders of
The Hush Sound
earned plaudits for their earnest pop tunes in the mid to late aughts before a four-year hiatus saw them pursue solo projects. That break is now over; the reformed Hush Sound spent 2013 reminding everyone why they were so exciting in the first place. They'll end their year on Thursday night with a homecoming show at
Lincoln Hall (2424 N. Lincoln Ave.)
. For a taste of what the band sounds like these days,
check out their latest track over at The A.V. Club
.
(Thursday, 9 p.m. Tickets: $15;  purchase here.)
The Magic Parlour
Third-generation magician Dennis Watkins conjures the spirit of classic illusionists at his weekly show at the Palmer House
With its art deco finery and storied place in Chicago history, the
Palmer House (17 E. Monroe St.)
already feels like a magical place. It's no surprise, then, that magician Dennis Watkins calls the place his professional home. During his weekly show, The Magic Parlour, the third-generation prestidigitator combines the sophistication and wit of his Gilded Age forebears with hair-raising illusions that still grab attention today. To add to the wonder of the intimate 75-minute shows, guests are encouraged to arrive in cocktail attire and partake freely of the wine and beer included in the ticket price.
(Friday, 7:30 p.m. and 9:30 p.m. Tickets: $75; purchase here.) 
Illinois vs. UIC
Get an up-close look at this year's Fighting Illini during a tilt with UIC at the United Center
After a restful holiday week spent basking in a Braggin' Rights victory over perennial foe Missouri, the Fighting Illini men's basketball team is poised to enter Big Ten play as a contender for the conference crown. Standing in their way? A UIC Flames team still searching for answers after a dismal nonconference schedule. The Illini's first Chicagoland game this season won't be a meeting of the titans, but it should give many hoops-hungry alums their first look at second-year Illini coach John Groce's talent-rich squad. Head over to the
United Center (1901 W. Madison St.)
on Saturday afternoon to see the potent combo guards Tracy Abrams and Rayvonte Rice in their final tune-up before a pivotal Big Ten opener against Indiana on New Year's Eve. UIC fans should come, too—world-shocking buzzer beaters don't just happen in March.
(Saturday, 1 p.m. Tickets: $15+; purchase here.)
"Inspiring Beauty: 50 Years of Ebony Fashion Fair"
Couture pieces from Yves St. Laurent and Christian Dior headline this celebration of Ebony Fashion Fair founder Eunice Johnson
When Eunice Johnson held the first Ebony Fashion Fair in 1958, she wasn't just showing off the latest spring looks—she was beginning a life-long quest to combine the power and style of the African American community with the cultural heft of Europe's biggest couture designers. The fair became a cultural institution, touring the country for 50 years before closing up shop in 2009. During
Inspiring Beauty: 50 Years of Ebony Fashion Fair
, the
Chicago History Museum (1601 N. Clark St.)
celebrates Johnson's mammoth accomplishment by highlighting the courage, tenacity, and ingenuity required to pull off such a visionary event. In addition to shedding light on the adversity and prejudice that Johnson overcame, the exhibit also devotes space to the designers who worked with her: guests can spot pieces by 20th-century titans including Yves St. Laurent, Christian Dior, and Oscar de la Renta.
(Thursday–Saturday, 9:30 a.m. to 4:30 p.m.; Sunday, noon to 5 p.m.; the show runs through Sunday, January 5. Admission: $12+.)
Photo courtesy of Profiles Theatre
BY: Tyler Clark
Tyler is a writer, storyteller, and musician from Chicago. His stories have appeared on stage at shows including Mortified, Story Club, and Lethal Poetry.