Weekend Agenda: February 14–16
BY: Tyler Clark |
Feb 13, 2014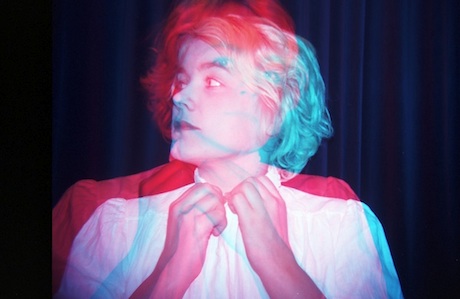 Live butcher demos in Wicker Park, Norwegian singer Ane Brun, and the Chicago Volunteer Expo, all on this weekend's list of recommendations.
Ane Brun
Norwegian songstress cools down fiery hearts with a solo acoustic performance at Schubas
In the
video for her 2011 song "Do You Remember,"
Norwegian songstress
Ane Brun
interrupts the sleep of an elderly man, luring him into an unsettling dream from which escape seems unlikely. It's a classic siren song, one that sums up the central tenet of Brun's MO: no matter how sweet the tune or how soulful the performance, there's always an enticing ice around the edges. That chilliness takes center stage during Brun's latest tour, a solo affair that strips the singer of her often stormy rhythm section in favor of the unadorned longing of acoustic strings. Thankfully, she's booked at a venue that can handle intimate performances: in the warm embrace of the back room at
Schubas Tavern (3159 N. Southport Ave.)
, she's almost guaranteed to melt some hearts before quickly refreezing them.
(Saturday, 7 p.m. 21+. $14, buy tickets here)
"Wristcutters: A Love Story"
A tale of love, death, and Tom Waits during a Valentine-themed Movie Night at Pilsen's Nitecap Coffee Bar
Zia thought suicide would solve all of his problems. Zia thought wrong. As the main character of 2006's
Wristcutters: A Love Story
discovers, the afterlife is a lot like regular life, only crappier. When he hears that his ex-girlfriend has joined him in limbo, he joins his friend Eugene on a roadtrip to find her and maybe find some answers. Featuring the music of Gogol Bordello and an excellent appearance by Tom Waits,
Wristcutters
might be the perfect anti-valentine. We think it'll be even better when viewed amid the small-batch coffees and inventive sandwiches of Pilsen's
Nitecap Coffee Bar (1738 W. 18th St.)
. The screening is a part of their ongoing Movie Night series, which turns the café into a movie house every Friday night.
Click here for future films
.
(Friday, 7:30 p.m.–10 p.m. Admission is free with purchase from the menu)
Eat Your Heart Out
Wicker Park butcher shop brings out the meaty side of Valentine's Day with live butcher demonstrations
Valentine's Day is today, but if the organizers of Eat Your Heart Out have any say in the matter, the lovey-dovey spirit will extend long into the weekend. The boisterous bash at
The Chop Shop (2033 W. North Ave.)
brings together the worlds of food, music, and comedy, but the meat's the main draw—provided by
Slagel Family Farm
, it takes center stage during demos by four Chicago butchers. Of course, you can eat it, too. Throughout the night, guests can grab tastes of Amish lamb sausage, pasture pulled-pork sliders, and more. Between bites, the butchers cede the stage to more traditional performers, including local garage rockers
White Mystery
and
Blasted Diplomats
and comedians Tommy Mac, Liza Treyger, and Michael Timlin.
(Saturday, 6 p.m. to midnight. $50; buy tickets here)
Chicago Volunteer Expo
Representatives from more than 80 Chicago nonprofits help would-be volunteers get involved at this second annual recruitment expo
Until Mayor Rahm Emanuel gets around to beheading the frost wyrm that's taken up residence in Lake Michigan, chances are you're going to need a good excuse to brave the cold. On Sunday, find a way to keep yourself occupied for a good cause at the second annual Chicago Volunteer Expo. Representatives from
more than 80 area organizations
will set up shop at the
Peggy Notebaert Nature Museum (2430 N. Cannon Dr.)
, bringing with them information on how to make a positive impact on the communities around you. Participating do-gooders include literacy org
826CHI
, the
Frank Lloyd Wright Trust
, the
Chicago Women's Health Center
, and many, many more. Attendance comes with an added thank-you: expo guests also get free same-day admission to the museum.
(Sunday, 10 a.m.–4 p.m. Admission is free)
4Play Sex in a Series
Tune into the sexy side of sitcoms with this play presented as a series of steamy episodes 
From the highest hijinks of
Three's Company
to the lowest lowbrow joke of
Two and a Half Men
, sitcoms have a proud history of playing off of sexual tension. Inspired by both content and format, the theatricals of New York's trip. created 4Play Sex in a Series. Told over the course of four 22-minute acts—the standard length of a sitcom, minus commercials—the play explores the erotic ins and outs of the dinner party of our collective (confused and not terribly pious) dreams. Originally staged in New York in 2004, the play makes its Midwestern premiere this weekend at
The Den Theatre (1333 N. Milwaukee Ave.)
. In addition to single tickets, the theater is also offering a special Valentine's Day package, which includes admission for two and a "free champagne surprise package."
(Friday–Sunday, 10 p.m. The show runs through Saturday, March 15. $20; buy tickets here)
Photo provided by Headstomp Productions
BY: Tyler Clark
Tyler is a writer, storyteller, and musician from Chicago. His stories have appeared on stage at shows including Mortified, Story Club, and Lethal Poetry.