Weekend Agenda: February 28–March 2
BY: Tyler Clark |
Feb 27, 2014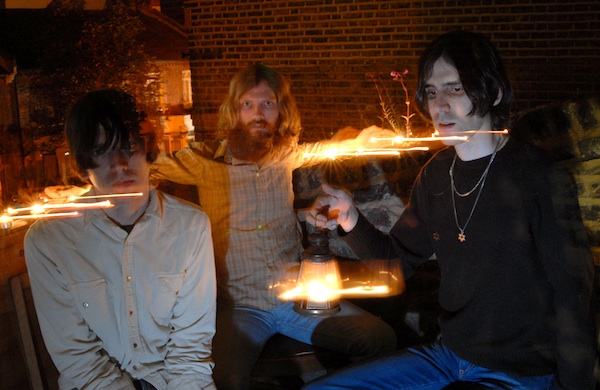 Dead Meadow's downtempo rock, the latest drama from playwright Philip Dawkins, and wall-to-wall Wes Anderson, all on this weekend's list of recommendations.
Dead Meadow
DC stoner-rock stalwarts bring their smoldering psychedelic riffs to a Saturday-night set at the Double Door 
When you hear the phrase "DC band," your brain might call up the uncompromising ethos of Fugazi or the jittery funk glitches of the Dismemberment Plan. You probably wouldn't think of a song like
"1,000 Dreams"
by Dead Meadow. Sporting crunchy stoner riffage and heavy-lidded vocals from singer Jason Simon, the track sounds more suited to drifting from a UVA frat house window than blasting at a protest on K Street. In that regard, the Dead Meadow remain a singular force in the DC scene, carrying the torch for metal-tinged psychedelia in a city obsessed with speed and motion. Saturday night, they'll rep the District during a stop at the
Double Door (1572 N. Milwaukee Ave.)
, continuing a last-minute tour that's the envy of cabin-fever sufferers everywhere.
(Saturday, 9 p.m. Doors open at 8 p.m. 21+. $12–$22; buy tickets here)
"Miss Marx: or the Involuntary Side Effect of Living"
Playwright Philip Dawkins examines duty and sacrifice in this period drama about Karl Marx's daughter Eleanor
Karl Marx didn't have a son. Instead, he had Eleanor, the champion of his cause and a formidably intellectual rabble-rouser in her own right. In his latest drama, rising-star playwright Philip Dawkins examines the life and motivations of this curiously forgotten historical figure. Taxed by her father's declining health and her movement's fractious politics, Eleanor finds unexpected romance in the form of Edward Aveling, a rakish fellow academic. Their relationship, and its secrets, set in motion a challenging meditation on duty, sacrifice, and the heart's often self-destructive appetites.
Miss Marx
is currently in the midst of its world-premiere run at
Strawdog Theatre Company (3829 N. Broadway St.)
; like most great Chicago plays, this one comes Jeff-recommended.
(Friday and Saturday, 8 p.m. Sunday, 4 p.m. $25; buy tickets here)
Drink! The Sketch Comedy Drinking Game
Sketch comedy meets competitive drinking in this weekly BYOB showcase at the Cornservatory
Circle of Death. Quarters. Flip cup. Past a certain age, the mere thought of playing a drinking game leaves people in need of three aspirin and a cold compress. Sometimes, though, it's time to rally. Saturday night, hitch up your party pants and head over to
Cornservatory (4210 N. Lincoln Ave.)
for Drink! The Sketch Comedy Drinking Game. The weekly showcase challenges audience members to chug along with performers during games that change with each sketch, ensuring that laughs come out a little louder and jokes are at least 40% jokier. Pick your poison carefully—unlike the days of unlimited (and unconscionable) Natty Lights, this show's BYOB.
(Saturday, 11 p.m. $10; buy tickets here)
The Wes Anderson Anthology
The Music Box celebrates the upcoming release of The Grand Budapest Hotel with a week devoted to Wes Anderson
To begin with,
a little commiseration
: try as we might, none of us here at the The Guide managed to snag a pass to Saturday's screening of
The Grand Budapest Hotel
with Wes Anderson at the
Music Box Theatre (3733 N. Southport Ave.)
. We feel your pain. (To those of you who got in: we can't even look at you right now.) That said, we're still going to spend most of the next week reliving Anderson's oeuvre during the Music Box's first-ever retrospective. The fest's weekend offerings hit some of the highest points of Anderson's career: the rough-edged charm of
Bottle Rocket
, the adolescent angst of
Rushmore
, and even the scientifically dubious oceanography of
The Life Aquatic with Steve Zissou
. Parents, take note: kids under 12 get half-price admission to any showing of
Fantastic Mr. Fox
. If that's not a great cussin' deal, I don't know what is.
($10; find tickets and showtimes here)
Being a Chef: Fat Tuesday à la Nouvelle Orleans
Celebrated French cuisine expert Madelaine Bullwinkel leads students through the steps for making a memorable Mardi Gras meal
Fat Tuesday isn't for a couple of days, but
Chef Madelaine Bullwinkel
decided to start the party a little early. This Saturday morning, she'll join students at the
Alliance Française de Chicago (810 N. Dearborn St.)
for a crash course in Mardi Gras dishes including crabcakes remoulade and lemon bread pudding. Early birds can join her at
Whole Foods (30 W. Huron St.)
at 9 a.m. There, between bites of croissants, she'll lead a quick lesson on how to shop for the freshest seasonal foods even when you're nowhere near a Parisian market.
(Saturday, 9 a.m.–1 p.m. $60 members, $70 non-members, $15 material fees; buy tickets here) 
Photo provided by Dead Meadow
BY: Tyler Clark
Tyler is a writer, storyteller, and musician from Chicago. His stories have appeared on stage at shows including Mortified, Story Club, and Lethal Poetry.