Weekend Agenda: February 7–9
BY: Tyler Clark |
Feb 7, 2014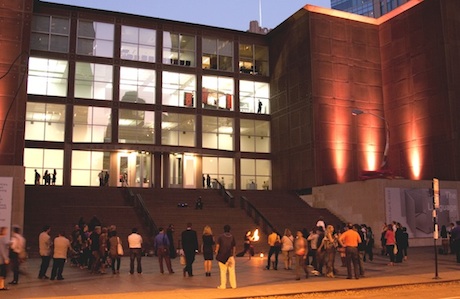 The Hideout at the MCA, the Chicago Cider Summit, and the sunny jams of Dr. Dog, all on this weekend's list of recommendations.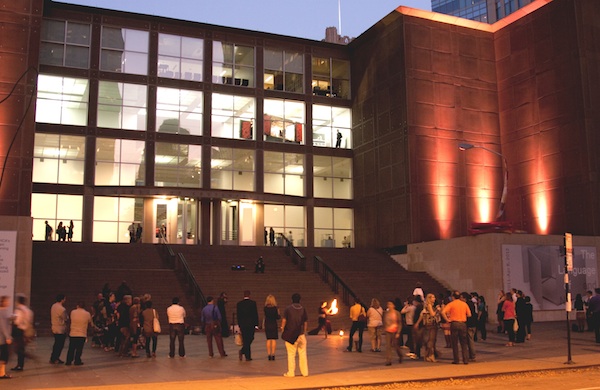 MCA First Fridays: Love Is Love
Check out some of The Hideout's favorite acts during this Valentine-themed First Friday celebration at the MCA
There's something in the air, and it isn't just flash-frozen exhaust fumes. With Valentine's Day on the way, the
Museum of Contemporary Art (220 E. Chicago Ave.)
has turned its monthly First Fridays event into a celebration of love in all its forms. A joint venture with
The Hideout
,
Love Is Love
gets hearts fluttering with a slate of performances from local favorites including
The Interview Show
(6:30 p.m.) and the DJs of
Girl Group Chicago
(6:30 p.m. and 9 p.m.), but the highlight might be the Jeffrey Thomas Orchestra. During their 8 p.m. set, the 16-piece group will premiere
Rumour
, their conductor (and
Mucca Pazza
guitarist)'s anticipated second symphony. Away from the stage, guests find plenty to do; activities include love-letter writing with
Write Club
's vintage typewriters, tarot readings by Madame Strawbridge, and soups commissioned by
Soup & Bread
from
The Drake
,
Goddess and Grocer
, and more. 
(Friday, 6 p.m. to 10 p.m. $10–$18; buy tickets here)
Cider Summit Chicago
More than 35 cider producers from America, Europe, and New Zealand show off their wares at Navy Pier's gargantuan Lakeview Terrace Room
If that slightly tipsy groundhog we talked to last weekend is to be believed, 2014 is the year that cider finally conquers America. Though we're usually wary of rodent-based prognostication, this forecast has some evidence behind it. Consider the second annual Cider Summit Chicago, which returns to the
Lakeview Terrace Room at Navy Pier (600 E. Grand Ave.)
for two sessions on Saturday. This year's event invites more than 30 cider producers from as close as suburban Long Grove (
Prima Cider
) and as far away as New Zealand (Auckland's
Zeffer Cider
) to show off the fruits of their fruit-based labor. In addition to cider samples, attendees can sample food pairings and even talk shop with some of the expo's featured speakers. Admission includes eight tasting tickets, but never fear—additional pours are available for $2 per sample, and designated-driver tickets are available for $5 each.
(Saturday, 11 a.m. to 3 p.m. and 4 p.m. to 8 p.m. 21+. $25–$30; buy tickets here)
"Letters/X"
Actors read contributor-submitted breakup letters during this anti-Valentine cabaret now in its 11th year
They're pressed in-between our heaviest books, saved in forgotten corners of hard drives, languishing in email inboxes. While some letters come and go, breakup letters have a strange way of lingering. Which is lucky, at least for the actors in
Letters/X
. Now in its 11th season, the pro-heartbreak cabaret lays bare the contents of actual breakup communications submitted by the public, drawing on traditional letters as well as text messages, emails, and Facebook posts. Like any good breakup, there's a little sadness, a little rage, and a whole lot of unfocused emotion. There's also music; this year's show, held as always at
Apollo Studio (2540 N. Lincoln Ave.)
, features seven new songs written expressly for the performance.
(Friday and Saturday, 8 p.m. $15–$20; check out ticket info here)
Dr. Dog
Laid-back Philadelphia indie dudes bring a much-needed infusion of sunshine to the stage of the Riviera Theatre
Seven albums in, you pretty much know what you're getting when you turn on a new Dr. Dog record: laid-back harmonies, a slightly tranquilized rhythm section, and just enough dashes of rootsy Americana to make you want to crack a can of something domestic. It's music to barbecue by, and if it's not entirely innovative, it's exactly what this ice-locked city needs right now. The Philadelphia sextet stops by the
Riviera Theatre (4746 N. Racine Ave.)
on Saturday night, bringing with them summer-ready songs from their latest album (2013's
B-Room
). As you're nodding along to "Rock & Roll" or "Distant Light" and trying not to lose your coat-check ticket, just remember: warm weather still exists, and it's closer than it seems.
(Saturday, 8 p.m. Doors open at 7 p.m. $25; buy tickets here)
FREEze Day at Brookfield Zoo
Brave the cold for dog-sledding demonstrations and engaging zoo chats during the Brookfield Zoo's free day
When the temperature dips below zero, the animals at the
Brookfield Zoo (3300 Golf Rd., Brookfield)
don't just spend all day Googling "flights to Brazil that allow leopards." Instead, they hang out with brave humans during events like
FREEze Day
. In honor of the chilly weather, the zoo will open its doors for free all day Sunday, greeting visitors with special events inspired by the cold weather. Pooches from the
Green Valley Dog Drivers
will spend the day on the West Mall, giving demonstrations on the exhilarating art of dog sledding. In addition to games and chats with snow-dog experts, guests can also sit down for special zoo chats throughout the day; featured animals include Mexican gray wolves, red-tailed hawks, and African painted dogs wearing tiny, tiny cable-knit sweaters.
(Sunday, 10 a.m. to 4 p.m. Admission is free)
BY: Tyler Clark
Tyler is a writer, storyteller, and musician from Chicago. His stories have appeared on stage at shows including Mortified, Story Club, and Lethal Poetry.