Weekend Agenda: January 10–12
BY: Tyler Clark |
Jan 10, 2014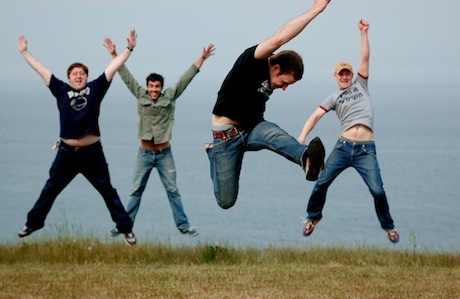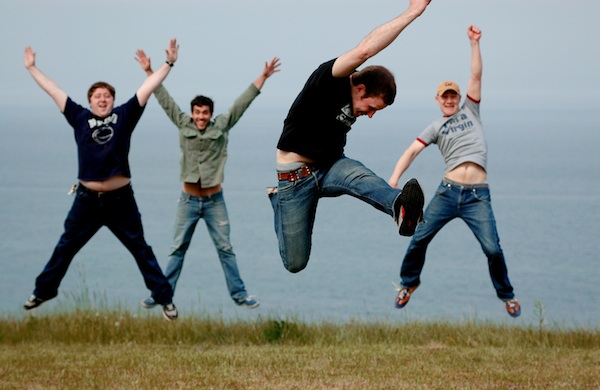 Maritime
Promise Ring vets Davey von Bohlen and Dan Didier bring Maritime's mature melodies to Subterranean's stage 
It's easy to lose track of a band. Take Maritime, for instance.
The ongoing post-Promise Ring project of Davey von Bohlen and Dan Didier, the group made some critical racket in the mid-aughts with 2006's
We, the Vehicles
before gradually slowing down to part-time status. Rumors of their demise were premature, though: they're still around, and they still pack more bittersweet melodicism into a single chorus than most bands can muster on an entire album. They'll show the whippersnappers how it's done during a Saturday-night show at
Subterranean (2011 W. North Ave.)
, with their first Chicago appearance in more than two years giving Von Bohlen ample opportunity to remind fans why they fell in love with his lisp to begin with.
(Saturday, 8:30 p.m.; doors open at 8 p.m. Tickets: $10+; purchase here.)
"Pigeon Hill: Then and Now"
Artist Jeffrey Wolin blends photography and writing in his chronicle of Bloomington, Indiana's impoverished Pigeon Hill neighborhood
Artist and writer Jeffrey Wolin's photographs have documented the faces of Holocaust survivors and Vietnam veterans, but some of the most hauntingly personal images come from the people in his own hometown. Shot over the course of two decades,
Pigeon Hill: Then and Now
traces the hardscrabble lives led by residents of Bloomington, Indiana's most impoverished neighborhood. The visual narratives hit even harder thanks to Wolin's words, which snake through each picture and provide poetic (and usually devastating) context. Wolin will be on hand for tonight's opening reception at
Catherine Edelman Gallery (300 W. Superior St.)
,
where he will also lead an artist talk at noon on Saturday.
(Opening reception Friday, 5 p.m.–8 p.m.; Tuesday–Saturday, 10 a.m.–5 p.m.; show runs through March 1. Admission is free.)
Chicago Contemporary Circus Fest
Inaugural festival celebrates the aerial feats and audacious buffoonery of modern circus performance
In case you couldn't tell already
, we're very excited about the Chicago Contemporary Circus Fest. Filling the stages of
Links Hall (3111 N. Western Ave.)
and the
Athenaeum Theatre (2936 N. Southport Ave.)
with cutting-edge aerial, acrobatic, and clown acts, the fest offers no shortage of globe-spanning spectacle for fans of the modern
cirque
. Since we're all about Chicago pride, we'd be remiss if we didn't give a double shout-out to
Dean Evans
, the masterful Chicago clown performing this weekend as
Honeybuns
. Fresh off his appearance in The Ruffians' well-received production of
Burning Bluebeard
, the
Chicago Physical Theater
vet should have no trouble holding his own with the festival's slew of international acts. Windy City, this is your clown.
(Shows run Friday–Sunday. See the full schedule and purchase tickets here.)
Public Hours at the Poetry Foundation Library
Explore the Poetry Foundation Library's massive collection during special Saturday hours
Since 1912, the Poetry Foundation has been one of America's most significant archives of verse in all its forms. Since the foundation is only open during weekday business hours, you usually need to burn a vacation day to visit the foundation's stockpiles of stanzas and similes. On one Saturday each month, though, the
Poetry Foundation Library (61 W. Superior St.)
throws open its doors for extended weekend hours. In addition to browsing more than 30,000 books, anthologies, and author monographs from across the decades, visitors can also listen in to the library's extensive audio collection. Carefully restored for quality, the recordings capture the cadence and intonation of legendary poets including Gwendolyn Brooks, Robert Graves, and Langston Hughes.
(Saturday, 10 a.m.–2 p.m. Admission is free.)
Solar-Lighted Trail Hikes
Solar-powered lights illuminate the path of evening walkers on the Old School Forest Preserve's fitness trail
As the winter night gathers around the trees of the
Old School Forest Preserve (698 N. St. Mary's Rd., Libertyville)
, vigilant hikers might notice soft orbs of light glowing in the darkness. These glimmers don't belong to any will-o'-the-wisp, though—they emanate from the rows of solar-powered lights lining the preserve's 1.3-mile fitness trail. The lights stay lit until 9 each night, giving evening strollers the chance to draw in a bracing breath of night air. Of course, the preserve also features plenty of daytime hiking opportunities. We recommend braving the snow and slush for a trip around the full 3-mile loop trail, a gravel-lined path that joins up with the Des Plaines River Trail at its most scenic point.
(6:30 a.m.–9 p.m. daily through Monday, March 3. Admission is free.)
Photo courtesy of Maritime
BY: Tyler Clark
Tyler is a writer, storyteller, and musician from Chicago. His stories have appeared on stage at shows including Mortified, Story Club, and Lethal Poetry.