We're Not in the Swamp Anymore: Great Drinks, Eats, and Views at Four Gold Coast Spots
BY: Alison Hamm |
Jul 23, 2013
Lake Shore Drive, bordered by Lake Michigan and its beaches on one side, and skyscrapers and luxury apartments on the other, showcases the most gorgeous views of the city. Makes it hard to believe that the surrounding affluent Gold Coast neighborhood was
no more than a swamp in 1870
. Lucky for you, this is 2013. See and be seen at these Gold Coast spots. More importantly, eat and drink at them.
Tavern on Rush | 1031 N. Rush Street
Take in the views of Rush Street from your spot at the 114-seat patio here. That is, if you can draw your gaze away from your plate. Brunch options include decadent smoked-salmon benedicts, thick-cut brioche stuffed with blueberries and mascarpone, and seafood towers for two, piled high with seared tuna, jumbo shrimp, snow-crab claw, oysters, and avocado crab salad. After a meal, guests can visit the
cigar bar
and puff on a Don Diego Playboy or the cameroon-wrapped Arture Fuente Hemingway like they're partying, 1880s-style, with the 'hood's first resident millionaires.
Luxbar | 18 E. Bellevue Street
Continue the fun people-watching with a handcrafted cocktail on Luxbar's sidewalk patio. Hemingway daiquiris, moscow mules, manhattans, and other classy cocktails dominate the list. Inside, the Frank Lloyd Wright–inspired design matches the simple elegance of the drinks. Take it to the next level and pair cocktails with a charcuterie board of house salamette, marinated olives, chicken-liver mousse, and country pâte.
Da Lobsta | 12 E. Cedar Street
Consider the (anthropomorphized) lobster. At Da Lobsta, a sign of a lobster mascot in sunglasses greets guests with a cheeky wink—as if that's going to change the fate of his siblings. Traditional Maine-style and specialty lobster rolls for less than 13 bucks are tasty enough to help you forget the rather cheesy name (or the lobster's fate). But if you're feeling fancy, try the neighborhood namesake roll for $28: The Gold Coast is stuffed with lobster, blue crab, shrimp, and truffle mayo. Cape Cod chips, lobster mac-n-cheese, or spicy butter pickles keep even the sides New England–style.
Drumbar | 201 E. Delaware Place
View the Gold Coast's impressive buildings the best way: from 200 feet in the air. You can do this without breaking and entering at a high-rise apartment by visiting Drumbar, a rooftop speakeasy on top of the Raffaello Hotel. Classic and specialty cocktails are worth splurging on at $13–$15 per drink. Go for a classic old fashioned or a not-so-classic slushie with Bacardi 8 rum, mango, lime, and chili.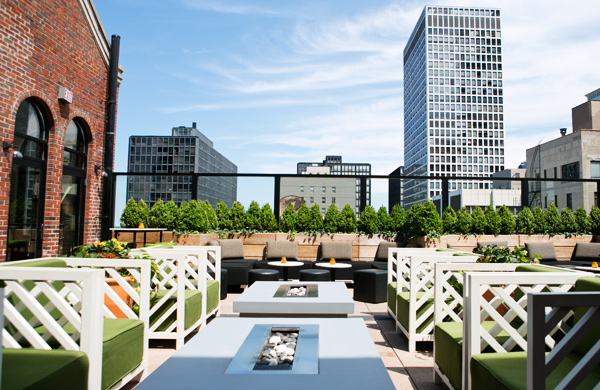 Photo: Stephanie Bassos, Groupon