GROUPON GUIDE TO WASHINGTON-DC
A Deli Owner Talks Family, Famous Customers, and the Cost of Meat
BY: Picky Panda |
Apr 14, 2015
In this installment, Groupon's food correspondent the Picky Panda talks to Dan Raskin, the co-owner of Manny's Cafeteria & Delicatessen in Chicago. Manny's has been stacking up sandwiches since 1942, so Dan knows what it takes to be an American institution. Check out his thoughts on the classic Reuben here, and read more from him below.
PICKY PANDA: The press has called you "the closest thing Chicago has to a New York deli." I live in the bamboo forests of the Sichuan province of China, so I'm not entirely sure what that means. Are you trying to be a "New York" deli?
DAN RASKIN: I think that the press has called us that because that's where the deli scene really started in the United States. When all the immigrants were coming over here, everyone started out in New York, so New York was known for delis.
I don't think of us as second fiddle to a New York deli. I think we do a lot of things differently, but our items are just as good or better than some of those places.
I noticed that family is deeply important to Manny's history. Pandas lead largely solitary lives, so I have to ask: what are the benefits of having your family working around you? What are the drawbacks?

I work with my dad every day—my mom's here as well—and you learn a lot from them. You grew up in the business, and so you respect it differently. There's always someone who's been through almost every problem we have now, there's a history, so you learn a lot. There's nothing like the opportunity to work with your family, it's just better than working for somebody else.
I guess the biggest drawback to it would be the fighting. I think when you work with a family member, you're not as censored as you are when you're working with a typical coworker. So it's like an argument at home that you would never have in public, but you have it at work.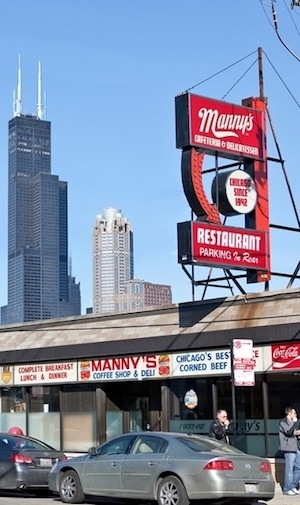 That sounds both stressful and heartwarming. Your family has obviously stuck around, but how has the deli business changed over the years?
If you read any book or [talk to] any other deli owner, [they'll say] the cost of our products [is] rising so much. A deli was known as a cheap place to get a hot dog, to get a corned sandwich, and those types of meats have become so expensive, even in the last 10 years. If you look at the price of a pound of almost any type of meat, it's almost doubled in price in the last few years, and the average consumer doesn't realize that.
The cuts of meats used to be [seen as] the cheap cuts, and now they're no longer the cheap cuts. Like the whole bacon craze. Normally, fatty bacon was not what people wanted, [but] fat has become the new thing. Everyone wants more flavor. A skirt steak, that used to be the cut that 30, 40 years ago, the butcher couldn't give away! Now it's just as expensive as a strip steak.
Well, that's one point for bamboo: I eat all of my meals for free! But I suppose I don't get to eat or chat with anyone else, unlike you guys. Your deli is known for bringing in big politicians alongside regular folks. Do any famous customers stand out in your memory?
I remember Rahm Emanuel coming in with his kids when he was in the House of Representatives. His kids used to go swimming at UIC, so he used to bring them in every Saturday when he'd take them swimming.
I was here when Obama was here. Whether you like his politics or not, there's something about him … he has an aura about him.
David Axelrod's been a staple in politics in Chicago for 30 years, and almost every single day when I was growing up, he would always be here at lunchtime, taking his break from everything. But he was always gracious to the customers. And most customers didn't know who he was until he joined Obama in the White House.
We knew him for forever, he was friends with my dad when he was in grad school at U of C. I think he found us as a refuge; he's from New York, so this is like what he grew up with. He would come here, and this is where he'd find his quiet time to relax and be an average person.
Okay, last question: how would you put your own spin on bamboo? I'm really trying to ease into eating new things.
[laughs] I don't know. Coleslaw and chopped liver? I don't know. I'm just a deli guy.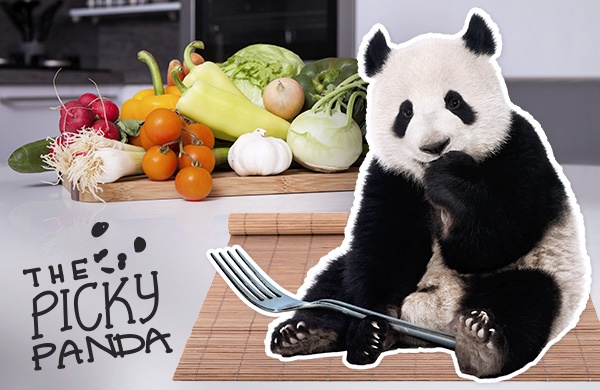 About the Picky Panda:
As a giant panda, I eat up to 30 pounds of bamboo a day. But after I got a job writing for the The Guide, I found out that not everyone eats bamboo exclusively. (And that not everyone is a giant panda! Geeze!) Now, I'm on a mission to learn all I can about the world of food, cooking, and restaurants by talking to some of the greatest culinary minds of our time.
Previous Picky Panda Talks: