What Playwright, Poet, and Author Idris Goodwin Craves in Chicago
BY: Aimee Algas Alker |
Oct 16, 2013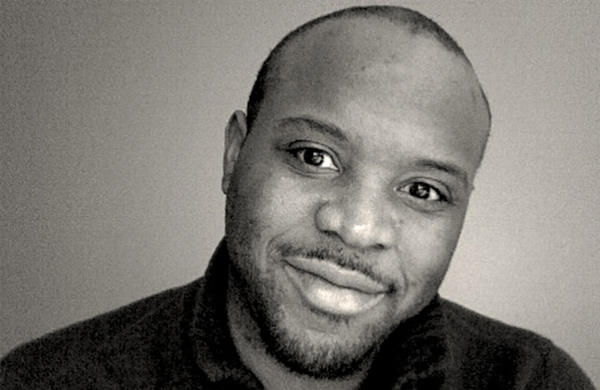 Idris Goodwin
has always been hungry. From the minute he leapt onto Chicago's art scene fresh from the suburbs of Detroit, he couldn't get enough. He spent 11 years in the thick of things, as an MC, author, playwright, and teacher, always looking to feed his artistic spirit—and to spark that hunger in other people. And he infuses everything he does with a melodious rhythm. These days, though he's only ever in town for a quick visit, the draw of his adopted hometown is irresistible, and he ventures back on the regular. "One of the things about Chicago," he says, "is that there is a lot of turnover and always some new place to check out. But there are those staples that've continued to satiate upon every visit." He's back in town to see his much lauded play
How We Got On
, now in production at the Citadel Theatre (300 S. Waukegan Rd., Lake Forest) through October 20, so I huddled up with my old friend to find out what a typical visit for him entails—and find out where he'd check in to see what's good.
GROUPON: So you're here for a weekend, it's Saturday morning. What's your plan for the day?
IDRIS GOODWIN: I try to start my morning off at
Beans & Bagels
(1812 W. Montrose Ave.) right there below the Brown Line stop. Get a toasted everything with jalapeño cream cheese, tomato, and a black tea to help wash it down and wake me up. Later on in the day, likely to hit up
Big Star
(1531 N. Damen Ave.) to get my tomatillo on with the ultra hip. Say what up to co-manager and my old friend Ben Fasman. I'd order fish tacos, chips, guacamole—wash it down with a Modelo Especial. Since I'm already in Wicker Park, I'll likely check out some artwork at the
Silver Room
(1442 N. Milwaukee Ave.), then pop into
Young Chicago Authors
(1180 N. Milwaukee Ave.) [where he used to work and mentor young poets] to hear the illest spitters in the Midwest. Then later I dip down Division to
The Bedford
(1612 W. Division St.), which is a bar built into what used to be a bank. Great atmosphere and great food too. After it starts to get too crowded, maybe head back north and stop into
Tiny Lounge
(4352 N. Leavitt St.) for a nightcap.
G: Who would you have spent the day with?
IG: When I am back in town I am typically with the big homie, Chi-town poet
Kevin Coval
.
G: Given that you lived in Chicago for 11 years, let's test your expertise. Where would you take the family on a nice, bright Chicago day?
IG: Like all good Chicagoans I'd take 'em down to the lakefront.
G: What musical acts would you have to go see if they were playing?
IG: Chi town has some incredible, exciting hip-hop artists at the moment. Of course
Chance the Rapper
is blowin' up, the incredible
NoNameGypsy
,
The O'My's
.
G: Where would you take someone who only ate green food?
IG: The Saint Patty's Day parade.
G: Where would you go for hot dogs?
IG:
Comiskey Park
(I refuse to call it by its current name).
G: Pizza?
IG: I am sure there are any number of wood-oven type places along the North Side, but honestly I think
Peqoud's
(2207 N. Clybourn Ave.) is great!
G: Real Mexican food?
IG: Just go to Pilsen and follow your nose. They get busy down there.
G: What theater companies are doing great stuff right now?
IG: One of the things that makes Chicago's scene great is its plethora of real nose-to-the-grind, working-class, by-the-bootstraps theater companies producing real rich, lyrical, contemporary plays. I mess with
Steep Theatre
(1115 W. Berwyn Ave.),
MPAACT
,
Red Tape Theatre
(621 W. Belmont Ave.),
The Inconvenience
,
Prop Thtr
(3502 N. Elston Ave.),
Curious Theatre Branch
(1337 W. Fargo Ave.),
Free Street Theater
(1419 W. Blackhawk Ave.).
G: On a leisurely drive outside the city limits?
IG: To Lake Forest to see
How We Got On at Citadel Theatre
, of course.
Photo courtesy of Idris Goodwin
BY: Aimee Algas Alker
Guide Staff Writer
Though Aimee stays up to date on the latest food trends for the Guide, most of her meals are served cold and cut into tiny, toddler-sized bites.