What to Wear: Apple-Picking at Chicago Orchards
BY: MICHELLE SCHUMAN | 10.2.2013 |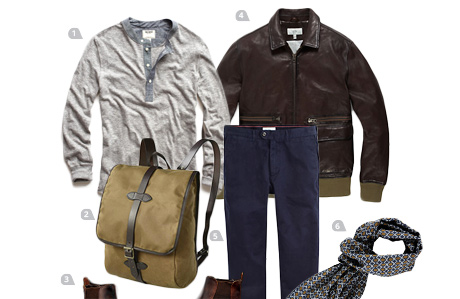 There's hardly a more quintessential autumn day than one spent at an apple orchard. It's crisp, yet sunny, and leaves crunch underfoot as you wander among branches hung heavy with sweet, ripe fruit. For those looking for more than just enough fruit to bake a pie that rivals Hoosier Mama's, many area orchards offer visitors a day full of fall festivities, from farmer's markets and pumpkin patches to duck races and petting zoos. Though comfort is important on these long days spent outdoors, fall fashion provides ample opportunity to look both chic and rugged while layering against the October chill. (And if it's unseasonably warm, you could always cool off with one of Edwards Orchard West's infamous cider slushies.)
His Look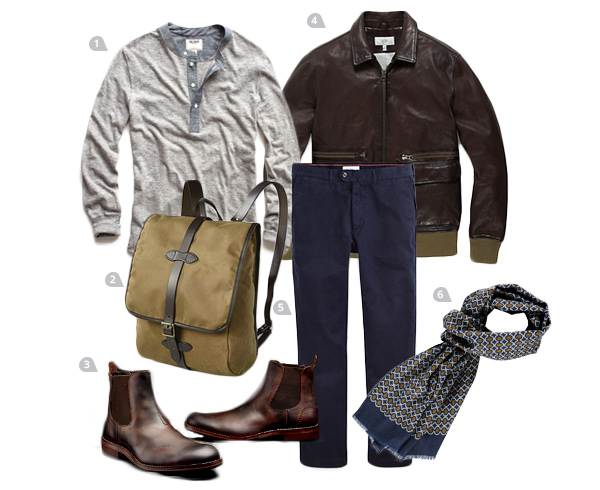 Simple chinos and a soft henley build a comfortable base for this outdoorsy outfit, but the classic bomber and pull-on Chelsea boots introduce a stylish edge. The printed scarf adds an unexpected pop of color, helping friends find you if you get lost in a sea of trees. The backpack, of course, is perfect for storing the edible spoils leftover after firing off a couple of fujis in Jonamac Orchard's apple cannons.
1. Gray henley, Todd Snyder, $125
2. Filson backpack, Haberdash, $228
3. Wolverine Chelsea boots, Una Mae's, $270
4. Leather bomber jacket, Jack Spade, $1,295
5. Navy chinos, Jack Spade, $175
6. Graphic scarf, Suit Supply, $65
Her Look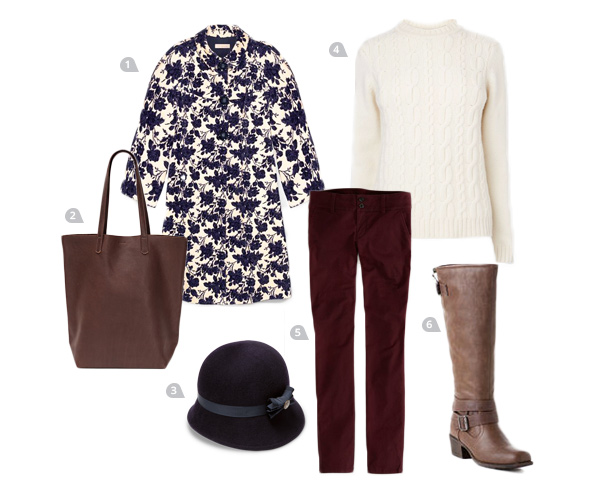 The burgundy hue of these pants updates this traditional sweater-and-jeans combo, and the pretty ivory shade of the cable-knit pullover is picked up again in the floral coat. Like the coat's print, the cloche hat adds a uniquely feminine touch, though the leather tote prevents the ensemble from feeling too girly. Bonus: the riding boots will keep you looking cool, even if you have to have a kid show you the way out of All Seasons Orchard's Scooby Doo corn maze.
1. Dayton floral coat, Tory Burch, $850
2. Baggu leather tote, Penelope's, $160
3. Cloche hat, Goorin Bros., $130
4. Cable-knit sweater, Jaeger, $291.65
5. Burgundy skinny jeans, AE, $39.95
6. Pink and Pepper riding boots, Francesca's, $64
BY: Michelle Schuman
Guide Staff Writer
Michelle is a freelance fashion designer and dancer from Detroit. She has traveled the US extensively (and loves it!), but her biggest goal is to travel abroad.