What to Wear: Stand Out Without Stealing the Show at a Summer Wedding
BY: Michelle Schuman |
Jul 17, 2013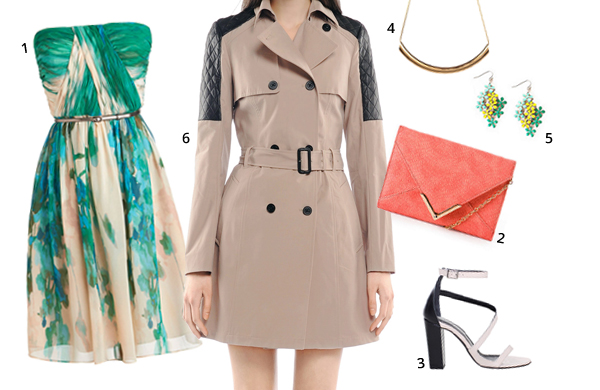 Fresh from their California wedding, George Lucas and Mellody Hobson—a Chicago native and president of Ariel Investments—brought Hollywood glamour to the Windy City with a party in Promontory Park on June 30.  The star-studded event saw the likes of Robin Williams, Laura Mulleavy, and Henry Ford all mingled together within a massive 40,000-foot tent. Even more impressive than the size was its opulence: in true Lucas fashion, the vast ceiling was painted with faraway galaxies and strung with glittering chandeliers. Though most weddings won't include a performance from Prince or a merry band of wookies, Chicago offers myriad romantic settings for summer weddings. Whether you're attending a ceremony in the Chicago Botanic Garden or stuffing your face at a reception at the surprisingly romantic Salvage One, the right outfit will make you feel like the belle of the ball without showing up the bride.
The Look
Elegant, draped folds in a bright floral print flow down to the knee to keep your look demure—and also allow for dancing. A trench with leather accents and two-toned heels add some edge to your ensemble, while the clutch and earrings lend a surprising pop of color.
1. Floral dress; Modcloth ($177.99)
2. Coral clutch; Francesca's ($28)
3. Nude and black sandals; Tibi ($267)
4. Bar necklace; Lori's Shoes ($30.95)
5. Floral earrings; Francesca's ($16)
6. Mackage trench with leather accents; Shopbop ($495)
BY: Michelle Schuman
Michelle is a freelance fashion designer and dancer from Detroit. She has traveled the US extensively (and loves it!), but her biggest goal is to travel abroad.