GROUPON GUIDE TO WASHINGTON-DC
What to Wear (and Not Wear) to a Job Interview, with Tips from a Career Coach and a Tech Recruiter
BY: Kate Raftery |
Apr 3, 2015
In a world where even billionaire CEOs wear T-shirts and hoodies to the office, it's understandable how many people worry over what to wear a job interview. And it doesn't help much that the tips you'll find online or hear from friends are all over the place. So we decided to track down actual experts to run down the current state of job-interview outfits.
And what a state it is, especially compared to what was de rigueur just 20 years ago. That was when career coach Peggy Klaus was starting out in earnest, and standard work wear for men was the drab power suit; for women, it would ideally be Chanel or Prada.
"It was really rigid," she said. "I'm really happy with the fact that the workplace has expanded to allow women and men to bring in more of their personalities."
Rules of Thumb for Any Work Environment
When in doubt, ask: If you're concerned about dressing for your interview, especially if it's at a more informal workplace, ask your human-resources contact what attire would be appropriate.
"Whoever's coordinating the interview wants to set you up for success and does not want something like picking the wrong outfit to be what keeps you from getting the job if you're the right candidate," said Liz Vellojin, who's spent 11 years in recruiting, often for tech startups.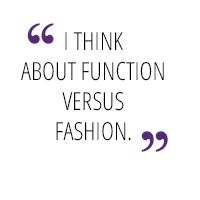 Pay attention to fit: You don't have to get everything tailored—wearing clothes off the rack is A-OK as long as they fit. And make sure that fit is modern so you're not swimming in the suit jacket and pleated trousers your parents gave you as a graduation present.
Always look appropriate: That means keeping skirt lengths, necklines, grooming, and cleanliness in mind. Women in particular should be "conscious about being over-accessorized, being over-perfumed, and putting on makeup that's way too heavy because the impression that you're giving … is you care more about appearance than practicality," Liz said. "You want to give the opposite effect: 'I think about function versus fashion.'"
Dress up, not down: The classic adage still holds true. Even you're interviewing at an office where cargo shorts and flip-flops are the standard, Peggy advises only dressing down to match the other employees once you've secured the job. Think of yourself as a brand—your appearance is just part of a package that includes your résumé, professional knowledge, and extended network. An excellent first physical impression puts your brand in the best light.
For the Conservative Workplace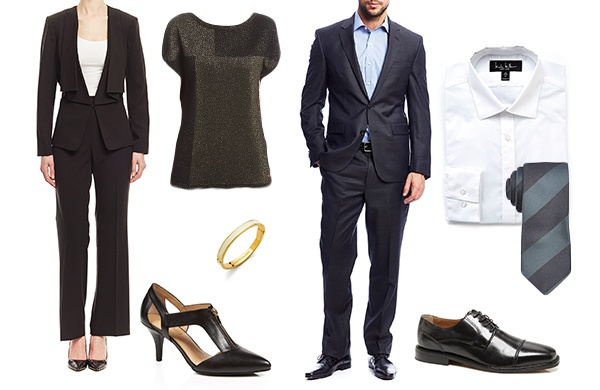 Left: Ruffle-front suit, John Meyer ($69.99); colorblock top, Escada ($149.99); pumps, Ellen Tracy ($49.99); bangle, Kate Spade ($39.99). Right: Slim-fit suit, Kenneth Cole New York ($219.99); dress shirt, Nicole Miller ($14.99); striped tie, John Varvatos ($34.99); shoes, Florsheim ($49.99).
For an interview in a conservative industry like finance, insurance, and law, a suit is still the way to go. But formal doesn't have to be dreary.
Women: "I do a lot of work in the financial area, and a lot of women make the mistake that you have to have black suit and black pumps," said Peggy, who also authored The Hard Truth About Soft Skills: Workplace Lessons Smart People Wish They'd Learned Sooner. "It's sort of boring. You've got to have something interesting for someone to look at."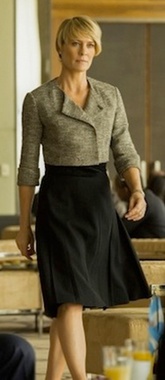 The go-to outfit is a pantsuit, though some women will find that a knee-length skirt works better for their figure. (Liz cautioned against wearing a pencil skirt, thinking that it brings to mind a pre-makeover Melanie Griffith in Working Girl.) Look for jackets that are less menswear-inspired and try a blouse in a bright color to add some visual interest. Take a light hand to your accessories, perhaps adding a statement necklace or interesting closed-toe heels.
If you're looking for cultural role models, Peggy mentioned House of Cards' Claire Underwood as a good example of a highly professional look customized to an individual personality.
Men: A well-fitted suit is essential to looking put together—take a look at media like GQ (or Groupon!) for the freshest looks. Pair a dark, solid-colored suit with a crisp white or blue shirt, and make sure your shoes are sharp and shined. How bold you can go with your tie depends on the workplace, so check out the company's website to see what the executives are wearing.
For the Casual Workplace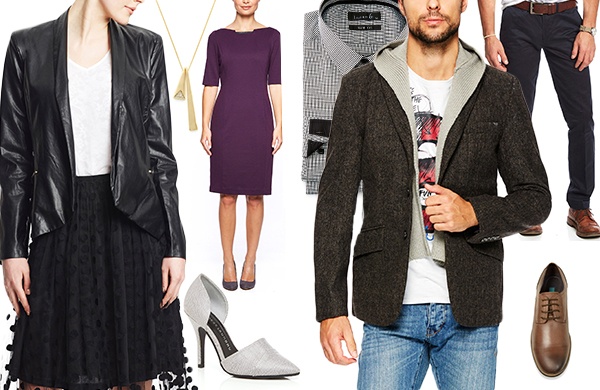 Left: Knit dress, Jones New York ($34.99); faux leather blazer, Mustard Seed ($19.99); pendant necklace, Olive & Winnie ($49.99); pumps, Chinese Laundry ($39.99). Right: Blazer, Desigual ($69.99); flat-front chino, United Colors of Benetton ($14.99); houndstooth shirt, Isaac B. ($29.99); shoes, Joe's Jeans ($79.99).
Interviewing at a company without a formal dress code gives you so many more choices, which can be daunting all on its own. For Liz, though, it all boils down to what makes you feel powerful.
"I recommend to anyone to look at the outfit that they feel the most confident in and the most in control," she said. "That's the outfit you wear."
Women: Liz's favorite option is a structured dress, which can be dressed up or down depending on the rest of the outfit. To convey your personality, especially in a creative field, she suggested adding an edge—unusual bracelets, for example, or a leather jacket instead of a blazer. Pinterest can be a great resource for attire that fits more relaxed environments.
"Within one one-thousandth of a second, people are clicking off judgments about you and taking in your physical appearance. … [The interviewer] will try to come up with a cohesive first impression in the first seven seconds," Peggy said. "So how is your dress mirroring how you want to come across?"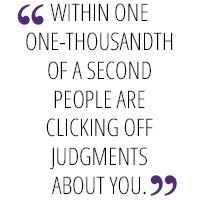 To portray yourself as competent, professional, and powerful, find the colors and shapes that best showcase your appearance and avoid distracting flourishes. Liz's tip is to avoid overtly feminine touches, such as an A-line skirt, while Peggy cited too-tight clothing and noisy jewelry that restrict your freedom of movement.
Men: There is a way to project an image of yourself as a power player without wearing a three-piece suit. In fact, Liz has encountered startups that ding job seekers who dress too formally.
Both career experts zeroed in on figure-flattering slacks in a dark color or khaki, with Peggy suggesting Dockers as an affordable option. Liz has found that even nice dark-wash jeans can work in some circumstances. Regardless of what you're wearing on the bottom, it should be paired with a sharp blazer or sweater, a collared shirt, a high-quality belt, and good shoes to match. A tie is optional, but there's always something to be said about defying the expectations of your interviewer.
Outfit illustrations by Mark Mills, Groupon. House of Cards image courtesy of Netflix.

Take a look at more tips for looking stylish: