Chicago Restaurant Picks from Prasino's Riley Huddleston
BY: Katie Cortese |
Apr 2, 2013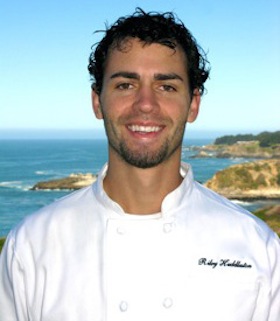 Not only does Riley Huddleston, executive chef at
Chicago restaurant
Prasino
, work in Wicker Park, he also likes to play there. "I am in that neighborhood the most," he said. "There are so many new restaurants popping up, so I get to experience it a lot." Wicker Park has two main outlets for delicious food, Riley explained. "You have Division, with higher-end and sit-down restaurants, to Milwaukee a few blocks away, with more quick-services eateries. [The diversity is] really cool." Below are Riley's top picks for dining out when he is not manning the kitchen at Prasino.
Antique Taco | 1360 N. Milwaukee Ave.
Always on hand for friendly conversation, the affable owners of Antique Taco strive to make every guest feel welcome. According to Riley, their keen eye for detail also shows all over their restaurant. "They put so much care into everything they are doing," he said, including the antique scales and china peppered throughout the dining room and the colorful painted mural that brightens the outdoor patio during warmer months. Riley has sipped many a horchata milkshake on that patio and never orders the same dish twice on the ever-changing menu, which ranges from crispy fish-tempura tacos to Maple Farm's duck enchiladas. "There is not a dish there that you would not be happy with," he said.
Covo Gyro Market (CLOSED) | 1482 N. Milwaukee Ave.
A chandelier-like light installation spans the length of the dining room, dangling hundreds of light bulbs from black cords. The eye-catching effect is one of the main reasons Riley frequents this joint. "The design is over the top," he said. "Covo is quick service, but it looks like it could be fine dining." The other reason is the menu—which, as Covo's one-time corporate chef, he helped design himself. Riley's top pick, the lamb-and-beef gyro, is crafted from all-natural products. "You can't get an all-natural gyro anywhere else in the city," he said. Covo's spread of gyros and salads also includes gluten-free options.
Oiistar | 1385 N. Milwaukee Ave.
The chefs at this restaurant make their own traditional japanese ramen noodles in the open kitchen, where patrons can watch them work. In fact, the bar seating adjacent to the kitchen is Riley's preferred spot. He talks shop with the chefs and downs steamed buns with duck breast and Musclemen ramen bowls flavored with mussels, onions, chili peppers, scallions, and bonito miso.
Bangers & Lace | 1670 W. Division St.
Yes, Bangers & Lace has lip-smacking good food—from skewered kielbasa dunked in a malt-vinegar dip to truffled grilled cheese sandwiches. But Riley hangs out here for a completely different reason: the libations. "They have the most crazy beer selection," he said. The eclectic spread ranges from the 19.3% ABV Mikkeller Black Buffalo imperial stout from Denmark to the Fuego del Otoño from Michigan's Jolly Pumpkin Artisan Ales, which is brewed with chestnuts and spices. Riley favors the sour beers, most notably a blueberry beer with chilies that he said leaves a nice kick with each sip.