Tasting Menu: Chicago Restaurant Picks from SushiSamba's Lee Guidry
BY: Katie Cortese |
Apr 8, 2013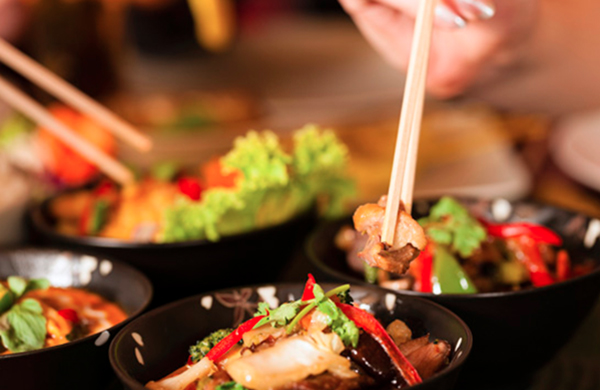 Lee Guidry knows good food. He has been immersed in the the restaurant world since the age of 13, when he got his hands wet washing dishes. After years of working his way up the food chain and getting professionally schooled in the fine art of cooking, Lee now artfully blends the best elements of Japanese, Brazilian, and Peruvian cuisine as the executive chef at
SushiSamba
. When not busy searing lobsters and lamb chops on the Japanese robata charcoal grill, he puts his chef's hat away and lets other Chicago chefs do the cooking for him. But even outside the kitchen, he doesn't stray from his passion for international flavor. Here are Chef Lee's top Chicago restaurants for international eats.
Cumin | 1414 N. Milwaukee Ave.
Puffs of basmati rice cooked with Indian biryani spices, chicken sautéed in a spicy curry sauce, and cauliflower florets flavored with Nepalese spices pepper the Wicker Park eatery's menu of Indian and Nepalese treats. While the dishes are great, Lee said, he also applauds Cumin's top-notch service from an attentive and well-dressed staff. The chic decor also lends a pleasant sight with bold red walls, a floor-to-ceiling photographic mural of a Nepalese cityscape, and sleek black chairs tucked under linen-topped tables.
Taco Joint | 1969 N. Halsted St. and 158 W. Ontario St.
Liquor bottles shaped like skulls and tequila bottles aplenty line the colorful shelves at Taco Joint's bar. But Lee bypasses the tables and heads straight for the bar for one reason only: the affable bartenders. Good conversation flows freely while he downs anything from crab-cake tacos to tortas pressed like a panini. "The food is solid—good every time you go," he said. "I usually go with the specials, whatever they are running that day."
India House | 59 W. Grand Ave. and Three Suburban Locations
If any place knows how to properly spice their dishes, it's India House, according to Chef Lee. "They do a good job and make it the way I like it," he said. The chefs spice their way through 140 items on the menu, including lobster curry and tandoori lamb chops. And Chef Lee is so fond of the entire menu that he leaves the ordering completely in his girlfriend's hands, confident that he will never be disappointed in her selections.
Gaylord | 100 E. Walton St. and One Suburban Location
From the housemade cheese and veggies cooked in a traditional charcoal clay oven to the spicy chicken vindaloo, Gaylord's entire Indian menu has Lee's stamp of approval. In fact, the dishes are all so good that he doesn't have a favorite; instead, he tries to "mix it up" every visit. And the more than 100-item selection is so extensive that Lee doesn't have to worry about repeating meals any time soon.
Bub City | 435 N. Clark St.
While not quite in the international cuisine category, this River North barbecue joint is so good that Chef Lee couldn't leave it off the list of his top picks. Bub City boasts a giant American flag crafted from beer cans and more than 90 types of whiskey behind the bar. That, paired with the cocktails—such as the Horse's Neck (With a Kick) with Wild Turkey bourbon, lemon, and ginger beer—earned kudos from him. He also loves the eclectic barbecue and seafood menu, featuring a pick 'n' lick–style shrimp boil, slow-smoked pork shoulder, and full slabs of baby back ribs.