Where Are the Best Places to See the Milky Way?
BY: Stephanie McDaniel |
Jun 3, 2014
Cosmos: A Spacetime Odyssey took its TV audience into the Milky Way and to the edge of visible space. Since its release, thousands of amateur astronomers are aching to see even deeper into space—the only question is, where should they begin?
To find the answer, we spoke with Adler Planetarium astronomers Dr. Mark Hammergren and Dr. Geza Gyuk. Dr. Hammergren keeps track of near-Earth asteroids using the Apache Point Observatory in New Mexico, and Dr. Gyuk hosts planetarium programs such as Far Horizons, which lets participants design experiments and launch them to heights above 100,000 feet on high-altitude balloons. These scientists shared their favorite spots for stargazing across the country, which we've mapped out for you below.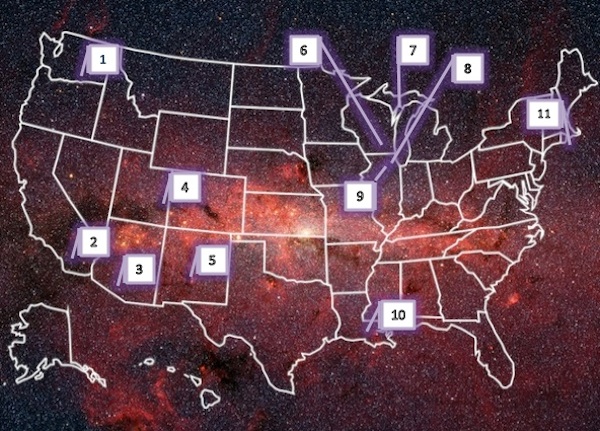 1. Spy Clear Skies in the Midst of a Rainforest at LIGO Hanford Observatory
Richland, WA
Though most of Washington is a rainforest, this LIGO site gets clear skies because it stands in the rain shadow of the mountains. The LIGO instruments are so sensitive that once they reported a slight tremor caused by one of the turbines in the nearby nuclear power plant after it had lost a blade.
Borrego Springs, CA
An International Dark Sky Community, this park combines diverse desert fauna and beautiful mountain landscapes with breathtaking views of the Milky Way.
Tohono O'odham Nation, AZ
This observatory is a "bit of a mecca for amateur stargazers." It features both nightly and advanced observing programs where you can spend a night with one of three telescopes to view faraway objects.
4. Check Out Natural Wonders Under the Stars at Arches National Park
Moab, UT
Dr. Gyuk enjoys stargazing in Arches because the park's geological formations offer a unique (and beautiful) frame of reference. "When something in the sky moves, you know that you haven't moved and you know the arch hasn't moved," he explains. It almost appears as if the sky is moving as the earth turns under you.
5. Spot Zodiacal Light at Gran Quivira National Monument
Mountainair, NM
Dr. Hammergren makes the trek here to check out "the darkest skies I've ever seen." He particularly enjoys spotting zodiacal light, the glow of sunlight reflecting off scattered dust from nearby asteroids and comets. "Seeing that night after night is one of my favorite experiences."
6. Stake Out Southeast Wisconsin's Prime Stargazing Spot at Yerkes Observatory
Williams Bay, WI
A spectacular old-fashioned observatory with ornate architecture and green spaces for observing outdoors, Yerkes has the largest refracting telescope in the world. Under the dome, the entire floor is an elevator, so you can raise and lower the floor to adjust your view.
7. Find a Secluded Place to Stargaze in Rock Island State Park
Door County, WI
The best way to see nebulae and galaxies is to get to as secluded a location as possible. Try Rock Island State Park, an island at the very tip of the Door County peninsula.
8. Study the Stars with Astronomers at Adler Planetarium
Chicago, IL
The planetarium is renovating its dome observatory this summer. Once it opens in the fall, the astronomers will be showing views of the night sky at least once a month.
9. Steer Clear of City Lights and Bison Patties at Fermilab
Batavia, IL
Learn about the particle accelerator during the day and view the sky at night. "There's a lot of space around," notes Dr. Gyuk, "as long as the bison don't step on you."
10. Explore the Origin of the Cosmos at LIGO Livingston
Livingston, LA
Some of the rural areas of Louisiana have a clear view of the night sky, including those surrounding this LIGO observatory. Explore the visitor center to see where scientists observe gravitational waves from the origin of the cosmos.
11. Brace Yourself Against Cool Ocean Breezes and Dark Skies at Block Island
Block Island, RI
This small island is home to sandy beaches, dramatic cliffs, and dark skies on the otherwise well-lit East Coast. As a plus, it's near Martha's Vineyard but "not nearly as expensive."
BY: Stephanie McDaniel
Stephanie McDaniel is a political theorist-turned-novelist from South Carolina. On the rare occasion she's not writing, she spends her time folk dancing, singing, and adding sea salt to Lake Michigan.