Where to Eat After the Chicago Marathon
BY: Nathalie Lagerfeld |
Oct 10, 2013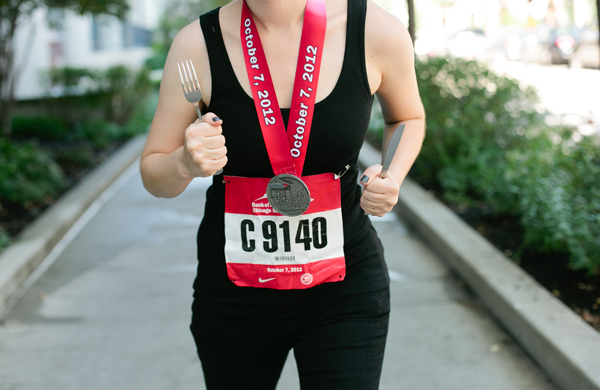 This Sunday, October 13, thousands of runners will take that triumphant step over the finish line at the
Bank of America Chicago Marathon
. Most will have been training hard for months, preparing their bodies for the incredible feat of running 26.2 straight miles. It's a task that requires intense mental focus, perseverance, and dedication. So is the equally important task of picking a spot for a celebratory postrace brunch. As training program manager at the
Chicago Area Runners Association
, certified coach Meg Sullivan helps about 2,500 athletes train for the marathon each year. She usually celebrates the end of a race with a big, juicy cheeseburger. "A lot of people crave salt after a run," she said. "I think it's because people are so sick of runner food—the gels and sports drinks and sugar." There's no one meal that works for everybody, though. Some people want pizza. Others want breakfast foods, such as eggs and waffles. One of Meg's coworkers crosses the finish line dreaming of sushi. It's not the type of food that's important, Meg said—at least not once you've replenished your protein with chocolate milk or a recovery drink. "Go get what food you want," she said. "Celebrate!" Here are three restaurants a quick cool-down walk away from the finish line where you can do just that:
Steak and eggs at Eleven City Diner (1112 S. Wabash Ave.)
A South Loop staple, Eleven City Diner offers a whimsical take on the traditional Jewish delicatessen. There are portraits of Hasidim in prayer shawls on the walls and old-school diner drinks such as a cherry phosphate on the menu. The meal you're after, though, is a little more straightforward—the steak and eggs ($17.99), served with grilled onions, house potatoes, and toast. The combination of potassium-packed taters and iron-rich meat could be just what your body needs.
Opens at 8:30 a.m.
Eggs benedict at The Bongo Room (1152 S. Wabash Ave.)
Most of the diners here come to indulge in sugary heaps of mascarpone-laden french toast or pancakes drenched in hazelnut cream. Racers can bypass these in favor of a more savory option: the eggs benedict ($12.25), a tower of quivering poached egg, canadian bacon, and hollandaise served atop a crisp english muffin. Packed with choline, which promotes cell recovery, the egg yolk will do you good after a race; plus, there's extra motivation to run fast to avoid the late-morning brunch crowds.
Opens at 9 a.m.
Vegetable burrito at Flaco's Tacos (725 S. Dearborn St.)
It may not be the most authentic Mexican place in town, but Flaco's still dishes out a satisfying burrito meal. Beans rich with potassium and magnesium anchor the vegetable burrito ($7.45), which also packs in juicy portobello mushrooms and roasted poblano peppers. The iron-enriched tortilla is an added nutrient bonus. Plus, you'll get to devour your dish inside Flaco's picturesque space on Printers Row, where vintage doors, mismatched old tables, and mint-green walls make for eye candy as you eat.
Opens at 10:30 a.m.
Photo: © Stephanie Bassos, Groupon
BY: Nathalie Lagerfeld
Guide Staff Writer
Nathalie is a writer and editor on the Guide's food team. Originally from Virginia, she now lives in Chicago, where she regularly indulges her love of tortas, bibimbap, and Cheez-Its. Follow her on Twitter @maviswillsaveus.